When I called Cheryl Bentyne at her California home, it was 9:00 in the morning on the west coast. It seemed kind of early for a musician.
"When you have a child," she said cheerily, "you start to wake up earlier and earlier every day, and go to bed earlier at night when you're home. Even when she's eighteen and out of the house, I still get up like 7:00. I wish I could sleep in. The good news is I'm able to nap now. I'm getting to that age where I can just nod off on a plane. It's really good!"
Bentyne, one-fourth of the hugely successful vocal group The Manhattan Transfer, will be at the Ferguson Center with her harmonizing mates Tim Hauser, Janis Siegel and Alan Paul for an intimate evening of voices and piano that they call a "Living Room Session" on Saturday, July 20th.
"We have been going back and forth," she explained, "between our regular show and a show that we're experimenting with called the Living Room Sessions. It goes through the history of the group, and we've got some visual things, some video. It's been interesting: At some point, after forty years, you kinda want to look back and regroup and really get down to just the singing. So this is what we've been doing.
"It's a lot of fun. Even in bigger venues, people go nuts 'cause we sit and tell stories, we reveal stuff, we break down some harmony songs…and Yaron Gershovsky, who's been our piano player for thirty four years, is so remarkable that he's like a full orchestra."
When The Manhattan Transfer's first album came out in 1975, Bentyne was living in her native Pacific Northwest.
"I was in a swing band in Seattle," she said. "The trombone player brought me the record and I went, 'oh my God, I love these guys.' I was a fan. We did a song—'Slumming on Park Avenue'—that we're doing in the Living Room show that the Transfer did a hundred years ago, way before I was in the group, that I useta do in the New Deal Rhythm Band."
Four years after hearing that first album, Cheryl Bentyne was a Transferee herself, replacing original member Laurel Masse after moving to LA. The quartet has remained intact ever since.
"It's dream-like in a way," she said, "when I think I've been doing this as long as I can remember. These three people have been in my life for thirty four years. It's remarkable; it's longer than most marriages last.
"We've got a couple of great things, irons in the fire right now. The whole thing about this group is we could go on and on, and keep coming up with interesting different projects because there are four singers. There are all kinds of combinations of music that we still haven't touched upon. That's why the door stays open in this group. We're the only limits."
Cheryl Bentyne has a lot of irons in her own fire in addition to touring and recording with The Transfer:
"I have a record coming out with Mark Winkler. We do a thing that's kind of like Steve and Eydie but we're a little wackier. It's the history of the '50s 'cool' singers from Chet Baker to Bobby Troup to June Christie and Chris Connor. It's so much fun. We just did the record called West Coast Cool that is coming out in September. He's a hoot to perform with; he's like my brother.
"I have another record that I call 'the lost love songs' that were filtered through a number of CDs I did in Japan that Summit's going to release in October or November. And then I'm doing a project of Dusty Springfield's music.
"I started listening to her and I went, 'wait a minute, she did so much.' She was such a soulful singer and there's an amazing story about her; her cancer issues and I had cancer. So there are similarities here in lives and musical interests. I love Bacharach and she did quite a few Bacharach hits. When I started listening to her, I thought, 'my voice could do this music.' It's one thing to be a fan, but it's another thing to think you can bring something to someone else's music, someone as huge as Dusty Springfield."
But The Manhattan Transfer remains first on Cheryl Bentyne's list of musical priorities. Together, the foursome continues to explore new realms with their distinctive harmonic blend while drawing on an amazingly diverse 38-year long catalog of songs. Their show at the Ferguson will draw from the entire songbook.
"We start with the first record. It really was a phenomenal breakout record, and we still do a lot of songs from it. It put this group on the map. Nobody else was doing this, nobody sounded like this group. We open the show with 'Tuxedo Junction' because that's the cornerstone song. That and 'Birdland.'
"At this point in our careers, we want everyone in the audience to be happy. It is remarkable that we are still able to go out and do pretty well. We're lucky."
The Manhattan Transfer
Ferguson Center for the Arts
Saturday, July 20 – 8:00 pm
copyright © 2013 Jim Newsom. All Rights Reserved.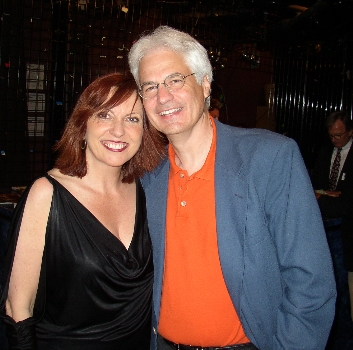 ---
RELATED ARTICLES:
"Talk of the Town"
PortFolio Weekly
May 1, 2007
An interview with Cheryl Bentyne prior to her Virginia Arts Festival performance.
"Symphony of Love"
PortFolio Weekly
January 23, 2007
A review of Cheryl Bentyne's Book of Love and Manhattan Transfer's The Symphony Sessions.
"Deck the Halls with Christmas Music"
PortFolio Weekly
December 12, 2006
A review of Manhattan Transfer's An Acapella Christmas.
"Exuberance and Beauty"
PortFolio Weekly
May 10, 2005
A review of Cheryl Bentyne's Let Me Off Uptown.
"Tis the Season"
PortFolio Weekly
December 7, 2004
A review of the reissue of Manhattan Transfer's The Christmas Album.
"Good Vibrations"
PortFolio Weekly
October 5, 2004
A review of Manhattan Transfer's Vibrate.
"Recordings: Tierney Sutton and Cheryl Bentyne"
PortFolio Weekly
February 24, 2004
A review of Cheryl Bentyne's Talk of the Town.
"Recordings: Jazz Reviews"
PortFolio Weekly
November 4, 2003
A review of Manhattan Transfer's Couldn't Be Hotter.
"Jazz Recordings"
PortFolio Weekly
May 28, 2002
A review of Janis Siegel's I Wish You Love.
---