---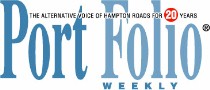 PortFolio Weekly
November 4, 2003
Recordings: Jazz Reviews
by Jim Newsom
CHARLIE BYRD
Solo Flight (Riverside)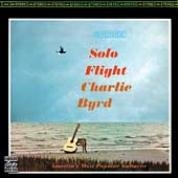 Chuckatuck native Charlie Byrd was unique among jazz guitarists. Classically trained under the legendary Andres Segovia, Byrd created a musical voice all his own by applying the precise technique he had developed to the swinging, improvisatory explorations of jazz. Though he made his biggest public splash by bringing the music of Brazil home to the states, he could play everything in the jazz lexicon while being at home with the classical repertoire.

Most of Byrd's recordings placed him in a group context, sometimes with an orchestra, often with a trio or quartet. But the best way to fully appreciate his talent was to hear him unaccompanied, alone with his unamplified nylon or gut-string guitar. The recently reissued Solo Flight is just what the name implies, Charlie Byrd taking flight with nothing but his guitar. It's a virtuosic tour de force.

The setlist includes Neal Hefti's beautiful "Li'l Darlin," two Django Reinhardt/Stephane Grappelli numbers, Ellington's "Mood Indigo" and "Satin Doll," and the old tune from the 1920s, "Am I Blue." The recording, originally released in 1965, also throws in the classic folk song, "House of the Rising Sun," at the time a pop hit for the Animals, and a Byrd original, "Blue Mobile."

Listening to Charlie Byrd all by himself has to be an inspiration to any guitarist. His playing here is impeccable, never showy, always tasteful. I've listened to a lot of Charlie Byrd records, and Solo Flight is one of his best, a forgotten gem available at last on CD.

________________________

KURT ELLING
Man in the Air (Blue Note)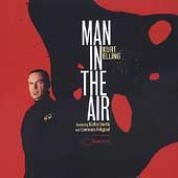 You could call Kurt Elling's vocal stylings an acquired taste. But it's a taste that, once acquired, doesn't go away. I first heard him on the Yellowjackets' 1998 release, Club Nocturne, and thought his workout on that disc's "Up From New Orleans" was pretty cool. But it wasn't until I saw him perform live at ODU in November, 2000, that I became hooked. He is a remarkable live performer.

His sixth Blue Note recording, Man in the Air, is a superb piece of work. He is a musician who continues to grow with each release, advancing his art in a line that remains accessible to his audience while at the same time pushing his own boundaries to new outposts. I don't know if this is the place to start for an Elling-neophyte, but it is surely a place you oughtta visit.

On this CD, Elling mostly takes existing jazz instrumentals and adds his own lyrics in the manner of Jon Hendricks. Sometimes the words hit your heart, sometimes your brain, sometimes they simply leave you in the dust. But always, Elling keeps you riveted, listening intently. It's quite an accomplishment.

His lyrics on the "Resolution" section of John Coltrane's A Love Supreme hit me as deep and thoughtful while simultaneously being a trifle trite. It's also interesting to compare Elling's lyrics to Josef Zawinul's classic Weather Report tune, "A Remark You Made," retitled "Time to Say Goodbye" here, with Al Jarreau's version called "Something That You Said" on his Tomorrow Today album of three years ago. Both contribute to a deeper appreciation of the tune while offering fresh glimpses into the musical psyche of the individual lyricist/vocalists.

Man in the Air's opening track, the Pat Metheny/Lyle Mays composition "Minuano" lays down a standard for the rest of this disc to measure itself against, and Elling's originals "The More I Have You" and the title track, co-written with pianist Laurence Hobgood, complement the joyous beauty found in the album's many adaptations. Who would've figured Kurt Elling for an interpreter of The Association? Yet he makes "Never My Love" his own, sailing atop the slinky acoustic bass lines of Rob Amster accompanied by Jim Gailloreto's sweet soprano sax obbligatos.

This is music for the ages, a disc you won't easily be able to file away and forget.

________________________

THE MANHATTAN TRANSFER
Couldn't Be Hotter (Telarc)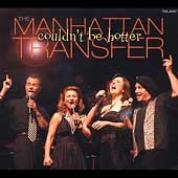 Has it really been 30 years since the Manhattan Transfer got together? Yes, it has…In fact it's been 28 years since their first album was released. I remember playing "Tuxedo Junction" from that first self-titled album when I was doing college radio at Virginia Tech, and they've carved out quite a career in the interim.
Couldn't' Be Hotter captures the loose-limbed energy and tight vocal arrangements of the Transfer live in concert, this one recorded in Tokyo. It's a high-spirited affair with the group ranging from Louis Armstrong to Ella Fitzgerald, Hoagy Carmichael to Jimmy McHugh & Dorothy Fields. In short, it's the Manhattan Transfer doing what they do best, harmonizing on classic jazz tunes and breathing new life into melodies that lie somewhere deep in your cultural subconscious. And nobody does it like this quartet.
It's not just the vocals of Tim Hauser, Janis Siegel, Cheryl Bentyne and Alan Paul that grab you. Check out the band: Lew Soloff channeling Pops on "Stars Fell On Alabama;" the acoustic guitar wizardry of Wayne Johnson on "Do You Know What It Means to Miss New Orleans?" and "Clouds" (aka "Nuages"); saxophonist Larry Klimas smoking on "Nothing Could Be Hotter Than That." Mighty fine!
This is the Manhattan Transfer as good as it gets, sixteen tracks of classic wax, jazz and swing from before we were born. Each singer gets a chance to shine solo, but it's the group interaction that has always set these guys apart from everyone else. And there's plenty of four-part harmony and counterpoint here, enough to take you back to an era when music was gentle, sweet, uplifting and a whole lotta fun.
copyright © 2003 Jim Newsom. All Rights Reserved.
---