EXUBERANCE AND BEAUTY
Anita O'Day was one of the great singers of jazz history, working with the big bands of Gene Krupa and Stan Kenton in the '40s before launching a solo career that, according to the All Music Guide, made her "one of the most distinctive, trend-setting, and successful vocal artists of the time, arguably surpassed only by Frank Sinatra and Ella Fitzgerald." Unfortunately, alcohol and heroin addiction took their toll, and she is today a somewhat forgotten eminence from the mid-century heyday of jazz and pop music.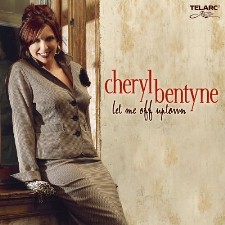 Cheryl Bentyne and her producer-pianist-husband Corey Allen endeavor to set the record straight with the new Telarc release, Let Me Off Uptown. While Bentyne doesn't sound exactly like O'Day, she does capture the saucy exuberance that set O'Day apart from other vocalists of her day. It's a real tour de force that will send you out to find the originals for comparison. Bentyne more than holds her own.
The disc kicks off with a re-creation of the title track, which was an early '40s hit for O'Day and the Krupa band. Here, trumpeter/funny man Jack Sheldon joins as Bentyne's duet partner, throwing his distinctive vocal cords into the part originally played by fellow trumpeter Roy Eldridge. It's a campy delight, paving the way for Bentyne and associates to romp through fun songs like "Pick Yourself Up," "Honeysuckle Rose," "Boogie Blues," "I Won't Dance" and "Let's Face the Music and Dance." She also shows her distinctive and appealing way with a ballad on the beautifully sparse "Skylark," "Little Girl Blue" and the less well known "Man with a Horn."
Though she's been a member of the multi-Grammy winning Manhattan Transfer for 26 years, this is only Cheryl Bentyne's third solo album. Talk of the Town was one of my faves of last year, and this one is even better. It is funny, though, that in the jazz world it's still de rigueur that an artist, even of Bentyne's stature and career longevity, issue tribute albums to raise her profile. Hers is a talent worthy of recognition on its own merits.
__________________________________________
SAXOPHONIC TRIBUTES
David Newman earned his nickname, "Fathead," when his high school band director became exasperated at young David's lackadaisical approach to reading music. He earned his place in the pop music history books playing saxophone with Ray Charles when Brother Ray was tearing up the record charts, reinventing R&B and helping to found rock'n' roll.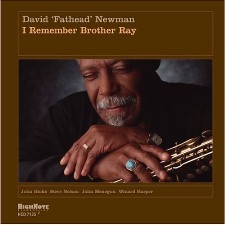 Two months after Ray Charles died on June 10 of last year, Newman was in Rudy Van Gelder's recording studio in Englewood Cliffs, New Jersey, to record his next CD for the High Note label. Because of the two men's close musical connection and longtime friendship, the original album outline was scrapped in favor of a tribute to the recently departed superstar. The result is I Remember Brother Ray, a fitting farewell to an old friend.
The usual suspects are well represented in the setlist---"Hit the Road Jack," "Georgia on My Mind," "Drown in My Own Tears." And there are a few surprises as well---"It Had to be You" and "Ruby," for example. But the most surprising and intriguing thing about the disc is the instrumental lineup, in particular the inclusion of Steve Nelson on vibes. One wouldn't normally think of the vibes when thinking of Ray Charles' music, but Nelson's mallet work gives this recording just enough of a distinctive character to set it apart from any other tribute likely to appear. Newman sticks to his tenor saxophone this time around, while pianist John Hicks and the rhythm section comp and solo soulfully and sympathetically.
While Newman wowed a packed Jazz on Granby house recently, fellow sax and flute legend James Moody has never performed in our area to the best of my knowledge. He'd make a fun and entertaining addition to any festival or concert series, a witty and engaging stage presence and a master of his instruments.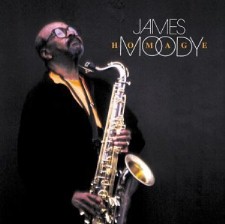 For his latest Savoy Jazz release, Homage, the just-turned 80-year old Moody also stays solely with the tenor sax. The title refers not to a tribute from him to others, but instead to the honor being paid him by some of the top pianist/composers in jazz. Joe Zawinul, Herbie Hancock, Chick Corea, Kenny Barron, Marc Copland and Horace Silver all contributed new compositions specifically for this project, and the material is superb. As is Moody's playing and the simpatico accompaniment of pianist David Hazeltine and the other young sidemen.
Zawinul's opening "A Message to Moody" conjures up vivid memories of the '70s heyday of Weather Report, with Moody playing the Wayne Shorter role. Hancock's "Into the Shadows" is my favorite track, a memorable melody with a six-man horn section creating a feel reminiscent of Herbie's late '60s classics Speak Like a Child and The Prisoner. "Main Title: Glengarry, Glenross" benefits from the same multi-horn setting, while Chick Corea's "Moody Tune" features twin flutes and an old-school electric piano.
Moody's own "Simplicity and Beauty" is aptly named, a gorgeous sax and acoustic guitar ballad, but the closing "Love Was the Cause for All Good Things" takes an abrupt left turn, putting him into a heavily programmed hip-hop groove that includes his own brief but silly rap. Throughout the disc, the saxophonist shows his chops remain fluent, fluid, and in full flower.
copyright © 2005 Jim Newsom. All Rights Reserved.