---

PortFolio Weekly
December 7, 2004
'Tis the Season
by Jim Newsom
Here we go again, bombarded from all sides by holiday music. One of our local radio stations has been playing the songs of the season since Halloween, stretching it out for all it's worth. And whether you're walking through a mall or down Main Street in downtown Norfolk, you can't escape the tunes being piped in from above.
It makes me wonder if anyone actually buys Christmas albums any more. It's possible we may prefer a respite from the uninvited forced festiveness once we arrive home to lock ourselves away in our personal sanctuaries. Nonetheless, every performer thinks he or she has a holiday disc or two inside them, and every record company wants to tap into this market. This year is no exception.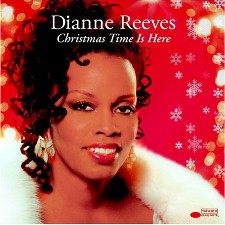 The best of the new CDs is Dianne Reeves' Christmas Time is Here on Blue Note. A multi-Grammy winner, Reeves is one of the worthiest of the current generation of jazz singers, one who stands out from the crowded field with a distinctive voice and a style that draws from the greats of jazz and soul music.
This new disc grabs you immediately with an arrangement on the opening "Little Drummer Boy" that is all bass and percussion. It is oh-so-sweet, and is just a teaser for what's to come. Phoebus native Steve Wilson sails his saxophone through the swingingest "Carol of the Bells" I've ever heard along with vibesman Joe Locke, who'll be at ODU for a weeklong residence next spring. Reeves takes ownership of the Charlie Brown classic from which this album draws its title, wrapping her deep, expressive voice around the familiar melody in a way that captures all the nostalgia that the season carries within its bosom.
Hard as it may be to imagine, "Christmas Waltz" is placed in a reggae context, bringing freshness to a time-tested standard. Wilson's soprano sax pops up again in "This Time of Year," while the Sirius String Quartet puts a shiny gloss on the incredibly beautiful "Christ Child's Lullaby." Even over-recorded pieces like "The Christmas Song" and "Let it Snow" come alive with new energy. The combination of original ideas and familiar touches (Peter Martin's piano work reminds me of Vince Guaraldi) means Christmas Time is Here is destined to become a holiday standard. If you only buy one holiday recording this year, this is the one to get.
A nice surprise arrival this year is James Taylor's first full-length holiday foray, A Christmas Album, produced and arranged by veteran jazz pianist/producer/record exec Dave Grusin. Available only at Hallmark Gold Crown stores for a very reasonable $10.95 (discounted even lower with a purchase), it's a must-have for JT's legion of fans. Highlights include a very cool, very jazzy "Winter Wonderland" featuring Chris Botti's muted trumpet, a duet with Natalie Cole on "Baby, It's Cold Outside," a bluesy "Jingle Bells," and a "Deck the Halls" straight out of the English countryside.
Besides Grusin, the jazz creds include guitarist John Pizzarelli, keyboard wiz Larry Goldings, drummer Vinnie Colaiuta and a distinctive turn on "The Christmas Song" by harmonica magician Toots Theilemans. This is one classy recording, a tasty addition to Taylor's discography that's bound to have a permanent place on seasonal playlists for years to come.
The Yellowjackets produced Peace Round while they were between record labels last year, putting it out on their own and selling it from the band's website for the 2003 season. Their current label, Heads Up, is giving it wider release this year. If you didn't order it online or grab a copy when they were here at Jazz For Hope in October, this is the other must-have CD to get this year. It's amazing how these guys can take a familiar setlist and present it in that unique Jacket style. The spacey blend of "In a Silent Way" and "Silent Night" that closes the disc (as "In a Silent Night") is entrancing.
Hiroshima is a band that's made its mark by integrating traditional Japanese instruments within a smooth jazz context. June Kuramoto's koto gives the band's music a different timbre from the run-of-the-mill pop-jazz group, but can also be an impediment for some to get into their music. Spirit of the Season (Heads Up) is this band's entry in the holiday sweepstakes, and it makes for pleasant, unchallenging listening while you're sprucing up the house.
The Chicago-like horns on "Rudolph" are especially pleasing, but the overblown electric guitars and Marshall Drum section on "Little Drummer Boy" are not. The original "Peace on Earth" uses the opening four-note melody of "Silver Bells" as a familiar touchstone from which to launch a carefully crafted excursion. The synthesized aspects of Hiroshima's music are generic and corny, but Spirit of the Season will appeal to those who like The Rippingtons, Pieces of a Dream and smooth jazz in general.
Justin Time is a Canadian record label known for producing quality acoustic jazz by lesser known artists. Consequently you may not know many of the names on the Justin Time for Christmas Four album. That's OK. If you're looking for seasonal songs played in a lightly swinging mode, you'll like this one. Hank Jones delivers a gorgeous solo piano turn on "The Christmas Song," Coral Egan turns sultry on "You're a Mean One Mr. Grinch," Ranee Lee swings "Little Town of Bethlehem" with a piano trio, and Rob McConnell leads his tentet through a three-song medley of faves. Quartango brings a French Riviera touch to the holidays while Beau Kavanagh and Bryan Lee paint them with the blues.
On the reissue front, Sony Legacy continues to lead the way. Christmas Songs by Sinatra collects recordings Frank made between 1944 and 1950, offering a mix of secular and religious, all sung in that style he had in his early days as a Bing Crosby-influenced crooner, with strings arranged by Axel Stordahl and vocal accompaniment from the Ken Lane Singers. It's mostly ballads and carols, with a couple of swingers thrown in for good measure. It's not as essential as The Sinatra Christmas Album on Capitol, but it makes a nice Christmas companion.
Legacy has also reissued two from Mr. Christmas himself, Andy Williams---The Andy Williams Christmas Album, featuring the holiday hit, "It's the Most Wonderful Time of the Year," and Merry Christmas, with classic versions of "Sleigh Ride" and "Do You Hear What I Hear?" If you're old enough to remember, these CDs will take you back to the days when Andy's annual holiday TV shows were a regular piece of the holiday fabric.
Finally from Legacy is the reissue of Manhattan Transfer's The Christmas Album from 1981. Like everything they do, the Transfer's distinctive vocal blend on "Let it Snow," "Santa Claus is Coming to Town" and "Snowfall" is impeccable, "Have Yourself a Merry Little Christmas" is luminescent, the swingin' medley of "Happy Holiday" and "The Holiday Season" is way-cool, and the choice of Lennon and McCartney's "Goodnight" as a closer is inspired.
copyright © 2004 Port Folio Weekly. Used by Permission.
---