Tierney Sutton
Dancing in the Dark (Telarc)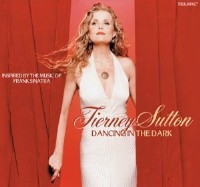 The cover of the December issue of JazzTimes magazine asked, "Are Singers Saving the Jazz Industry?"
From a sales standpoint, the answer is unquestionably a resounding "Yes."
While the record industry's total CD sales dropped by 2 percent in 2003 from the previous year, jazz sales actually increased slightly. But one artist, vocalist Norah Jones, accounted for 22 percent of the sales credited to the jazz side, with 5,137,468 copies of her Come Away With Me sold last year according to Neilsen SoundScan, the system that tracks point-of-purchase sales for recordings. Norah Jones can only be counted as a jazz singer by very liberally stretching the definition, though she does record for the celebrated jazz label, Blue Note.
Still, jazz-by-any-definition singers like Diana Krall, Jane Monheit, Harry Connick, Jr., and Peter Cincotti have done quite well not only with jazz audiences, but with mainstream adult pop audiences who may not be adventurous enough to appreciate the exploratory work of gifted artists like Kurt Elling or Rene Marie.
Telarc Records is putting a big promotional push behind Tierney Sutton this year, hoping her subtle, lyrical style will break through to a larger audience with her new release, Dancing in the Dark, an album "inspired by the music of Frank Sinatra." Sutton has been building a reputation for herself among the jazz cognoscenti over the last four years with a series of albums that are as strong and moving as those of any of the better known chanteuses.
On her major label debut, Unsung Heroes, released in 2000, she took jazz compositions best known as instrumentals and presented them in fresh vocal versions that added to our appreciation of the tunes themselves. Her tribute to jazz legend Bill Evans, Blue in Green, released in the summer of 2001, is arguably her best recording to date, a beautiful evocation of the pianist's distinctive bittersweet style that fit her to a T. Something Cool in 2002 expanded the range of her recorded repertoire, covering tunes as diverse as "Route 66," "Ding Dong! The Witch is Dead," and two songs associated with Patsy Cline, "Crazy" and "Walkin' After Midnight."
Like its predecessors, Dancing in the Dark is mostly a ballad affair. The calm tempos and drawn out phrasing bring to mind the work of Shirley Horn, but Sutton has a voice all her own, lighter than air, slightly nasal, yet emotionally substantive, able to convey the tiniest nuance of a lyric. The disc's opener, "What'll I Do," starts with the solo heartbeat of bassist Trey Henry. The singer comes in softly, then pianist Christian Jacob lays down a few chords as the tension builds until a string ensemble enters to expand the atmospheric colorings. The arrangement builds subtly, and Sutton pulls every ounce of drama out of Irving Berlin's classic lyrics.
From there, the mood never shifts. Following in the footsteps of Sinatra's own melancholy concept albums In the Wee Small Hours, Only the Lonely and September of My Years, Sutton works the late night side of the Chairman's catalog. There's no swinging "Night and Day" or "The Lady is a Tramp" here, and even "Fly Me to the Moon" receives a light piano trio treatment, conjuring up memories of the softer side of Chick Corea's "Akoustic Band" days.
"Where or When" is superb, one of the best versions of this oft-recorded old warhorse I've heard, and the lesser known Johnny Mercer-Johnny Mandel piece, "Emily," shows off Sutton's range and perfect intonation. Here, as on much of the album, the spirit of Bill Evans' trio inhabits Sutton's own working group. Pianist Jacob, bassist Henry, and drummer Ray Brinker have a telepathic connection that provides the ideal complement to Sutton's ballerina-like vocals. The occasional orchestral shadings never get in the way, enhancing the beauty of the numbers in which they appear.
Don't let the Sinatra connection mislead you into expecting a lot of "ring-a-ding-dings" or "scooby-dooby-doos." No, Tierney Sutton explores the lovelier side, the heavier side, the deeper, more introspective side of the Sinatra songbook. Dancing in the Dark is the perfect soundtrack for a quiet night or a rainy afternoon.
Cheryl Bentyne
Talk of the Town (Telarc)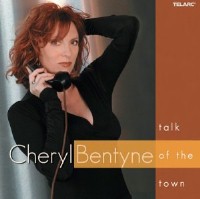 Sutton's Telarc labelmate Cheryl Bentyne has been one-fourth of the vocal powerhouse Manhattan Transfer for the last 25 years. While establishing a strong reputation in musical circles and enjoying much success with that quartet, her solo output has been sparse---Talk of the Town is only the second release to bear her name as leader. With all the other girl singer jazz recordings these days, it would be easy to overlook this disc. Don't.
Opening with a lightly swinging take on another Sinatra classic, "You'd Be So Nice to Come Home To," Bentyne proceeds to deliver a masterful collection of mostly well-known standards delivered at a mid-tempo pace. Pianist Kenny Barron, one of the genuine living legends of jazz, leads the accompanying trio, delivering standout comping and succinct solos throughout the disc. Bassist nonpareil John Patitucci joins with drummer Lewis Nash to lay down the rhythm.
Tenor saxman David "Fathead" Newman shows up on two ballads, "The Very Thought of You" and "Everything Happens to Me," filling out the arrangements with his muscular solos. Chuck Mangione brings his fluegelhorn in to tint "They Can't Take That Away" and two of the guys in Take 6 add their delicious vocal harmonies to "Girl Talk." But for the most part, this is pure singer with piano trio, ideal music for an evening at a first class jazz club.
"Little Butterfly" pairs Jon Hendricks lyrics with Thelonious Monk's "Panonica," "Love Me or Leave Me" swings like the Transfer, and Annie Ross' vocalese vamp, "Farmer's Market," puts Bentyne's be-bop chops on display. She and the band drive "It Might As Well Be Spring" through a surprising Latin groove. From beginning to end, her warm, expressive voice is the star of the show.
Telarc is putting the bucks behind Tierney Sutton this year and she is certainly worthy. But Cheryl Bentyne's Talk of the Town is already a candidate for my annual "Best Of" list for 2004. Here's hoping she, too, finds the audience she deserves.
copyright © 2004 Jim Newsom. All Rights Reserved.
---