---

PortFolio Weekly
October 5, 2004
Recordings
by Jim Newsom
SINGIN' THAT JAZZ
Anita Baker came out of nowhere in 1986 with an album called Rapture that was one of those records that everybody liked and everybody had, knocking down the boundaries between jazz, pop and soul. Selling over five million copies and staying on the Billboard Top 40 album chart for 72 weeks, Rapture and its megahit "Sweet Love" propelled Baker into Grammy-land and superstardom. The followup, Giving You the Best That I Got, sold nearly as well and spent a month in the Number One slot.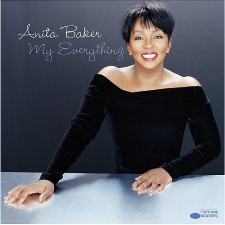 After two more albums in the same vein, Anita Baker took a break from the music business in 1994 to raise her two sons. At the time, she may not have realized how long she'd be gone, but the combination of family responsibilities and contract disputes with her former record label resulted in a ten year absence from the scene. In the meantime, the music from those first couple of albums achieved the level of timelessness, and few of the decade's songstresses have come close to matching Baker for sheer romantic sensuality. My Everything (Blue Note) is a triumphant return that slides easily into place next to her earlier recordings. It's as though time has stood still for the last eighteen years in Anita Baker's musical universe when the opening track and first single, "You're My Everything" kicks in. It's a sign of what's to come.
There really are no surprises here, and that may be the biggest surprise. The only bow to contemporary musical fashion is a slow jam duet with Babyface on "Like You Used to Do." Otherwise it's all sweet and soulful singing over impeccably tasteful arrangements, just like she used to do. And Ms. Baker's distinctive voice has aged well. Her unique vocal timbre and trademark slurred phrasing are still intact.
She co-wrote seven of the disc's nine songs, including the autobiographical "Men in My Life," an interesting turn for a woman whose music has always dripped with sexuality: "The three men in my life, they're my husband and my sons." It's nice to have Anita Baker back in action.
____________________________________
GOOD VIBRATIONS
For thirty years, the Manhattan Transfer has set the standard for jazz vocal harmonies. In addition, the quartet's girl singers, Cheryl Bentyne and Janis Seigel, have produced several excellent solo recordings in their own right.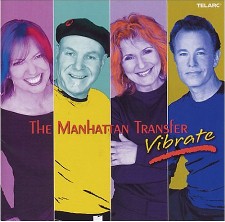 When a group with this kind of history goes into the studio, it's got to be a difficult decision as to what direction to take the music, whether to push the boundaries or just retread what's worked in the past. The Manhattan Transfer has walked that tightrope very well since the beginning, and Vibrate (Telarc), their first studio venture in four years, offers just the right blend of old and new.
The disc's opener, "Walkin' in N.Y." is one of those songs that you just know you've heard before. But you haven't. This Brenda Russell composition makes its debut here, and it's a surefire hit in search of a friendly radio format. The next most obvious standout track is "The New Juju Man," pasting a Jon Hendricks vocalese lyric over Marcus Miller's instrumental "Tutu," one of Miles Davis' best latter-day works. Cheryl Bentyne's trumpet-like high notes are incredible. Wow! It brings a new depth of musicality to this recognizable modern jazz classic.
Horace Silver's "Doodlin'" (again with a lyric by Jon Hendricks) is one of the first songs the original Transfer put together back in the early '70s. Here, it's another superb addition to their vocalesed jazz catalog. The polyrhythmic "First Ascent" places the group's recognizable harmonies over a multi-percussion world music backing track.
There's a touch of Gershwin ("Embraceable You"), a nod of the head to doo-wop (the medley of "Come Softly to Me" and "I Met Him on a Sunday") and two songs by Loudon's boy Rufus Wainwright. Tim Hauser takes the lead on a terrific version of the Beach Boys' "Feel Flows," one of the best non-Brian Wilson pieces in that band's songbook.
The Manhattan Transfer is coming to the Carpenter Center in Richmond on November 15. A couple of listens to Vibrate, and you may well decide it would be worth a trip up the road to catch them live.
copyright © 2004 Port Folio Weekly. Used by Permission.
---