---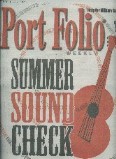 May 28, 2002
Music: Jazz Recordings
by Jim Newsom
Dave Holland Quintet – Not For Nothin' (ECM)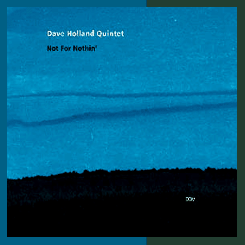 Bassist Dave Holland has played with many jazz greats during the last thirty five years: Miles Davis, Stan Getz, Chick Corea, Herbie Hancock, Thelonious Monk, Pat Metheny, John McLaughlin among a lengthy list. He's won numerous polls and awards, and is well established as one of the jazz greats himself.
Not For Nothin' is the third album by the Dave Holland Quintet. Like its predecessors, it was nominated for a Grammy award earlier this year. It's a jazz tour de force.
Though the double-bass virtuoso is the group's leader, the Dave Holland Quintet is clearly a band, and this recording is truly a group effort. The front line blend of trombonist Robin Eubanks, saxman Chris Potter and vibist Steve Nelson gives a unique harmonic texture to the group's melodies. Drummer Billy Kilson keeps the groove in the pocket, really kicking the band into gear with his polyrhythmic propulsion on the uptempo numbers. Holland himself offers unexpected bass lines that weave around, within and beneath the melodies. The musical conversation and interaction among the individuals is remarkable.
All five band members are masters of their instruments, and their solos are inventive and musically entrancing. All are also accomplished composers, with each contributing a song to the setlist to complement the leader's five pieces. The music is full of rhythmic twists and turns, memorable melodies, offbeat time signatures, clever counterpoint and a lot of just plain fun. It's funky, in an acoustic jazz kind of way.
Dave Holland's Not For Nothin' is not background music. It demands your attention, and offers rich rewards to the listener willing to invest some time with it.
____________
Jane Bunnett – Alma de Santiago (Blue Note)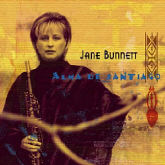 This is wild stuff, not for the musically faint of heart.
Jane Bunnett fell in love with the music of Cuba twenty years ago while on a winter vacation escape from the bitter cold of her native Canada. She continues her musical love affair on this CD released late last year. Setting herself in the midst of the finest musicians in Cuba's second largest city, Santiago, she has produced a recording rich in the musical excitement of her adopted island.
What stands out most on Alma de Santiago are the wonderfully unique harmonies of the Santiago Jazz Saxophone Quartet. Ms. Bunnett sails her flute and soprano sax across the group's sea of saxophony, finding inspiration above and within the waves of riffs and hot licks the Quartet produces.
Bringing in the Spanish vocals of Los Jubilados de Santiago on several tracks, and the percussive polyphony produced by the 38 drummers of La Conga de los Hoyos de Santiago to fatten the pulse on a couple of others, she and her assemblage keep the groove flame on high. Though the recording offers a wide array of dynamic, rhythmic and textural colors, the general temperature is hot, hot, hot.
The arrangements bring to mind Frank Zappa's instrumental music of the Hot Rats/Grand Wazoo era at times, Dizzy Gillespie's Afro-Cuban explorations at others. There's a touch of classical romanticism here, a bit of Mexican hat dance there.
Jane Bunnett is an accomplished musician, and her sax and flute solos range from tastefully melodic to way out there. She and her supporting cast have done wonders for Cuban-American musical relations with this disc.
_________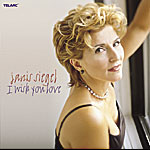 Janis Siegel – I Wish You Love (Telarc)
Mmmm, this is nice. Janis Siegel takes a break from her regular job with the Manhattan Transfer and, with the assistance of legendary jazz producer Joel Dorn, gives us a collection of songs associated with female singers of the '50s and '60s. Many of the songs on this disc were written by the pop songsmiths who wrote in New York's Brill Building during the early days of rock and roll.
The album opens with Barry Mann and Cynthia Weil's "Just a Little Lovin'," a wonderful song first heard on Dusty Springfield's Dusty in Memphis that's also associated with Carmen McRae. Ms. Siegel moves from sensuous chanteuse to blues shouter to jazz scatter as the piece progresses.
Jon Hendricks' jumping "I Want You to Be My Baby" rocks the joint, then gives way to a beautiful ballad reading of the Carole King/Gerry Goffin classic, "Go Away Little Boy." As he does on several cuts, tenor saxophonist David "Fathead" Newman, known for his work with Ray Charles and Herbie Mann, lays down a sexy sax solo to complement the singer's delicious vocal.
A gorgeous medley of "Mr. Sandman" and "Dream a Little Dream of Me" is right on the mark, again with the able assistance of Newman. "The Late, Late Show" swings lightly, with muted trumpet accents from Tom Harrell.
The second half of the CD is mostly ballads, with Ms. Siegel putting her irresistible vocal stamp on some fine material. Her multi-tracked harmonies on several numbers conjure up images of the Transfer. The album concludes with a swaying, conga-laced rhumba run through "The Big Hurt."
The basic backing unit on all of the tracks is pianist Cedar Walton's trio, a tight-knit ensemble that gives I Wish You Love the ambience of a late night jazz club.
______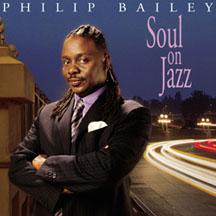 Philip Bailey – Soul on Jazz (Heads Up)
This one really threw me off the first time I heard it. I don't know what I was expecting, but I didn't like what I heard, so I filed it away for about a month or so.
But…this is Philip Bailey, the lead singer of Earth, Wind & Fire, the guy whose falsetto soared so high on "Reasons" and who funkified our souls on "Shining Star, " "Singasong" and many other great tunes back in the day. I decided to give it another listen, this time with open mind and open ears.
And you know what, I liked it a lot the second time around. I have no idea what genre label to put on it. Maybe the disc title says it all: Soul on Jazz. I guess that's really what it is, a mixture of soulful old school vocals, accompanied by first class jazz instrumental improvisation, put to a hip modern beat with all the technical tricks that are available in the recording studio of today.
Bailey opens the disc with "My Indiscretions," a version of Weather Report's super cool "Indiscretions" with lyrics added by Bailey's son. There are other instrumental jazz pieces turned into contemporary vocal numbers: "Dear Ruby" is a vocal reworking of Thelonious Monk's classic "Ruby My Dear." Bailey's light, airy falsetto on Herbie Hancock's "Tell Me a Bedtime Story" contains tempting timbral touches a la Bobby McFerrin. It sounds like a hit to me (I love the Rhodes piano and John Hart's tasteful turn on guitar). On Freddie Hubbard's CTI-era standout, "Red Clay," Bailey sounds a lot like Al Jarreau at his best.
There's a new rendition of Earth Wind & Fire's "Keep Your Head to the Sky" thrown in for good measure, a funkily revised "Sometime Ago" from Chick Corea's Return to Forever songbook, and a Miles Davis-style muted trumpet on "Nature Boy." I was surprised to hear the Buckinghams' 1967 lyrics used on Joe Zawinul's "Mercy, Mercy, Mercy" ("My baby, she's made out of love/like one of those bunnies out of a Playboy club"). And check out the baritone saxophone on the soul-jazz classic "Compared to What."
My oh my, can Philip Bailey sing?!? Oh yes. He puts his smooth, four-octave range to good use on this enjoyable outing. I'm glad I gave Soul on Jazz a second chance.
copyright © 2002 Jim Newsom. All Rights Reserved.
---