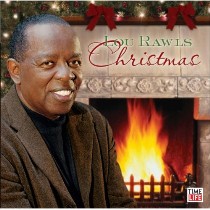 Lou Rawls
Lou Rawls Christmas
Time-Life
The Manhattan Transfer
An Acapella Christmas
Rhino
Johnny Mathis
Gold: A 50th Anniversary Christmas Celebration
Columbia/Legacy
Gordon Goodwin's Big Phat Band
Bah Humduck! A Looney Tunes Christmas
Immergent
Erich Kunzel/Cincinnati Pops Orchestra
Christmastime is Here
Telarc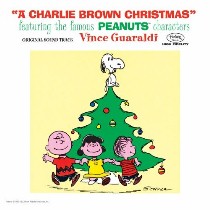 Various Artists
Redneck Christmas
Time-Life
Various Artists
Classic Soul Ballads Christmas
Time-Life
Vince Guaraldi
A Charlie Brown Christmas
Fantasy
For those of us who prefer to program the soundtrack of our lives rather than depend on radio to do it for us, the holiday season can be an especially daunting time. Everywhere we go, we are bombarded with someone else's idea of festive background music until we want to scream, "Bah, humbug!" And there's just not enough time to sort through the myriad Christmas releases to find new favorites of our own while we're working, shopping and attending parties.
That's where your intrepid record reviewer comes to the rescue. While you were busy making your lists and checking them twice, cooking up the Thanksgiving turkey or finding a new frock for the office party, I've been carefully listening to a stack of new releases filled with various versions of the same Christmas standbys so you won't have to. This year's batch is a bountiful one.
The best of the lot is Lou Rawls Christmas. The last thing the barrel-chested soulman recorded before his death on the feast of the Epiphany this year (January 6), it's the swingiest seasonal album since Ella wished us a Swinging Christmas back in 1960. And the band is even hotter, an eleven piece, four-horn freight train of soul, jazz and brassy power that delivers a bagful of familiar classics in colorfully vibrant wrappings.
You'd never know that Rawls was dying from cancer when he recorded these tracks; in fact, he hadn't told anyone of his diagnosis. He sounds as potent as ever, stamping "The Christmas Song" with his own distinctive vocal mark, driving "Santa Claus is Coming to Town" with that carefree nonchalance so familiar from the Garfield specials. The arrangements are well conceived—"Deck the Halls" decked out as a samba, "Winter Wonderland" cool and clean, "Hark the Herald Angels Sing" announced with a trumpet fanfare before settling into a gently swingin' groove. Rawls' touching take on "Silent Night" is even more poignant when you realize that it was the last song he ever recorded.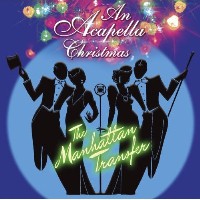 The other all-new release that is destined to join the ranks of holiday perennials is An Acapella Christmas from The Manhattan Transfer. As the title implies, this one is all vocals with no instrumental accompaniment. But, with voices that blend as seamlessly as this foursome's, there's nothing missing at all.
The opening track, a re-creation of Frank Sinatra's "J-I-N-G-L-E" version of "Jingle Bells" sets an upbeat tone, but the rest of the ten song playlist is mostly ballads like "White Christmas" and "I'll Be Home For Christmas." All are filled with the rich, warm harmonies and tight vocal interplay for which the Transfer is well known. "Christmas is Coming" is turned into a mesmerizing round, "Merry Christmas Baby" mixes doo-wop with the blues, and the recently composed "My Grown-Up Christmas List" asks Santa for more than "packages and bows" for "a world in need."
Few voices sound as much like Christmas as Johnny Mathis. His "Sleigh Ride" is the vocal version of this holiday standard, and his "Silver Bells" takes you back to the "busy sidewalks" of your hometown, filled with happy shoppers, Salvation Army bellringers and department store Santas. The new Gold: A 50th Anniversary Christmas Celebration collects recordings from several of Mathis' seasonal outings dating back to his first in 1958. The early stuff is essential, the latter day work still strong and emotion-inducing, and a new duet with Bette Midler on a mix'n'match medley of "Winter Wonderland" and "Let it Snow" has the same timeless feel that permeates much of the rest of this CD.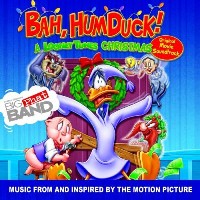 For something completely different, check out Bah HumDuck! A Looney Tunes Christmas. This is a two-disc set that features the complete score to the Cartoon Network special of the same name performed by Gordon Goodwin's Big Phat Band, plus a "bonus" disc of Looney Tunes characters singing Christmas songs.
Disc one is a whacky big band outing that probably works better as the soundtrack to a film than as a stand-alone CD, but the playing is impeccable and the music fun. Disc two features Porky Pig stuttering through "Little Drummer Boy," Speedy Gonzales on what is probably a politically incorrect "Felice Navidad," Pepe Le Pew stinking up "Jingle Bell Rock" and Bugs Bunny's tender rendition of "O Christmas Tree." Sylvester the Cat leads an all-star "12 Days of Christmas" that's a gas to figure out who's who as the days roll by (poor Elmer Fudd with his "dwummahs dwumming"), and Foghorn Leghorn, I say, Foghorn Leghorn pops up all over the place.
For traditionalists, Erich Kunzel leads the Cincinnati Pops through Christmastime is Here. Most of the vocals are choral, primarily the Indiana University Singing Hoosiers, but Telarc jazz singers Ann Hampton Callaway, Tony Desare, John Pizzarelli and Tierney Sutton are featured on one song apiece.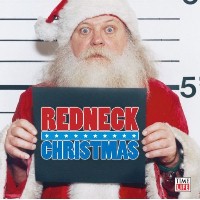 A different kind of tradition is evident on Redneck Christmas—Buck Owens on the memorable "Santa Looked a Lot Like Daddy," the ridiculously irresistible "All I Want for Christmas is My Upper Plate" by Homer and Jethro ("the turkey's on the table but I just can't chew") and Red Simpson "Truckin' Trees for Christmas." This all-country compilation includes The Tractors pulling "Santa Claus is Comin' (In a Boogie Woogie Choo Choo Train)," Joe Diffie telling the tale of the sadly forgotten "Leroy the Redneck Reindeer" and Asleep at the Wheel spending "Xmas in Jail." The whole thing is a hoot, capped off with Elmo & Patsy's number one hit from 1984, "Grandma Got Run Over By a Reindeer."
For those who prefer a tad more seriousness in their festivities, there's Classic Soul Ballads Christmas featuring eighteen soul music greats. Eddie Kendricks leads The Temptations through "Silent Night," Patti Labelle is surprisingly restrained and tasteful on "What Are You Doing New Year's Eve," Natalie Cole bluesy on "Merry Christmas Baby" and Isaac Hayes slow and sensual on "The Mistletoe and Me." Donny Hathaway's catchy "This Christmas" was a huge hit in 1972, and Otis Redding's "White Christmas," a strange but captivating take on the old warhorse, hit the charts a year after his death in 1967. Unexpected treats include The Stylistics' beautiful "God Rest Ye Merry Gentlemen," "Happy Holidays to You" wrapped in The Whispers' sweet harmonies, Smokey Robinson leading The Miracles through Stevie Wonder's "It's Christmas Time" and Aretha Franklin in 1964, before she was a star, putting her distinctive stamp on "Winter Wonderland."
Finally, what would this time of year be without Charlie Brown? Having acquired the Fantasy catalog two years ago, the folks at the Concord Music Group took Vince Guaraldi's original master tapes from 1965, remixed and remastered them, added four alternate takes and reissued A Charlie Brown Christmas just in time for this year's season. You probably already have it on vinyl or CD, but this version is crisper and cleaner than ever, and the music still sounds fresh 41 years later.
Here's the first appearance of "Linus and Lucy" along with other Guaraldi originals that have become classics—"Christmas Time is Here" in instrumental and vocal versions, and the songs you don't know the names of but know so well—"Skating," "Christmas is Coming" and "My Little Drum." Plus, the Peanuts gang singing "Hark the Herald Angels Sing," Guaraldi's melancholy "Greensleeves" and sweeping "O Tannenbaum." What better way to get into the holiday spirit?
copyright © 2006 Jim Newsom. All Rights Reserved.