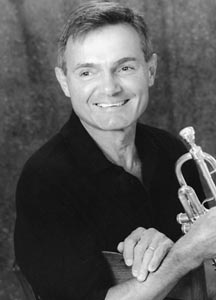 Ron Hallman
Trumpet
Fluegelhorn
Bass Trumpet
Percussion
Ron Hallman is a multi-talented trumpeter with a wide range of musical experience. The blend of his trumpet with Jim's flute has brought a new, musically exciting dimension to the group's music.
Ron Hallman began playing trumpet at age 10, continuing formal study through high school and college. He played his first professional gig at age 13, and recorded with some of the legendary purveyors of Frankie Guida's "Norfolk sound" while still a teenager---Gary "U.S." Bonds, Lenis Guess, and Jimmy Soul. During his college days minoring in music at Old Dominion University, he was an original member of Bill Deal and the Rhondels.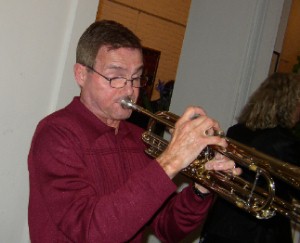 In the years since, he has played in a variety of bands and a broad range of musical styles. He has led several jazz groups, and has backed a diverse list of musicians including Stevie Wonder, Pearl Bailey, Shirley MacLaine, and Tennessee Ernie Ford.
Ron lists Chet Baker, Louis Armstrong, and Miles Davis as his primary influences. He plays a Bach trumpet, Yamaha fluegelhorn, and performs using a variety of percussive instruments. In "real life," Ron is City Attorney for the city of Chesapeake, Virginia.