---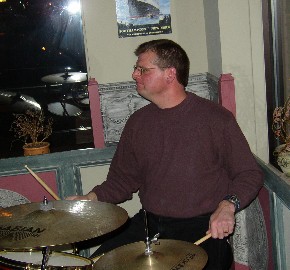 Bruce Hagwood
Drummer Bruce Hagwood has known Jim Newsom since he took drum lessons from Jim's brother Tom while in junior high school in the mid-1970s.
Bruce started at a very early age, playing ballroom dances, tuxedo gigs and working in a piano trio during his freshman and sophomore years at Forest Glen High School in Suffolk, Virginia. Besides playing in the school band and orchestra, he also played in rock bands throughout his high school days, capping it all off when he was selected to the McDonald's All American High School Band. With this national allstar aggregation, Bruce played with jazz legend Lionel Hampton at Carnegie Hall in New York City.
After studying percussion in college, Bruce played in a wide range of musical settings: rock bands, jazz groups, even classical chamber ensembles. In recent years, he has used his love of music, and percussion in particular, to establish his own drum company, rbhDRUMS. Bruce designs and builds drums and drumsets which are carried in several music stores and catalogs, and custom designs instruments for drummers internationally. A particular thrill for him came when longtime idol Billy Cobham played a set of his drums while performing with Jazz is Dead.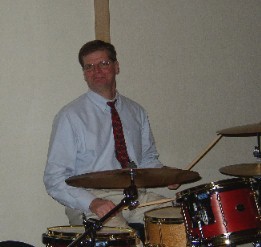 As a teenager, Bruce's heroes were Cobham, Carl Palmer and Tom Newsom. In addition to Cobham, he has continued to draw inspiration from Simon Phillips, Jimmy Cobb, Carter Beauford, Will Kennedy, Steve Gadd, David Garibaldi, Jeff Porcaro, Manu Katche and Omar Hakim.
Bruce began working on side projects with Jim Newsom and sitting in occasionally in 1998, and has played regularly with the band since New Years Eve '99. Bruce's inventive ideas and musical commitment always take the group to a new level of musical excellence.

Jim Newsom
Ron Hallman
Dave Hufstedler
Tom Jeffrey
Rick Jebavy
Bruce Hagwood
Ken Harmon
Jimmy Masters
Russell Scarborough
John Ingersoll
---