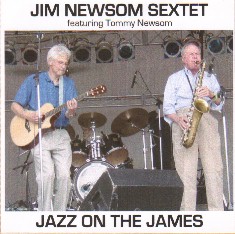 1. Take the 'A' Train

2.If I Could Write a Song

3. The Girl From Ipanema

4. Waltz For Debby

5. Moondance

6. Route 66

7. Georgia on My Mind

8. Masekela's in the Hall, Mann

9. Wave

10. Summertime

11. One For My Baby (and One More For the Road)

12. Killer Joe

Recorded live at the Jazz on the James Festival on Brown's Island in Richmond, Virginia, on October 9, 2004. Jim's late uncle, former Tonight Show saxophonist Tommy Newsom was our special guest.
---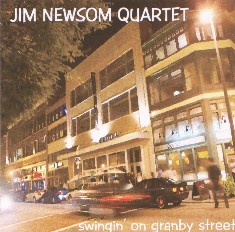 1. St. Thomas

2. If I Could Write a Song
3. Born to be Blue

4. Cravo e Canela
5. Swingin' on Granby Street

6. Stolen Moments
7. Useta Be

8. Gee Baby, Ain't I Good to You
9. Pick Up the Pieces
10. God Bless the Child

11. Thembi
A compilation featuring the best tracks from albums released between 2000 and 2003, this includes songs recorded live at Norfolk's Harborfest celebration on June 6, 2003, some live in the studio tracks from 1999, and one Newsom/Hallman duet recorded live at Blues Alley in the summer of 2003.
---
1. Without Firing a Shot
2. Don't You Know About Love
3. Open Spaces
4. Faceless Boyfriends
5. Where Does True Love Go
6. Mr. Baldhead
7. Oldies
8. Always with Me
9. On the Lam From Corporate America
10. A Mighty Cry
11. Doctor of Love
12. What You Say You'll Do

Jim's solo album, recorded and released in 1992, Crazy Dreams features an eclectic collection of original material, including rock, jazz, folk and country. Former "Tonight Show with Johnny Carson" musician (and Jim's uncle) Tommy Newsom plays tenor sax on two of the tracks. Read the Virginian-Pilot review by clicking here.
---
To order any of these recordings, please e-mail us your name and address.
Thanks for listening!