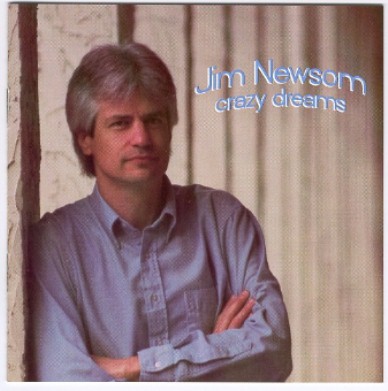 1. Without Firing a Shot
2. Don't You Know About Love
3. Open Spaces
4. Faceless Boyfriends
5. Where Does True Love Go
6. Mr. Baldhead
7. Oldies
8. Always with Me
9. On the Lam From Corporate America
10. A Mighty Cry
11. Doctor of Love
12. What You Say You'll Do

Words and Music by Jim Newsom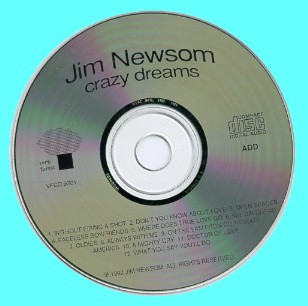 Crazy Dreams is available for $12.00 (shipping & handling included). Simply click here to order. Specify CD or cassette.

album review in The Virginian-Pilot, Friday, February 26, 1993

JIM NEWSOM - Crazy Dreams
by Frank Roberts
There is another Newsom on the music scene - Tommy's nephew, Jim.
Since his is a close-knit family, the former "Tonight Show" band leader helps out on sax on two of the numbers. Jim's younger brother, Tom, pounds the drums on most of the numbers.
As for Jim, he's everywhere. The Suffolk native wrote the words and music, helped produce and engineer the album, sings lead vocals, and plays flute, guitar, organ, piano, electric piano and synthesizer.
"Crazy Dreams," cut at Digital Design Recording Studio in Norfolk, offers a variety of styles, including rock, reggae, and some country and jazz.
It is an interesting conglomerate of mostly anti-establishment songs. Even the lone instrumental has the title "On the Lam From Corporate America."
The feeling is reminiscent of '60s coffeehouses, "A Mighty Cry" paying tribute to the lifestyle of that dream era.
Newsom sees the '90s as more nightmare than dream, a Murphy's Law kind of world where everything seems to go wrong.
"Without Firing a Shot" fires a few at banks that foreclose on hard-working but hapless farmers; "Open Spaces" laments that there are few in our country today, the singer noting that its replacement by a concrete jungle is not "what God had planned when he set us down in Eden."
"Where Does True Love Go" covers the heartbreak of divorce; "Faceless Boyfriends" covers the heartbreak of painted women looking for love, as country singer Johnny Lee once noted, "in all the wrong places."
These looks at life are expressed via Newsom's fine, smoky voice, aided by a talented backup crew of family and friends.
The band members are no strangers to the Hampton Roads scene. They include Mike Munden on fiddle, Woody Nordan on slide guitar, and Randy Melton on piano.
They are at their best working with Newsom on "Mr. Baldhead," a Harry Belafonte-sounding piece attacking the wealthy, equating riches with lack of hair. Lord, I should be a millionaire.
Despite myriad styles, the songs do have a soundalike tendency, something often found in releases by performers who have something to say about society's ills.
But if you are into songs of social consciousness, with some romance tossed in here and there, Newsom's album will be your cup of espresso.