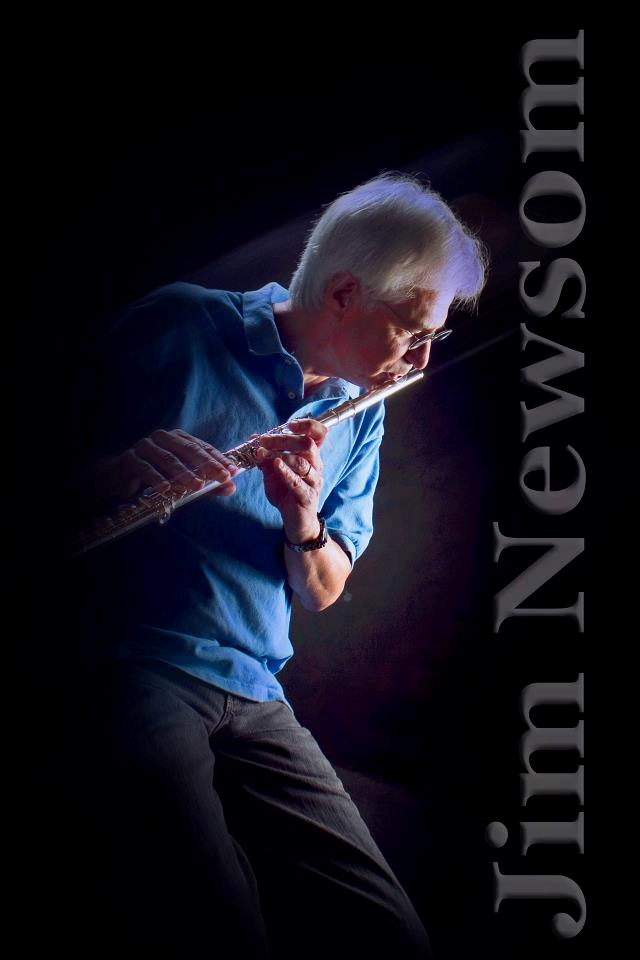 Jim Newsom
Jim Newsom's musical career began when he picked up the basics from his sister's piano lesson books. He subsequently drove his parents crazy banging out rock and roll on the family's living room piano. In high school, he bought a flute for $25.00 from a girlfriend in the marching band, and taught himself to play by listening to the recordings of Herbie Mann and Jethro Tull. He learned guitar from a Bob Dylan songbook.
Since those teenage years, he has played jazz, rock, blues and acoustic music in many settings. He released a solo album, Crazy Dreams, in 1992 that garnered positive reviews and received regional radio airplay. He was honored with an "Outstanding Achievement" award in the 1994 Billboard Song Contest for his composition, "If I Could Write a Song." His 2004 CD, Jazz on the James, featured his uncle, Tommy Newsom of the Tonight Show, on tenor saxophone. A 2006 release, Swingin' on Granby Street compiled tracks from three CDs recorded and released between 1999 and 2003.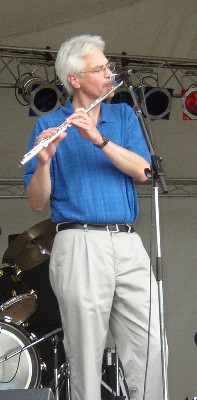 When citing his influences, Jim ticks off a lengthy list. On flute, his main man was Herbie Mann. However, he soaked up as much jazz flute as he was been able to locate through the years, finding additional inspiration in the work of Hubert Laws, Eric Dolphy, Frank Wess and Rahsaan Roland Kirk. He also points to sax giants John Coltrane, Stan Getz and Paul Desmond as influences on his improvisational style.
Favorite vocalists include The Temptations' David Ruffin, Felix Cavaliere of The Rascals, Sam Cooke, Al Jarreau, Nat King Cole, Frank Sinatra, Johnny Hartman and Ella Fitzgerald.
As for his guitar style, he says, "I never tried to imitate any particular guitarist. I was more interested in learning songs, not dissecting guitar licks." As a teenager he loved rock guitar giants like Jimi Hendrix, Eric Clapton and the boys in The Beatles. As he expanded into jazz, he discovered Wes Montgomery, Larry Coryell, Kenny Burrell, George Benson and John McLaughlin. But there's always been something special about the warm, vibrant sound of a well-played acoustic guitar: Tony Rice, Leo Kottke, Doc Watson, Noel Paul Stookey, Bob Dylan and jazzman Charlie Byrd are among the favorites.
Music has been Jim's passion since he was a little boy. "My folks remember me dancing to 'Little Red Caboose' when I was three years old. From the fourth grade on, I was plugged into a transistor radio 'til the local stations signed off the air at 1:00 am. Then I'd fall asleep listening through the static to WABC, WOWO, WCFL or WBZ.
"Of course, I spent all my allowance on records. Still do."
His extensive personal collection of record albums and CDs reflects his varied musical interests and provides the raw material for his wide ranging repertoire. All that time spent absorbing music and "learning songs" has given Jim a vast knowledge of rock, soul, jazz, blues, folk and country music.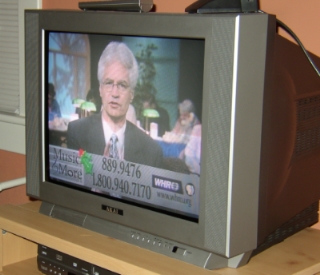 In addition to playing music, Jim is well known locally for his many years hosting television programs like "It's Academic", pledge drives and assorted specials on PBS-affiliate WHRO-TV. He is also a writer and music critic for VEER, the regional alternative news & opinion/arts & culture magazine, and has written for a number of other publications including Port Folio Weekly and the All Music Guide, a national print and online publication.
Jim plays a Trevor James flute. His primary axe is a Taylor acoustic guitar strung with Elixir strings.