by Kari Lomanno
Photos by Steve Morrisette
Inside Business - June 11, 2001
His face is familiar to most Hampton Roads residents. It's the face of WHRO. It's the face of a popular local band. It's even the face of a former contestant on "Who Wants to Be a Millionaire?"
It's the face of James H. Newsom, III, and what many people don't know is that it's also the face of a local banking executive.
Newsom has been regional executive officer and senior vice president for Old Point National Bank since 1999. He's been a banker for 20 years, but he was a musician long before that.
"I did not ever intend to be a businessperson," Newsom said. "I grew up in an era when we were going to change the world. I, personally, was going to change the world and make it so people were not like they used to be."
Hints of Newsom's lofty ambitions can still be found today. A colorful, trumpet-wielding painting of Dizzy Gillespie graces the wall of Newsom's office. Frank Sinatra has also been given wall space, as has former Count Basie saxophonist Frank Foster.
"For a banker, I'm probably a fairly casual guy," Newsom said. "I just wanted to have something that was expressive of me instead of the generic bank art that you usually have. Rather than have rock'n'rollers up in the office---I thought that was a little too non-bankerly---I thought jazz guys would be OK."
Banking and music - two seemingly polar opposites - come together in Newsom's mind, although he said they tap into two different sides of the brain. Some might say music was even in his genes. His uncle is Tommy Newsom, former saxophonist for the "Tonight Show," whose advice helped inspire Newsom - a Hampton Roads native - to strike out for New York in the late '70s to try to make a living as a musician.
"He told me, 'I have an awful lot of friends who wish they had gone to New York or LA, because they see that I have succeeded and they think maybe they could, too, but they never tried," Newsom said. "'So it's worth giving it a shot if you think you've got the goods."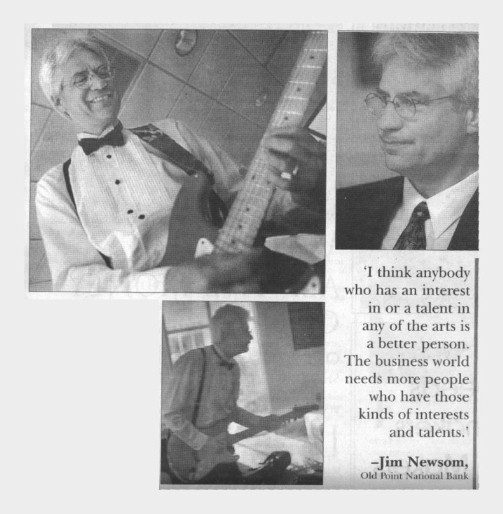 Newsom had been teaching eighth-grade history at Booker T. Washington Middle School in Suffolk for three years after graduating from Virginia Tech with a political science degree. He moved to New York and became what he calls a "starving musician" for about a year before he realized he had to make a living.
"I got turned down by the biggest names in the [music] business," he said.
Newsom worked in Washington, D.C., for a short time, then moved back to Hampton Roads in 1981. He said a chance meeting with an old friend opened the door to his banking career. Although Newsom had never considered becoming a banker, he said his friend convinced him to try it.
"Next thing you know, I had an interview to get into the management-training program with United Virginia Bank, Crestar's predecessor, and lo and behold they offered me a job," Newsom said. "I took it because I thought, this is something I know nothing about. I'll learn how it works, and even if I only do it for a few years, it's probably something that will be helpful in life. Twenty years later, here I am."
Newsom worked for Crestar for 16 years until 1997, when a reorganization within the company left him with the choice to either take a different job within the company or to take a severance package.
He chose the severance package.
"I thought, 'This is a golden opportunity to make a change,'" he said, "so I left Crestar not sure really what I was going to do."
Newsom went back to playing music and even wrote music reviews for an Internet company, but he quickly realized he needed to get back into the "real world." Rather than join another large corporate bank, he started looking at smaller community banks.
Newsom joined Old Point in April, 1999, and has been very happy with his work there.
"Jim is very positive about Old Point," said Cary Epes, chief credit officer at Old Point and Newsom's direct supervisor. "He understands the role of a community bank and the things that we can do that other banks can't do. The bigger banks, you have to do it their way. We can't live that way as a community bank. That's one of the things that attracted Jim to us. One of the things that he's done well is finding ways to tailor our services to meet customers' needs."
Although he has enjoyed a successful career as a banker, music is still Newsom's true passion.
"I was always good at using the analytic side," he said, "but I fluorish more using the artistic side."
Newsom, who plays guitar and flute and occasionally "bangs on the piano," is able to balance both sides well. Throughout his banking career, he has continued to play music. He has been playing with Michael Jones, the saxophone player in his current band, Jim Newsom and the PorchRockers, since 1989, and bassist Joe DuRant since 1991. Guitarist Mike Olson joined the band three years ago, and drummer Bruce Hagwood has been with the band for two years. The band performs four or five times a month and has two albums, "Crazy Dreams" and "On the Prowl."
"I would have to say music and banking are mutually exclusive," Newsom said. "But I think anybody who has an interest in or talent in any of the arts is a better person. The business world needs more people who have those kinds of interests and talents. I always thought that being a musician probably made me a better banker because I know more about real life than maybe people who don't have as many diverse interests."
Newsom's interests are not limited to music and banking. He is possibly best known as a long-time spokesman for WHRO. He began volunteering at the station in 1982 and has performed many duties, from co-hosting "The Great TV Auction" to hosting the game show "It's Academic" to begging for money during countless pledge drives.
"Jim has been an incredible friend to WHRO," said David Ferraro, director of production at WHRO, who joined the station the same year as Newsom. "He's a supporter of the station. He's been a tireless volunteer, giving up his time to come on the air and raise money for us during every pledge drive that I can remember since I've been here."
Newsom also had a brush with fame last year when he was chosen as a contestant on "Who Wants to Be a Millionaire?" He said he didn't watch the show very often, but his son convinced him to try to get on.
"He gave me the 800 number and I just kind of wrote it down and put it by the phone, and if I would think about it when I got home from work I'd call it," Newsom said. "I had qualified four times before I got the call back. Then you play a second round, and you have to get everything right on that one."
Newsom passed the second round and sat on the panel of 10 contestants who compete for a chance to sit next to Regis Philbin.
"I had slow fingers, so I didn't get in the hot seat," Newsom said. "That was a shame."
Newsom said he tried again the following season and qualified 16 times, but never got a call back.
Newsom said he's happy with the choices he's made in life and hopes to continue his banking career as well as his music.
"The things I wanted to do when I grew up were write, play music and probably do TV," Newsom said. "And I've done them all, but not in the the way I wanted to do it. That's what's interesting about life. A couple of years ago I stopped complaining because I said, 'I've actually made my dreams come true, just not according to the plan.' But I really have done the things and continue to do the things I enjoy, and at the same time I'm able to feed my family."