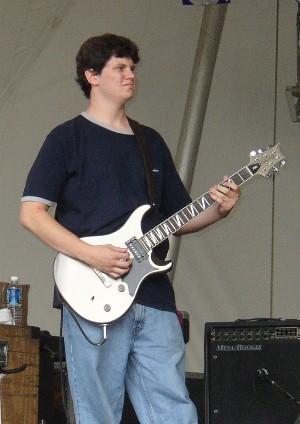 Cole Newsom
Cole Newsom is the youngest member of the band, and is also Jim Newsom's son. A gifted guitar player and college student, Cole brings a new dimension to his dad's jazz coterie, with the adventurousness of youth and the joy of making music that is in his genes.

Currently attending Virginia Commonwealth University in Richmond, he's a regular member of the Jim Newsom Quintet. He is versatile, well-schooled in rock, blues and jazz. He's also working on his producing skills.

Cole's favorite guitarists include John Pizzarelli, Leo Kottke, Jimmy Page, Jimi Hendrix, Larry Coryell and Charlie Byrd. He continues to explore jazz guitarists after a childhood spent listening to The Beatles and other rock greats.

Cole plays a PRS electric guitar strung with D'Addario strings through a Mesa Boogie amp. He's also begun working on his acoustic skills, playing an Ovation.