"Guess what I did last night."
Tierney Sutton was on the line, at home in California, still a little jet-lagged after a five-night stint at Birdland in New York City. It was the last week of March, Passover and Holy Week.
"I went to a Seder at Alan and Marilyn Bergman's house in Beverly Hills," she said, "with their nearest and dearest friends. There were twenty people there. Barbra Streisand was there with James Brolin. It was pretty bizarre!"
For Tierney Sutton, jazz vocalist extraordinaire, it was the latest chapter in her dreams-come-true life story.
"I know them pretty well," she said of the legendary husband-and-wife lyric-writing team, "but I've never met Barbra. And I only met her for a minute last night. It was a surreal experience. It was especially surreal for me because, when I was a kid, I didn't know anything about jazz. We didn't have any jazz records. The only record that I would listen to and sing along with was one of her records. I told her she taught me to breathe because I would sing along with her records and only breathe where she breathed. The record was The Way We Were, with a whole bunch of Bergman lyrics. 'Pieces of Dreams' and a couple of other Legrand-Bergman songs were my favorites on there. So once I became close with Alan and Marilyn, it was very freaky for me.
"This connection continues to this day. Last summer I was in Paris, and I was thinking nobody knows me in Paris. It was my birthday, and in walks Michel Legrand! Alan and Marilyn had invited him. There's this very long, very deep profound connection that I have had, kinda my whole life, with the Bergmans and Legrand; that was my conduit to jazz."
That jazz conduit has led to an incredible run for the Milwaukee native. After twenty years with the same band, multiple Grammy nominations, a parallel career as a jazz educator, and a nine album discography that is unparalleled among contemporary jazz singers, Tierney Sutton continues to break new ground and forge new directions. On May 1st, she comes to the Sandler Center with the genre-blending Turtle Island Quartet as part of the Virginia Arts Festival. They call the program "Poets and Prayers."
"We started putting it together last spring," she said. "They had done collaborations with other musicians but they'd never done one with a singer. [Violinist] David Balakrishnan called me up and said, 'I've been listening to your records and I think we should do something spiritual. What do you think about that?' And I said I think that's great; I love that idea. He said he had considered doing something with the poetry of Hafiz in his music. And I said this is the time, absolutely perfect. He is one of the mystical poets that is part of the tradition leading to the Baha'i faith.
"As we started to consider what we were really interested in doing, [cellist] Mark Summer was talking about Joni Mitchell. And I love her. We thought what is the theme that unites Joni Mitchell and Hafiz? And that's 'Poets and Prayers.' For us, anything that's musically deep is spiritual.
"We've got four from Joni's Blue, the Hafiz poetry, a couple of jazz-related things. One of the new Turtles, a young guy from Europe, did an arrangement based on my band's 'Softly as in a Morning Sunrise' arrangement. We also have an arrangement of 'Bouncing with Bud.' And Mark wrote an arrangement for 'Within You, Without You,' the Beatles tune. It's pretty tricky but it's really cool.
"They are such complete musicians. They are great ensemble players and incredible soloists. There is no element of music that they are not masters of. Working with them has been a real kick in the butt."
And this adventure with the Turtle Islanders inspired her next recording:
"That led to me working on a Joni Mitchell project of my own. It's Joni from a jazz singer's perspective. I'll have standards on there that she's recorded plus a bunch of her compositions. I'm going into the studio Friday to record a duet with Al Jarreau for it."
The last two times Tierney came to town, for the Arts Festival in 2005 and at ODU in 2010, she had her longtime bandmates with her. A rarity in the music business and especially so in the world of jazz, she's worked with the same guys for twenty years. Their interaction is intuitive and magical.
"But everything is in a state of flux," she said. "[Drummer] Ray [Brinker] got married and his wife is pregnant. So he's not wanting to go out so much. We're going to Europe in May, but [pianist] Christian [Jacob] is having some back problems. So Mitch Forman is doing that with us.
"Everything is transitional. I know the band is changing form. I think we will play together until we are in the ground—the music is so great. The structures that we all invented are not about any one of us, they are structures; they were designed to breathe and to be a little different on a nightly basis. So if you enter into this with a musician with a different sensibility, it's really exciting and fun in a different way.
"At first I was really sad knowing that we weren't going to be just us, but the more we do it, the more we realize that it's kinda great. And that's the way jazz is supposed to be: it's supposed to bring you into the moment."
Turtle Island Quartet with Tierney Sutton
Virginia Arts Festival
Sandler Center for the Performing Arts
May 1, 2013 – 7:30 pm
Tickets: $22.00 – 42.00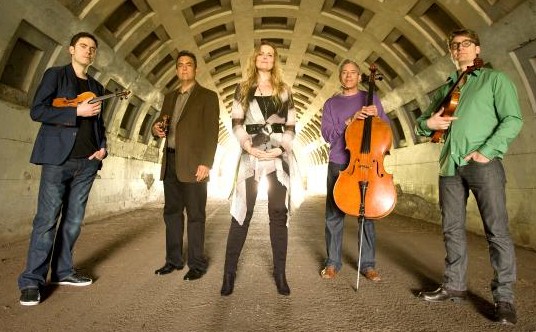 copyright © 2013 Jim Newsom. All Rights Reserved.