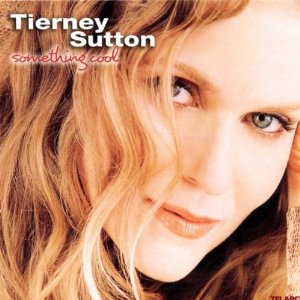 Tierney Sutton-
Something Cool (Telarc)
With all the jazz-female-vocalist hype lavished on Diana Krall and Jane Monheit in the last couple of years, Tierney Sutton has been lost in the shuffle. This is an injustice, for Ms. Sutton is every bit as talented, attractive and sultry, and she's much more adventurous in her arrangements and choice of material.
Her last two CDs were excellent. On Unsung Heroes, she took well-known jazz instrumental pieces and recorded them with vocals. Last year's Blue in Green, was devoted to music written or associated with the great pianist, Bill Evans.
Something Cool is her first Telarc disc consisting of material normally associated with jazz vocalists, and it's another remarkable outing. The arrangements she has put together with her regular working trio are consistently inventive and intriguing, finding a fresh approach to well-known warhorses like "Route 66" and "I've Grown Accustomed to His Face," and turning non-jazz songs like "Wouldn't It Be Loverly" and "Ding-Dong! The Witch is Dead" into sweetly grooving jazz workouts.
Sutton and bandmates milk the sexy jazziness out of two Patsy Cline classics, "Walkin' After Midnight" and "Crazy," then skate sassily through upbeat numbers like "Comes Love" and the album closing "The Best is Yet to Come." The instrumentalists are given room to stretch out, and Ms. Sutton displays a wide vocal range, masterful technique and a heartfelt connection with the material.
________________________________________________________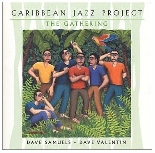 Caribbean Jazz Project -
The Gathering (Concord Picante)

Former Spyro Gyra vibraphonist Dave Samuels originally formed the Caribbean Jazz Project in 1995 as a one-off experiment in Latin jazz. But instead of being a one-shot deal, the CJP grew into an ongoing, ever-evolving ensemble that has taken center stage in Samuels' musical life.

The Gathering is the fifth disc released under the Caribbean Jazz Project moniker, and it's the third to feature flutist Dave Valentin as co-leader. Continuing in the direction laid out on the previous Project albums, The Gathering is full of crisp Latin grooves, fresh melodic and rhythmic ideas, and superb musicianship. Samuels' marvelous malletry and Valentin's fluent flutework sail across the rhythm section's churnin' urn of burnin' Caribbean funk.

The setlist mixes bandmembers' originals with a couple of reinvented jazz standards. The group plays Oliver Nelson's timeless "Stolen Moments" as a cha-cha in 7/4 time, and turns Thelonious Monk's quirky "Bemsha Swing" into a brisk summertime jaunt down a sunlit coastal highway. "Rendezvous" and "See You in a Minute" adopt a rhythmic scorched earth policy, while "Libertad" provides a laidback respite. The title track features a memorably bouncy melody played in unison by the two leaders, then unfolds into a light percussive stew over which the soloists soar. Drummer/timbaluero Dafnis Prieto stokes the party fires on "El Guarachero Intrigozo," while a brooding bass and marimba line propel the group along "The Path."

copyright © 2002 Jim Newsom. All Rights Reserved.