Tierney Sutton's last visit to Norfolk was memorable, both for her and for the Virginia Arts Festival audience that saw her perform.
"I remember that theater we played in last time," she said when I called her at her California home recently. "It's beautiful! How is it doing now?"
That beautiful venue was the Granby Theater. Sutton and her band played there in April, 2005, the first concert in the then-newly refurbished downtown entertainment palace. It was an evening of musical magic, one that local jazz lovers still talk about. I wrote of that show: "I've never seen a performer hold an audience in the palm of her hand the way Tierney Sutton did here, singing quiet songs to a packed house that hung on her every note."
Since then, her star has continued to rise, with Grammy nominations for her last three albums and a bouquet of other awards in the jazz vocal category. She and the guys return to Norfolk for a two-day stay at Old Dominion University with a concert Monday night, November 8th and a clinic and master class on campus the next day. Her bandmates—pianist Christian Jacob, bassist Kevin Axt, drummer Ray Brinker—are among the most respected and in-demand jazzmen of their generation.
"We've been together seventeen years," she said. "It's the advantage of never making a whole lot of money: everyone's in it for the right reasons.
"The sound of the band and the band itself is its own entity. So even if we don't see each other for a month or we're not personally getting along so great, as soon as we sit down on the stage and we're doing the music, there's an alchemy that happens where we are all participating in this other thing that really doesn't have anything to do with us personally. And it really is a kind of meditation for all of us. It's like there's an element of our spiritual lives that we need each other to do. It's pretty amazing."
Tierney Sutton has been in a category of her own since her first recording. Not a belter or a screamer, she brings a depth, intensity, and subtle clarity to the material that is rare for a singer in any genre. Each of her last two CDs, On the Other Side (2007) and Desire (2009) was thematically coherent. There is an idea germinating for the next one.
"We're working on a record with some Americana songs," she explained. "We're looking at stuff like 'Oh Shenandoah,' 'America the Beautiful,' some old spirituals. Like all the records we've done, we'll take it out for a spin and let it percolate; figure out where the concept goes. The Desire record ended up being a theme about materialism, but it started out as a set of Cole Porter music then went in its own direction. The same with On the Other Side—I liked the idea of doing the same song in different arrangements. We played with a lot of ideas and then it just sort of became about happiness and pursuing happiness."
Both of those recordings felt deeply personal, as though she were allowing the listener a glimpse of her private life away from the stage, a peak at her innermost thoughts.
"When you inhabit a song," she said, "especially as a vocalist where you are singing lyrics, you're dealing with something from your own life. It may be going on at that time, or it may have gone on a couple of years before, or it may be a fear you have. Or it could be a really happy thing.
"Everybody that does art for a living puts the truth of their life experience in that art. On the Other Side definitely brought out some elements of my life and my life philosophy that were not present before.
"The band actually encouraged me to do the spoken word stuff on Desire. In a way it was my coming-out as someone who is spiritually oriented in my work; that had been where I was coming from for a long time but I hadn't been explicit about it. So it was an exciting thing to be able to say 'my life philosophy is that this material world is a kind of spiritual obstacle course, and part of our challenge is to be less attached to it.'
"Desire is a real pregnant word: sometimes you desire lofty spiritual things, sometimes you desire carnal things, sometimes you desire money, sometimes you desire peace."
After a decade with a major jazz label, Tierney Sutton is weighing her options in the new world of the music business, where record companies play a significantly diminished role.
"I don't need a record company," she laughed, "but I do need a keeper! I do need a deadline to be organized. But in terms of the technicalities of getting it out there, I'm sure we all know how to do that by now. It's just a matter of doing it. I just have to figure out how to assemble a team or a person to light a fire, put a gun to my head and set a deadline to make me finish!"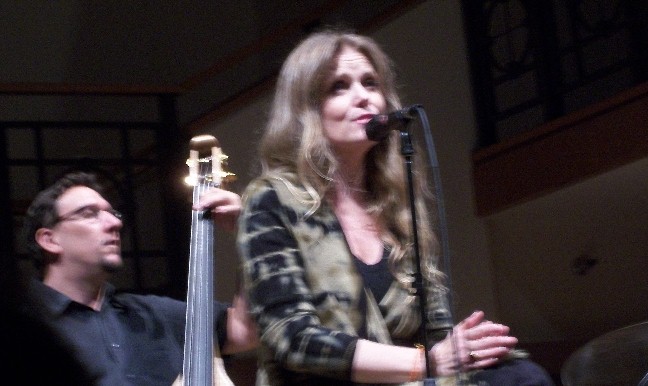 Tierney Sutton Band
Old Dominion University
Chandler Recital Hall
Monday, November 8 – 8:00 pm
Concert
Tuesday, November 9 – 12:30 pm
Clinic/Master Class
copyright © 2010 Jim Newsom. All Rights Reserved. Used by Permission.