How does a nice girl from Milwaukee end up in Los Angeles singing jazz?
"Sometimes it seems like I've had a few different incarnations," Tierney Sutton replies. "I sang my whole life, and it wasn't until college that I was introduced to jazz. I just sang covers of whatever was on the radio. I was doing talent shows and whatever you do in Milwaukee. But I did not really sing with bands or anything like that.
"I remember one year my father heard me sing a standard in the high school talent show and he asked a guy that was a bass player that hired people to sing at the Playboy Club in Lake Geneva. He got this sort of weird audition for me in somebody's living room, and the guy said, 'Whatever it is, you've got it, and you should learn a lot of tunes.' I didn't know any songs, you know, three standards----I knew "Georgia on My Mind," "Funny Valentine," and "Our Love is Here to Stay." That was it. I didn't really know what jazz was, I didn't know what jazz songs were, I just had learned this song kind of by rote to sing in this show."
Sutton has come a long way from that day 25 years ago when she was 17 years old, to the point where she is now one of the hottest singers in jazz. She makes her first trip here this week to kick off the Port Folio Weekly Music Series of the Virginia Arts Festival Thursday night at the Granby Theater in downtown Norfolk. It's a chance to hear one of today's best in a beautiful, newly refurbished venue.
I fell in love with Tierney Sutton five years ago when I was knocked out by her first Telarc CD, Unsung Heroes, a collection of jazz tunes normally performed as instrumentals. It was a gutsy undertaking for an unknown performer, one that boldly announced the presence of an exciting new talent. She followed that up in 2001 with Blue in Green, a tribute to pianist Bill Evans that is arguably her finest release to date. But her next two albums are the ones that captured the attention of a wider audience.
"After we did the Bill Evans record, I became friends with Ray Brown," she explains, "and he took me aside at one point and said, 'Sweetie pie, it's great that musicians like you, but you've got to find some songs that people have heard before to be your signature songs.' And that's what led to Something Cool and doing 'Route 66.'"
Something Cool mixed three songs from My Fair Lady with a couple of Patsy Cline classics ("Crazy" and "Walkin' After Midnight") and selections from the Great American Songbook, all with fresh, unexpected arrangements. It set up her breakthrough 2004 recording, Dancing in the Dark, an all-ballad affair with the subtitle, "inspired by the music of Frank Sinatra."
"Dancing in the Dark sold better than anything we had done," she says, "but actually, Something Cool has continued to do really well. People love 'Ding Dong the Witch is Dead.' I think that record has sold well because it's got a lot of energy and there's enough familiar material."
Tierney Sutton discovered jazz while attending Wesleyan College in Middletown, Connecticut, in the early '80s. She was quickly hooked, and subsequently studied at Berklee College of Music.
"I remember the first singer I really saw was Betty Carter with Benny Green on piano, who was my age. I thought it was the most amazing thing I'd ever seen. And after that I knew there was this thing, it was called jazz, and that's what I wanted to do.
"What happened was, I finished at Wesleyan, I went to Boston, and I studied briefly at Berklee College with a jazz saxophone player named Jerry Bergonzi. He was my main teacher, and then I got to the point where I knew I needed to move either to New York or L. A. I was spending a lot of time in New York, and I assumed I would move to New York, but I'm a member of the Bahá'í faith and I had a couple of Bahá'í friends who are musicians in L. A. and they said, 'Come out and stay with us and check out the scene here.'
"I was asked to sing in a vocal jazz group with Dash Crofts, who used to be in Seals and Crofts. Dash is a huge jazz fan, and actually a couple of their songs were based on Miles Davis stuff. He'd wanted to do this all of his life, so with me and a couple of other great singers, we test recorded and rehearsed. In the meantime, I checked out L. A. and I went to hear Jack Sheldon's big band. And the trio that he was using was the trio that I'm still using today."
She's had those bandmates for twelve years now, an amazing statistic in any music genre, but especially so in the financially challenging world of jazz. That longevity has produced a group esthetic that contributes to the strength of her recordings and live performances. Unlike most jazz albums, on which all-star session players are brought in for marquee value, Sutton's have all been recorded with the same basic backing trio---pianist Christian Jacob, bassist Trey Henry and drummer Ray Brinker. In the past year, Kevin Axt has become the "off the bench" guy on bass, an integral part of the group who alternates with Henry for live gigs.
Dancing in the Dark benefited from the organic interplay of this well-oiled music machine. But, ironically, Sutton is a recent convert to the cult of Sinatra:
"Growing up in the seventies, I didn't really like him that much. My obsession was jazz stuff, real jazz, and I was a huge snob about it. When I started listening to the ballad work of Frank Sinatra, that was a different and new world to me. I feel that those albums in the '50s that he did with Gordon Jenkins and Nelson Riddle represent the greatest ballad singing anybody's ever done. Nat [King Cole]'s pretty amazing too, but I think in terms of emotional content, Frank beats him. Nat had a better voice and swung better, but with Frank you really believe that he's pulverized. You really believe that he's heartbroken."
Tierney Sutton has that same emotional honesty. She has the ability to take a song you've heard many times before and make it her own, but she can also take a lesser known tune and make you care about it. On Dancing in the Dark, she explored the more melancholy side of the Sinatra songbook. But she and her band can pull the stops out with the best of them. They recorded a live CD last month at the Blue Note in New York that she describes as "returning more to the uptempo, intense jazz sensibilities," including some "total burning tunes that are so fast it's ridiculous.
"I think if you love music, then you look at different sides of it. With the Sinatra thing, I knew that I wanted to do that record and I didn't care where the chips fell because it was true for me…We had twice as many arrangements for that album than made it onto the record. We did a whole set of uptempo Frank Sinatra arrangements, some of which will be on the new live record. And we will perform them, I'm sure, in Virginia."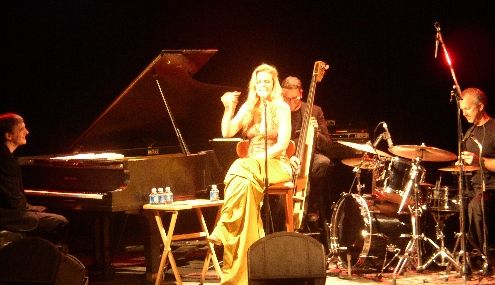 copyright © 2005 Jim Newsom. All Rights Reserved.
---