Tierney Sutton was here on April 28th to open the Granby Theater and kick off the Port Folio Weekly Music Series during the Virginia Arts Festival. It was a mesmerizing performance. People who were there for the sold out concert are still talking about it; those who missed it are asking when she and her band are coming back. They won't be left out next time.

Tierney herself will likely never forget her first visit to Norfolk, and not just for the beautifully renovated building with what she called "that new theater smell." She is a collector of stories from life on the road, and she got a good one here---changing clothes in a Sunday school classroom in the parish hall of Epworth Methodist Church before the show, and then not being able to get back in afterwards because the sexton there only worked until 10:00 pm. So her street clothes and the band cases were waiting outside on the sidewalk when she came out.

One thing that was apparent on that memorable Thursday night was the familial relationship between the singer and the guys in her band. Pianist Christian Jacob and drummer Ray Brinker have been with her for twelve years, and the feelings among the three are obvious both onstage and off. Bassist Kevin Axt is a more recent addition to the group, as longtime bassman Trey Henry has been devoting more time to the homefront and less time to traveling. Axt, however, fits right in with the friendly camaraderie and playfulness. This is a band in the truest sense of the word, like we always imagined The Beatles to be, people who care for each other like brothers and sisters.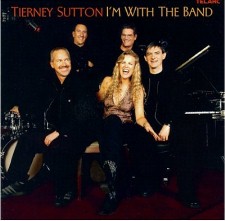 This interconnectedness is very much in evidence on I'm with the Band, Sutton's new Telarc CD. Recorded live at Birdland in New York City one month before the Norfolk date, this is the album that is going to take her into the stratosphere, or at least as high up into it as a real jazz singer can go. Although it comes out this week with four months still to go, it is already my pick for best album of the year.
As she did at the Granby, Tierney opens the new disc with an unaccompanied, ethereally angelic wordless vocal exercise that leads into a rollicking band workout on "Softly, as in a Morning Sunrise." Here and throughout the program, her scatting is lighter and more ambient than the traditional horn-like style of an Ella or Louis.
Both bassists, Axt and Henry, play on this recording, but I'm not sure who's on which track. "Let's Face the Music and Dance," however, starts off with a cool bass motif that sounds like they might both be playing, then takes off, after the singer lays out the lyrics, with a riveting Christian Jacob piano solo.
"'S Wonderful" is what Sutton calls a "triette"---voice, bass and drums cooking at full boil, and it's followed by "Between the Devil and the Deep Blue Sea," whose arrangement is built on a bassline I first heard on an old Tom Waits record that begins, "Good morning Mr. Snip, Snip, Snip." Once again, Jacob is in full flower. His "Devil" solo at the Granby led Sutton to exclaim to the Lorraine, France native, "Play that funky music, French boy!"
"If I Loved You" is simply gorgeous, a voice alone with a piano, that leads into a spirited "Surrey with the Fringe on Top" sung accompanied only by Brinker on the drums. "People Will Say We're in Love" is done as a bass and vocal duet. "Cheek to Cheek" is, as she said in Norfolk, "Irving Berlin taking a little trip on the Tierney Sutton band bus."
And that Tierney Sutton band bus is a pretty good vehicle for a song to travel on. Whether it's the racehorse ride of "I Get a Kick Out of You," the modal Coltrane/Tyner treatment given "The Lady is a Tramp," or the unadorned beauty of "On My Way to You," these guys reinvent and reinvigorate familiar songs with a genuine jazz sensibility rare in the work of today's jazz divas. Rather than being a bluesy belter, Sutton is a finely nuanced singer who uses her versatile voice like the best jazzmen use their instruments.
I've never seen a performer hold an audience in the palm of her hand the way Tierney Sutton did here last spring, singing quiet songs to a packed house that hung on her every note. I'm with the Band offers an aural glimpse at the way she does it, a souvenir for those who saw her and an appetizer for those who haven't yet had the pleasure.
copyright © 2005 Jim Newsom. All Rights Reserved.
---