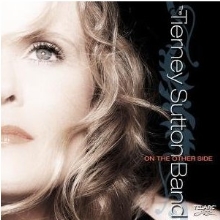 The Tierney Sutton Band
On the Other Side
Telarc
With her seventh album, Tierney Sutton has entered that rarefied atmosphere where her music transcends genre. She is truly in a class by herself.
But she is not alone musically—this time around, she shares co-billing with her longtime sidemen. And a genuine band they are. When they appeared here two years ago for the Virginia Arts Festival's Port Folio Weekly Music Series, she asked that my onstage introduction be not of her alone, but of "The Tierney Sutton Band." Her last recording was called I'm with the Band. She's had the same guys with her now for fourteen years, and the intricate musical settings they come up with really are band arrangements. The rapport, personal and musical, is remarkable.
A look at the song titles reveals this CD to be, if not a full-blown concept album, at least one that is built around a coherent theme. Eight of the tracks have the word "Happy" in their names, one is "Glad to be Unhappy," and the other four allude to happiness or a close cousin. In the liner notes, Sutton says her topic is the "search for happiness," not necessarily the attainment thereof. It makes me wonder what's been going on in her life since last she recorded.
Lest you think this is gonna be some smiley-faced "Up with People" love-in, the opening "Get Happy" makes it clear Tierney and her boys plan to dig much deeper into the emotional landscape. The dirge-like setting is closer to Olivier Messiaen's Quatuor Pour la Fin du Temps than to Judy Garland or Ella Fitzgerald. But the tone quickly changes as the very next track joyously jazzifies "Happy Days are Here Again" and gives pianist extraordinaire Christian Jacob just enough room to stretch. Later, on the back end of the record, the two songs are repeated and reversed, with "Happy Days" presented as a beautifully drawn out ballad and "Get Happy" juiced up as a modified boogie-woogie.
Sutton uses her voice like an instrument and her band uses open spaces orchestrally, as evidenced on their mesmerizing version of "You Are My Sunshine." Her phrasing is impeccable and unexpected, drawing syllables out one minute, compressing them the next, turning words into pure music and back again. Her voice and piano duet with Jacob on "Happy Talk" is a master class in jazz singing.
Sutton found three of her four bandmates—Jacob, bassist Trey Henry and drummer Ray Brinker—playing with trumpeter Jack Sheldon's big band in the early '90s. Sheldon drops by for a couple of tunes here, including an entertaining vocal tradeoff on "I Want to be Happy." Tierney herself makes you believe in the potential for genuine happiness with her gorgeous vocal on the haunting "Make Someone Happy."
She and her pianist close the show with Charlie Chaplin's "Smile," a highlight of her live performance here and a fitting finale for Tierney Sutton's finest recording to date.
copyright © 2007 Jim Newsom. All Rights Reserved. Used by Permission.
---