---
ALBUM REVIEWS

Herbie Mann Plays

Flutist Herbie Mann's first recording as a leader (seven selections from 1954 originally on a 10-inch LP plus four others cut in 1956) has been reissued on CD with three alternate takes added on. Even back in 1954 Mann (who doubles here on flute and alto flute) had his own sound. The music (featuring either Benny Weeks or Joe Puma on guitar in a pianoless quartet) is essentially straightahead bop and finds Mann playing quite melodically and with swing. This set is a good example of Herbie Mann's early style before he started exploring various types of world musics. -- Scott Yanow, All Music Guide
----------
Mann with the Most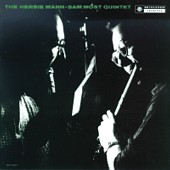 This out-of-print Bethlehem LP, reissued in 1977, matches together flutists Herbie Mann and Sam Most in a fine bop program with guitarist Joe Puma, bassist Jimmy Gannon and drummer Lee Kleinman. The music consistently swings lightly and, other than an original apiece from Puma and Most, the selections are all standards; highlights include "Fascinating Rhythm," "Let's Get Away from It All" and "Seven Come Eleven." Most often takes honors, but Mann is also in fine form on these Russ Garcia arrangements. Worth searching for. -- Scott Yanow, All Music Guide
----------
Big Band Mann
Date of Release Aug, 1957 - 1959
Some but not all of the performances on this out-of-print sampler LP from the early '70s has been reissued on CD. The great flutist Herbie Mann is heard playing nine songs associated with the swing era. The music is drawn from five unrelated sessions from the late '50s including an extended version of "Satin Doll" that is taken from an album by clarinetist Buddy DeFranco that features Mann, a quartet date with pianist Jimmy Rowles, three songs with a string section, a couple of collaborations with Brazilian guitarist Laurindo Almeida and a song ("Caravan") performed by Mann's regular Afro-Cuban group of 1959. It is quite unusual to hear Herbie Mann playing such songs as "Moonlight Serenade," "Let's Dance," "Stardust" and "Contrasts" but the inventive arrangements and constantly changing personnel result in a great deal of variety and some surprises. -- Scott Yanow, All Music Guide
----------
Hi Flutin'
Date of Release Jul ??, 1957 (approx.)
The music on this LP has been reissued several times (including on Premier and on CD by Drive Archive). Herbie Mann (flute, alto flute, clarinet and tenor) and Buddy Collette (flute, alto flute, clarinet, tenor and alto) constantly switch instruments on the fairly basic material which mixes together recent works with originals and a couple of standards. With the assistance of pianist Jimmy Rowles, bassist Buddy Clark and drummer Mel Lewis, Mann and Collette "battle" to a tie, creating light but substantial music. -- Scott Yanow, All Music
----------
Verve Jazz Masters, Vol. 56
Date of Release Aug 9, 1957 - Jul 26, 1960 (approx.)
During the three years that he recorded for Verve, flutist Herbie Mann's playing changed from straight bop to incorporating elements of Latin, African and South American music. This CD reissues all of the music from one former LP (Flautista) and several of the selections from two others (The Magic Flute of Herbie Mann and Herbie Mann's Cuban Band). Whether it be with a standard quartet, backed by a string section, jamming with a sextet that includes two percussionists or interacting with a brass section, the flutist is heard in explorative form, satisfying his fertile musical curiosity; he even plays bass clarinet and piccolo on one song apiece. Highlights of this excellent overview of Mann's Verve period include "Baia," "Oodles of Noodles" (Jimmy Dorsey's theme song "Contrasts"), "The Peanut Vendor," "Cuban Patato Chip" and "Caravan," -- Scott Yanow, All Music Guide
----------
When Lights Are Low
Date of Release Apr 18, 1957+Apr 29, 1957 (approx.)
This Portrait LP (a 1988 reissue of an Epic album titled Salute to the Flute) found flutist Herbie Mann accompanied for the first time by a big band on five of the nine selections. Prior to 1959, virtually all of Mann's recordings were bop-oriented, and this one is no exception. Whether it be "Little Niles," "When Lights Are Low," "Beautiful Love" or even "Old Honky Tonk Piano Roll Blues," Mann proves to be an excellent bop soloist; other important players on this date include trumpeter Joe Wilder, altoist Anthony Ortega, pianist Hank Jones, guitarist Joe Puma and bassist Oscar Pettiford. This LP will be a difficult one to find. -- Scott Yanow, All Music Guide
----------
Yardbird Suite
Date of Release May 14, 1957 (recording)
Although flutist Herbie Mann's reputation suffered in the jazz world in later years due to his interest in other styles of music, during the 1954-58 period he stuck mostly to cool bebop and held his own with the best. This Savoy LP finds him matching ideas with the great altoist Phil Woods, along with vibraphonist Eddie Costa, guitarist Joe Puma, bassist Wendell Marshall and drummer Bobby Donaldson, and the results are quite enjoyable. In addition to his flute flights on three group originals and "Yardbird Suite," Mann fares quite well on tenor during the two other pieces. This hard-to-find album, which has not yet been reissued on CD, is easily recommended to bop fans. -- Scott Yanow, All Music Guide
----------
The Man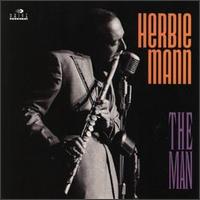 This single budget CD reissues most of two early sessions by flutist Herbie Mann. Mann is teamed up with fellow flutist Buddy Collette on a cool-toned bop date that also includes pianist Jimmy Rowles, bassist Buddy Clark and drummer Mel Lewis. Both of the horns get to play a bit of tenor and clarinet, giving variety to the session. The second date matches Mann with the orchestra of Machito; tenor-saxophonist Johnny Griffin and trombonist Curtis Fuller also have a few solos. Nothing all that essential occurs and these dates are not quite complete but the music is reasonably enjoyable. -- Scott Yanow, All Music Guide
----------
Just Wailin'
This CD reissue of an earlier Prestige LP emphasizes (although does not stick exclusively to) the blues. The sextet has impressive players (flutist Herbie Mann, Charlie Rouse on tenor, guitarist Kenny Burrell, pianist Mal Waldron, bassist George Joyner and drummer Art Taylor) and the material (originals by Waldron, Burrell and Calvin Massey in addition to a brief "Jumpin' With Symphony Sid") is reasonably challenging but the musicians never really come together as a group. The straightahead jam session has its strong moments and, as long as one keeps their expectations low, the music will be enjoyable despite the lack of major sparks. -- Scott Yanow, All Music Guide
----------
Herbie Mann at the Village Gate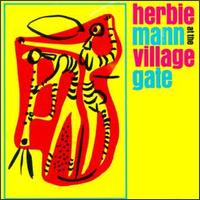 Remarkably few of flutist Herbie Mann's recordings are available on CD, but fortunately, this one did get reissued. Mann's hit version of "Comin' Home Baby" from this live set became his first big hit. The composer Ben Tucker plays second bass on that cut, and Mann's other sidemen include vibraphonist Hagood Hardy, bassist Ahmed Abdul-Malik, drummer Rudy Collins and Chief Bey and Ray Mantilla on percussion. In addition to "Comin' Home Baby," Mann and his men perform memorable versions of "Summertime" and "It Ain't Necessarily So"; the latter is 20 minutes long. Recommended. -- Scott Yanow, All Music Guide
----------
Do the Bossa Nova With Herbie Mann
Rather than play a watered-down version of bossa nova in New York studios (which was becoming quite common as the bossa nova fad hit its peak in 1962), flutist Herbie Mann went down to Brazil and recorded with some of the top players of the style. Guitarist Baden Powell and the group of then-unknown pianist Sergio Mendes, which included drummer Dom Um Romao, formed the nucleus for this generally delightful album. Antonio Carlos Jobim himself dropped by to sing two of his compositions, including "One Note Samba," and even on the token jazz standard "Blues Walk," and the music is as much Brazilian as it is jazz. This "fusion" works quite well; pity that the performances last appeared on this out-of-print LP. -- Scott Yanow, All Music Guide
----------
Herbie Mann Live at Newport
It is surprising that most of Herbie Mann's Atlantic sessions of the 1960s have not been reissued on CD yet, for they are among the flutist's best and most popular work. Mann and his regular group of 1963 (which includes vibraphonist Dave Pike, pianist Don Friedman, guitarist Attila Zoller, bassist Ben Tucker and drummer Bob Thomas with added percussionists Willie Bobo and Potato Valdez) are heard in spirited form on this LP at the 1963 Newport Jazz Festival. There are two surprises, both having to do with Antonio Carlos Jobim tunes. The bossa nova hit "Desafinado" is taken in straight 4/4 time without the percussionists, which makes it sound like a new song. And three months after Stan Getz, Jobim and the Gilbertos recorded "The Girl From Ipanema" (but before it was even released), Mann can be heard playing an instrumental version of the song, here listed as "Garota De Ipanema." A catchy rendition of "Soft Winds," andthe bossa nova "Samba De Orfeu," and Ben Tucker's "Don't You Know" round out the well-played but long-out-of-print program. -- Scott Yanow, All Music Guide
----------
My Kinda Groove
Flutist Herbie Mann was always interested in a variety of different grooves. On this out-of-print LP, the music ranges from bossa nova to Latin-jazz. Mann is backed either by an orchestra arranged by Rene Hernandez or Oliver Nelson (one song features flugelhornist Clark Terry) or a septet with vibraphonist Dave Pike and guitarist Attila Zoller arranged by Oliver Nelson. Although the results are not all that essential, the music is pleasing and typically rhythmic; a good groove. -- Scott Yanow, All Music Guide
----------
Standing Ovation at Newport
The performance by Herbie Mann's group was one of the high points of the 1965 Newport Jazz Festival. This out-of-print LP also includes Mann's "Mushi Mushi" from an earlier date, but it is the lengthy versions of "Patato," "Stolen Moments" and particularly the encore "Comin' Home Baby" from Newport that are most memorable. During this period, the flutist's group included vibraphonist Dave Pike, two trombonists, the young Chick Corea on piano, bassist Earl May, drummer Bruno Carr and Patato Valdes on conga. For "Comin' Home Baby," composer Ben Tucker, who had played earlier in the day as part of Billy Taylor's Trio, sits in on bass. This exciting gem is long overdue to be reissued on CD. -- Scott Yanow, All Music Guide
----------
Wailing Dervishes
One of Herbie Mann's more esoteric excursions, The Wailing Dervishes chases after a fusion that is extremely rare even today - jazz and the Middle East. Believe it or not, it works -- and there are no commercial or ethnic compromises. Mann does not alter his familiar flute improvisational manner one whit, and he enlists the help of an Armenian-descended oud virtuoso, Chick Ganimian, whose folk-like solos on his stringed instrument blend in with, but derive hardly anything rhythmic from, jazz. Mann's regular sidekick Roy Ayers sounds comfortable on vibes and Moulay "Ali" Hafid contributes the ethnic rhythms of his bongo-like dümbek to the percussion section. We also get a ringer in the form of bagpipes player Rufus Harley, whose guest solo on the blues "Flute Bag" is like the old saw of a dog walking on its hind legs; one applauds that it can be done at all. Recorded live, this LP is definitely worth hunting for if you want to hear something really different. -- Richard S. Ginell, All Music Guide
----------
Windows Opened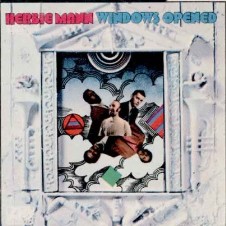 Recorded with Herbie Mann's working band at the time, Windows Opened captures the quintet tackling a mixed set of contemporary jazz and pop tunes. Especially noteworthy are takes on Tim Hardin's "If I Were a Carpenter" and the Wayne Shorter composition "Footprints." Although this is not one of the essential recordings in Mann's catalog, it features excellent playing throughout, with an amazing collection of talent: vibist, future funk/fusion star and acid jazz grandfather Roy Ayers; the unique free-jazz guitarist Sonny Sharrock; and the soon-to-be co-founder of Weather Report, bassist Miroslav Vitous. An enjoyable recording throughout. -- Jim Newsom, All Music Guide
----------
Live at the Whiskey A Go Go
Flutist Herbie Mann had a particularly strong group in the late '60s, a sextet also including vibraphonist Roy Ayers, Steve Marcus on tenor, guitarist Sonny Sharrock, bassist Miroslav Vitous and drummer Bruno Carr. Although this LP is long out-of-print and its total length is under a half-hour, the group's sidelong jams on "Ooh Baby" and "Philly Dog" are danceable, funky and spontaneous, making this one of Herbie Mann's better sets of the era. -- Scott Yanow, All Music Guide
----------
Concerto Grosso in D Blues
Not only is this rare LP one of Herbie Mann's own favorites, it is one of the most moving classical/jazz fusions ever recorded. Right after the 1968 Berlin Jazz Days festival, Mann, his quintet, co-composer/conductor William Fischer and a team of 80 Berlin musicians entered Teldec Studios to record the huge, ambitious title piece, a concerto that successfully spans the decades from Tchaikovsky to Stockhausen, and from New Orleans to free jazz. With some stretches of group improvisation, the piece has structure, memorable yet surprisingly simple motifs, and holds together even when stretched to the limits of coherence by general outbreaks of freeform. To fill out the album, Mann and Fischer came up with three "chamber" pieces that if anything, are even more successful than the main course. The best of the lot, the wistful "My Little Ones" (written for Mann's children), contains what is perhaps Mann's most haunting solo on record, at once loving and soaring, backed perfectly by Fischer's economical writing for double string quartet. Holler at Atlantic and/or Rhino to put this one back in the stores where it belongs. -- Richard S. Ginell, All Music Guide
----------
The Inspiration I Feel
Flutist Herbie Mann pays tribute to Ray Charles on six selections associated with the vocalist/pianist. Mann is backed by an unidentified string orchestra on such numbers as "Lonely Avenue," "I Got a Woman" and "Georgia on My Mind." The renditions on this out-of-print LP will not make anyone forget the influential singer, but they are reasonably enjoyable and respectful. -- Scott Yanow, All Music Guide
----------
Memphis Underground
Herbie Mann has always been open to new trends in his music. For this 1969 studio session, he and three other top soloists (vibraphonist Roy Ayers and guitarists Larry Coryell and onny Sharrock) went down to Memphis and combined their talents with a top-notch local rhythm section. The music effectively mixes R&B and country rhythms with the lead jazz voices, although the material, which includes &"Memphis Underground," "Hold On, I'm Comin"' and "Chain of Fools," is rather weak. -- Scott Yanow, All Music Guide
----------
Muscle Shoals Nitty Gritty
Although it followed a formula similar to the hugely successful Memphis Underground, Muscle Shoals Nitty Gritty stands on its own as a superb example of the fusion of jazz with '60s soul music, a genre that Herbie Mann stood atop at the time of its release. In addition to Mann band members Roy Ayers, Miroslav Vitous and Bruno Carr, the recording employs the Muscle Shoals rhythm section that had played together on numerous soul hits of the '60s, including those of Aretha Franklin. Standout cuts include the title track, with the its horn-driven groove; Sharrock's "Blind Willy," featuring a jew's-harp hook; and a smoldering version of Lennon & McCartney's "Come Together." Throughout the album, Mann's solos wail through the upper register of the flute, while Ayers finds interestingly funky passages on the vibes. -- Jim Newsom, All Music Guide
----------
Stone Flute
The 1970 record buyer who came across Stone Flute expecting a typical Herbie Mann album in the Memphis Underground vein was in for a big surprise. Instead of funk, there was moodiness. Instead of a groove, there were violins, viola and cello. The feeling was one of floating in space, with the flute sailing freely over the William Fischer arrangements, like a Miles Davis trumpet solo of this, the Bitches Brew era. This is a totally atypical Herbie Mann recording, but one which rewards repeated listening. -- Jim Newsom, All Music Guide
----------
Memphis Two-Step
Memphis Two-Step was the third in Herbie Mann's series of soul/R&B-inflected albums with similar names that began with Memphis Underground and continued with Muscle Shoals Nitty Gritty. It is also one of the weakest. "Soul Man" and the title cut really cook, with the personnel and recording information on the latter indicating it may be an outtake from the Memphis Underground sessions. In fact, it is the only track actually recorded in Memphis. The rest of the album doesn't work very well, with "The Night They Drove Old Dixie Down" a particularly poor choice for a jazz session. The album cover, however, is very cool. -- Jim Newsom, All Music Guide
----------
Push Push
Flutist Herbie Mann opened up his music on this date (and during the era) toward R&B, rock and funk music. The results were generally appealing, melodic and danceable. On such songs as "What's Going On," "Never Can Say Goodbye," "What'd I Say" and the title cut, Mann utilizes an impressive crew of musicians, which include guitarist Duane Allman and keyboardist Richard Tee. This out-of-print LP is worth picking up. -- Scott Yanow, All Music Guide
----------
Mississippi Gambler
Here comes Memphis Underground Mk. III (Memphis Two-Step was Mk. II), with much the same cast of grits-and-gravy sessionmen from Memphis and David "Fathead" Newman along for the ride on tenor and flute. Yet this is by no means a retread of the best-selling sound, for Mann explores somewhat different grooves in a bouquet of pop hits and a couple of down-home-flavored Mann originals. Carlos "Patato" Valdes' congas add an alternative Latin flavor to the Memphis stew and Mann tootles along in his by-now-comfortable soul mode. Not essential listening but good `70s soul-jazz nonetheless. -- Richard S. Ginell, All Music Guide
----------
Hold On, I'm Coming
This is one of the best Herbie Mann recordings and arguably his most rewarding of the 1970s. This long out-of-print LP features the leader/flutist, David Newman (on tenor and flute), the avant-garde guitarist Sonny Sharrock and a fine backup rhythm section (electric pianist Pat Rebillot, bassist Andy Muson and drummer Reggie Ferguson) stretching out on a variety of R&Bish material including "Respect Yourself," "Memphis Underground" and "Hold On, I'm Comin'." The high quality of the solos and the spirited ensembles (which were inspired by the audience at the 1972 New York Jazz Festival) make this a generally memorable session. -- Scott Yanow, All Music Guide
----------
Turtle Bay
Herbie Mann goes back to the well of soul on this LP and comes up with another tastefully funky selection of rock/R&B hits mixed with a few originals of his own. Judging by the date of the album, he decided to let some of the early `70s hits simmer for a couple of years before deciding to lay them down. Side One (or, as credited on the label, the Up Side) finds him interacting gracefully with a sextet of New York session men, including the soulful guitarist David Spinozza and Latin percussionist Ralph MacDonald; the sound is a bit slicker than the grooves he got in Memphis yet it percolates nicely. On Side Two (or the Down Side), a delicately applied string quartet adds a moody texture; though Mann's old cohort Bill Fischer is not the arranger (William Eaton, Pat Rebillot, and Mann do the honors), his influence seems clear. Herbie's own flute work is often low-key, maybe even a bit lazy, but he is audibly sympathetic with the material, unlike others who dutifully tried to swim with the pop currents in those days. -- Richard S. Ginell, All Music Guide
----------
First Light
Actually released as a "band" recording by the Family of Mann, First Light offers an enjoyable mix of accessible, melodic jazz penned by Herbie Mann and his band mates. In addition to Mann's flute and alto flute, Sam Brown's tasty acoustic guitar work and David Newman's smoky tenor sax highlight the album. Longtime Mann collaborator and keyboardist Pat Rebillot provides solid support along with the rhythm section made up of studio stalwarts Tony Levin and Steve Gadd. This album is more laidback than most of the Mann catalog from the era, with the rhythmic variations and complementary interplay between the musicians contributing to the feeling of a real band. First Light is one of the classiest and most unified recordings of Herbie Mann's long career. -- Jim Newsom, All Music Guide
----------
London Underground
During the 1960s and '70s, Herbie Mann continually searched for new playing contexts in which to place his flute. In December 1973, he traveled to London for five days of recording with a group of British rock musicians. The result was London Underground, an album tilted much more in a rock direction than the soul and R&B-drenched recordings he had been making for the previous five years. Highlights on this album include the Rolling Stones' "Bitch" (then-Stone Mick Taylor played guitar on this album), Thunderclap Newman's "Something in the Air," and "Paper Sun," andfrom the Traffic canon. The real highlight, however, came about with the addition of Stephane Grappelli on the Donovan pop hit "Mellow Yellow." With guitarist Albert Lee adopting a Django Reinhardt stance, the cut is reminiscent of the old Hot Club of France recordings in the '30s. There are a couple of clunkers here ("Layla" doesn't work), but for fans of late-'60s/early-'70s rock, not a bad ride. -- Jim Newsom, All Music Guide
----------
Reggae
Despite its title, most of the music on this out-of-print LP is not actually reggae but a mixture of jazz, R&B and pop. Flutist Herbie Mann, guitarists Mick Taylor and Albert Lee and keyboardist Pat Rebillot combine with the eight-piece Tommy McCook band to create some spirited and danceable (if a bit dated) music. Together they jam on The Beatles' "Ob-La-Di, Ob-La-Da," the traditional "Rivers of Babylon," Moe Koffman's old hit "Swingin' Shepherd Blues" and an 18-minute version of "My Girl." The results are fun if not all that substantial. -- Scott Yanow, All Music Guide
----------
Discotheque
The unfortunate title of this album fed into the perception that jazz great Herbie Mann would jump onto any musical trend for a buck. The hit single "Hi-Jack" actually was pretty good as dance-oriented instrumental pop, but jazz it was not. However, Mann's rendition of Stevie Wonder's "Bird of Beauty" is very pleasant, and the Mann original "High Above the Andes" has a nice Latin feel to it. On too many cuts, though, the dated synthesizers and female backing vocals make the mix sound like little more than background music for a shopping mall. -- Jim Newsom, All Music Guide
----------
Be-Bop Synthesis
Originally released in 1957 as Yardbird Suite, this is a great album capturing Herbie Mann in his pre-commercial success days, and featuring a 26-year old Phil Woods on alto sax. Also featured are guitarist Joe Puma and vibist Eddie Costa. If anyone were to ask for proof that Herbie Mann could play straight-ahead bop, this recording would be a good place to start. The thing that really sets this album apart from other Mann outings is his Lester Young-influenced tenor sax playing on two of the tracks. He proves to be a solid improviser on that instrument. But the best solos may belong to Woods who was really cooking on this session, displaying the Birdisms upon which he would build his reputation as a giant of the alto for decades to come. Mann himself was in top-notch form as well, and this recording has stood the test of time as one of his best. -- Jim Newsom, All Music Guide
----------
Bird in a Silver Cage
Another example of Herbie Mann's quest for new playing environments leading him to follow another trend, in this case the disco music coming out of Germany in the mid-to-late seventies. Co-producer and arranger Sylvester Levay had been behind the dance-floor success of Silver Convention, including their big hit, "Fly, Robin, Fly," and was involved with the German electronic and techno genres. On Bird in a Silver Cage, he surrounds Mann with a string ensemble from the Munich Philharmonic Orchestra, provides an insistent disco beat, tacks on some inane background vocals and lets the flute master fly over top. This works fine on the title track and on "Birdwalk," anda classic of the Mann repertoire of this era, but "Aria" is awful, and "The Piper" is a piece of generic disco in search of John Travolta and the spinning mirror ball. -- Jim Newsom, All Music Guide
----------
Brazil: Once Again
More than 15 years earlier Herbie Mann was among the first Americans to record in Brazil with local musicians and really explore bossa nova at its roots. In 1978 for this LP he performed music of contemporary Brazil with a bigger accent on its pop music than on its jazz. With Pat Rebillot contributing arrangements and his keyboard work, the music is listenable but somewhat forgettable. -- Scott Yanow, All Music Guide
----------
Mellow
Not a high water mark in Herbie Mann's recorded output, Mellow was released by Atlantic Records after dropping him from their roster. Made up primarily of outtakes from mid- to late-'70s recording sessions, the album sounds like the hodgepodge it is. Highlights include a take on Milton Nascimento's "Cinnamon Flower" and a lengthy version of Mann's classic "Memphis Underground," recorded at the 1977 Montreux Jazz Festival with guests Sonny Fortune, David Newman and the Brecker Brothers. The low point arrives with the opening track, a cover of Bob Marley's "Bend Down Low" left over from the Reggae sessions, in which Mann actually sings the lead vocal. -- Jim Newsom, All Music Guide
----------
Astral Island
Although Herbie Mann's flute is typically melodic and lively, the music on this out-of-print Atlantic album is generally pretty routine. Mann uses a "contemporary" electric rhythm section on a variety of then-recent Brazilian tunes, his own "Gold Rush" and even the "Theme from Tootsie"; the results were dated within a year of this record's release. -- Scott Yanow, All Music Guide
----------
See Through Spirits
Herbie Mann's return to the Atlantic label in 1985 was only a one-shot deal that got some airplay but not enough sales to convince the now-corporate label to retain its onetime jazz cornerstone. Actually this is one of the better Mann albums aimed at a contemporary market, mostly of a mild funk mindset with a few so-so guest vocals yet always intelligent and musical, with Mann flying in customarily fluent form. The best track is a marvelously atmospheric, almost lost-sounding treatment of Marvin Gaye's "Inner City Blues," outfitted with an irresistible repeated electronic counter-theme. As a bonus, the Latinish leadoff track features guest appearances from once and future Mann associates David "Fathead" Newman and Dave Valentin. Except for a duo project with Valentin for GRP, this would be Mann's last album for a big label - and it is well worth searching out. -- Richard S. Ginell, All Music Guide
----------
Jasil Brazz
Herbie Mann makes another of his periodic returns to Brazilian fare on this CD, but the country the ever-restless flutist visits is contemporary Brazil, not echoes of the bossa nova past. A lovely place it is, too, full of melodic, evocative material from the pens of Djavan and Ivan Lins, inspiring Mann to sail lightly and playfully like a kite above the modern samba beat. This was 1987, so the backing textures are mostly digital synthesizers, but Mark Soskin's touch is light, and he doesn't interfere with the grooves. Trumpeter Claudio Roditi makes a single, somewhat lackluster appearance on the otherwise luscious "Sonhos," Romero Lubambo is the facile guitarist, and soloist and band get to stretch out a lot on the multi-sectioned marathon "Little Chick A Dee." Everything goes down easily, and the result is one of Mann's best albums of that decade. -- Richard S. Ginell, All Music Guide
----------
Caminho de Casa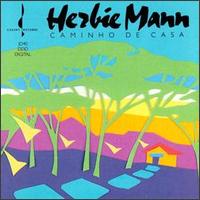 Flutist Herbie Mann and his group of the time (Jasil Brazz) perform contemporary Brazilian music on this CD, including three numbers by Ivan Lins. Some of the treatments are strictly easy listening or close to bossa nova, while others would fit into the "contemporary jazz" category. On a whole, this is a pleasing set, both as background music and for close listenings -- one of Mann's better ones from the past 20 years. -- Scott Yanow, All Music Guide
----------
Deep Pocket
This is a decent set that could have been a great one. Flutist Herbie Mann had a reunion in 1992 with many of his former sidemen (tenorman David "Fathead" Newman, guitarist Cornell Dupree and keyboardist Richard Tee) along with his contemporary pianistvocalist Les McCann and they play a wide ranging program of music (highlighted by "Moanin'," "Papa Was a Rolling Stone," "Sunny," "Mercy, Mercy, Mercy" and "Amazing Grace"). But somehow once one gets beyond the nostalgia, the performances seem workmanlike and surprisingly uninspired, unlike Herbie Mann's live concerts with this group during the period. There are a few worthwhile moments but this set is recommended mostly for Mann's greatest fans; get his earlier Atlantics instead. -- Scott Yanow, All Music Guide
----------
Peace Pieces
In 1961 Herbie Mann recorded an album (Nirvana) with the Bill Evans Trio and the experience made a major impression on the flutist. In his first purely straightahead jazz date in many years, Mann pays tribute to Evans by performing eight of his compositions plus one song ("Blue in Green") that the pianist long claimed Miles Davis permanently "borrowed" from him. On some selections Mann overdubbed his flutes to form an orchestral sound behind his solos and a few numbers have lyrical solos from Randy Brecker on flugelhorn. Otherwise this is essentially a pianoless quartet session (with guitarist Bruce Dunlap and occasional percussion) that finds Mann really digging into the often-complex material. The late Bill Evans, whose influence as a pianist (particularly in his chord voicings) continues to grow each year, has never been thought of as a major composer but perhaps it is time for a reassessment. This is a highly recommended outing with the highlights including "Funkallero," "Turn Out the Stars," "Waltz for Debbie" and "Peace Piece." -- Scott Yanow, All Music Guide
----------
65th Birthday Celebration
To celebrate his 65th birthday, the influential flutist Herbie Mann played for a week at the Blue Note in New York, along with some of his favorite musicians. Among the many guests on this CD are such notables as trumpeters Claudio Roditi and Randy Brecker, altoists David Newman, Paquito D'Rivera and Bobby Watson, fellow flutist Dave Valentin, Tito Puente on timbales and several rhythm sections. Alternating between Brazilian music, vintage funk jazz (such as "Memphis Underground"), a catchy boogaloo blues ("Dippermouth") and a few straight-ahead tracks ("Au Privave" and "Jeep's Blues"), the flutist sounds as if he had a great time. The diverse music is consistently infectious and joyful, with all eight selections well worth hearing. Highly recommended. -- Scott Yanow, All Music Guide
----------
America/Brasil
America/Brasil is a rollicking, celebratory album that keeps Herbie Mann on the winning streak he started with the release of Peace Pieces in 1995. Recorded during a week of concerts to mark his 65th birthday in April, 1995, this disc is much stronger than its immediate predecessor, Celebration, also taken from the same week of live concert performances at New York's Blue Note Jazz Club. The material here is superb, and the playing topnotch. As the title implies, the emphasis here is on Mann's Brazilian side, but there are touches of the non-Brazilian with Bill Evans' "Peri's Scope," and Miles Davis' "All Blues." "Summertime" is recast in an Afro-Cuban mode with Paquito D'Rivera sharing the solo space on alto sax. However, lengthy Brazilian showstoppers are placed at the beginning, middle and end of this wonderful disc. The opening "Keep the Spirits Singing" is propelled by the polyrhythmic pulse of percussionists Cyro Baptista and "Café," and the 17-minute title track finale features trumpeters Randy Brecker and Claudio Roditi, trombonist Jim Pugh and guitarist Romero Lubambo. Even with the all-star cast assembled for this special week of concerts, it's Herbie Mann himself whose playing shines the brightest throughout this recording, celebrating his past and affirming his place in the present as the finest flutist working in jazz. -- Jim Newsom, All Music Guide
----------

, June 1998
Herbie Mann - America/Brasil
Lightyear 54233-2 (62:56)
The jazz world owes a great deal to Mann. Long before it became fashionable, the 68-year-old flutist's natural curiosity and adroit musicianship sparked him to lead fascinating, improvisation-based explorations of global styles that ranged from the Middle East and North Africa to the Orient. He was among the first North American jazz musicians to travel to Rio and to hook up with such emerging greats as Antonio Carlos Jobim and guitarist Baden Powell. And he was jamming with the likes of Machito long before Latin jazz became popular beyond the barrios of the Big Apple.
This superb addition to Mann's lengthy discography, recorded live at New York's Blue Note, is a genuine love-in; it reunites the flutist with many of the Latin, Brazilian, and mainstream jazz artists he's worked with through the years. True to its title, the date boasts pure Brazilian takes, like Hermeto Pascoal's perky "Ovo," and varying views of the made-in-America sound, highlighted by a very cool version of Miles Davis' "All Blues" and a Cubanized "Summertime." The generous lengths of the tracks---the Ivan Lins title tune runs more than 17 minutes with extended solos by trumpeters Randy Brecker and Claudio Roditi---keeps Mann and crew loose and grooving. Among the inspired guests are Paquito D'Rivera, Billy Taylor, Eddie Gomez, Bobby Watson, Ron Carter, Milton Cardona, and Romero Lubambo. Albums like this restore Mann's name in jazz households once again.
---Mark Holston


, March 1998
Herbie Mann - Peace Pieces: The Music Of Bill Evans
Lightyear 54193-2 (59:46)
Herbie Mann - America/Brasil
Lightyear 2-54233-s (62:42)
Mann has covered a lot of musical ground over the years-from straightahead to jazz-rock to disco to Latin. These releases reflect two elements he has been long associated with, namely the music of his old friend Bill Evans and the rich sounds of Brazil.
Recorded in mid 1995, Peace Pieces features Evans stalwart Eddie Gomez on bass, as well as Randy Brecker on fluegelhorn, Sammy Figueroa on percussion, Bruce Dunlap on guitar, and Louis Nash on drums. And while all of the compositions fittingly are Evans' own, Mann wisely avoids comparisons by using guitar instead of piano. "Peri's Scope," which opens with some articulate brush work by Nash, recalls Evans' light but solid sense of swing; here, though, guitar supplies harmonies while flute lithely plays the melodic role. Another good example of the guitar/flute pairing is the ballad "Turn Out The Stars," which begins with a nice rubato opening on six-string and receives a lyrically sensitive treatment by Mann. The tribute concludes with "Peace Peace;" originally improvised by Evans, here it receives an ironic, well thought out multiple flute arrangement that evolves into a delicate ensemble piece.
With its cast of over 20 musicians, including multiple percussionists, America/Brazil is as vibrant as the musical cultures it represents. Recorded live, the expertly arranged performances leave plenty of blowing space. Throughout, Mann leads the way, playing aggressively on "Keep The Spirits Singing," solid and bluesy on "Summertime" and down and grooving on "All Blues." Other highlights include "Peri's Scope," whose approach and instrumentation significantly differ from the aforementioned version, and "Baghdad/Candle Dance," a brief but adventurous number with flute, percussion, and bass that explores an adventurous Middle Eastern theme.
Two contrasting settings and projects that showcase the versatility and many facets of one of jazz's most distinctive flutists.
-Jim Ferguson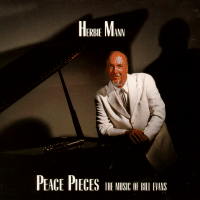 , July 1997
Herbie Mann - 65th Birthday Celebration Live At The Blue Note
Lightyear 54185-2 (65:34)
Mann popularized the flute in jazz. He played Latin, bossa nova, bebop, blues, funk, soul, disco and world music, all without losing his integrity. In each genre, he found the groove and made his flute dance on top. He hired hip bands and let them stretch out. In this album, recorded during a week-long celebration in April, 1995, he revisits some of the genres and grooves, assisted by 31 guests of past and present sidemen.
Mann is in sunny form throughout. He paces himself well, doesn't get rattled when superior technicians arrive and doesn't leave any loose ends. On percussion-loaded Latin tunes such as "Sonhos" and "Jungle Fantasy," he shows the kind of rhythmic interplay that set the stage for the career of Dave Valentine (whose flute is heard on "Jungle Fantasy") and others. The heat continues with superb solos from trumpeters Claudio Roditi and Randy Brecker on "Give And Take" and "Dippermouth." The funky sound of Mann's "Memphis Underground" is here, too.
Various ensembles appear on various tracks. The music sounds well rehearsed (or at least not sloppy and meandering). This is certainly a fitting tribute to and from Mann.
---Owen Cordle
For more reviews, go to:

---