Jim Newsom
Jim Newsom is well known throughout southeastern Virginia as a diversely talented singer, songwriter and multi-instrumentalist. He's led rock, jazz and acoustic bands, most recently with the duo Mountaintide, with whom he recorded and released two albums of original material as well as a CD of children's music. The most recent recording, Coffee & Fried Steak, came out in June, 2017. Their first CD, Dancing in the Sun, was released in June 2015, followed by the children's album, Away We Go, in November 2015.
Jim's original songs cover a wide range of styles and touch on a diverse range of subject matter: The environmental anthem "Open Spaces," the wistful beauty of "Virginia," the summer memories of "Talking Like Horses," the journey up "460 West to Blacksburg," the singalong folk song "Colors of the Rainbow," the lyrical potency of "Growing Guns on Trees."
Born in Chattanooga, Tennessee, Jim grew up in Suffolk, Virginia, graduating from Suffolk High School and Virginia Tech. He's been a popular musician regionally since the mid-1970s. He is also a highly regarded music writer and critic whose work has been published in the All Music Guide, PortFolio Weekly and VEER Magazine among many print and online publications. He is well known throughout the area as a popular television personality, having hosted programs on the local PBS and NPR affiliates for thirty five years.
He first played music as a youngster after picking up the basics from his sister's piano lesson books. He subsequently drove his parents crazy banging out rock and roll on the family's living room piano. In high school, he bought a flute for $25.00 from a girlfriend in the marching band, and taught himself to play by listening to the recordings of Herbie Mann and Jethro Tull. He learned guitar from a Bob Dylan songbook.
  In recent years, Jim has performed at major regional festivals including Norfolk's Harborfest, Chesapeake Jubilee, Stockley Gardens Arts Festival, Seawall Art Show, Chelsea Summer Solstice Festival, the ETC Festival and the Norfolk Folk Festival. He has headlined special events like the Norfolk Harbor Party, Cultural Alliance Brew at the Zoo, D'Art Affair and Taste of Chesapeake; played concerts at the Naro Theatre, the American Theatre, Sandler Center for the Performing Arts, the Suffolk Center for Cultural Arts, the Pretlow and Slover Libraries in Norfolk, the Hampton History Museum and the Virginia Beach Central Library. He regularly performs in restaurants and coffeehouses, craft breweries and art centers, and at corporate conventions and private functions throughout southeastern Virginia from Suffolk to the Eastern Shore. He's also been featured on regional television and radio programs such as Out of the Box, Hunter at Sunrise, Acoustic Highway, the Hampton Roads Show, Coast Live and Norfolk Perspectives.
DISCOGRAPHY:
2017: Mountaintide – Coffee & Fried Steak
2015: Holly – Away We Go (children's music)
2015: Mountaintide – Dancing in the Sun
2004: Jim Newsom Sextet – Jazz on the James (featuring Tommy Newsom)
2003: Jim Newsom Quartet – Swingin' on Granby Street
1999: Jim Newsom and the PorchRockers – On the Prowl
1992: Jim Newsom – Crazy Dreams
---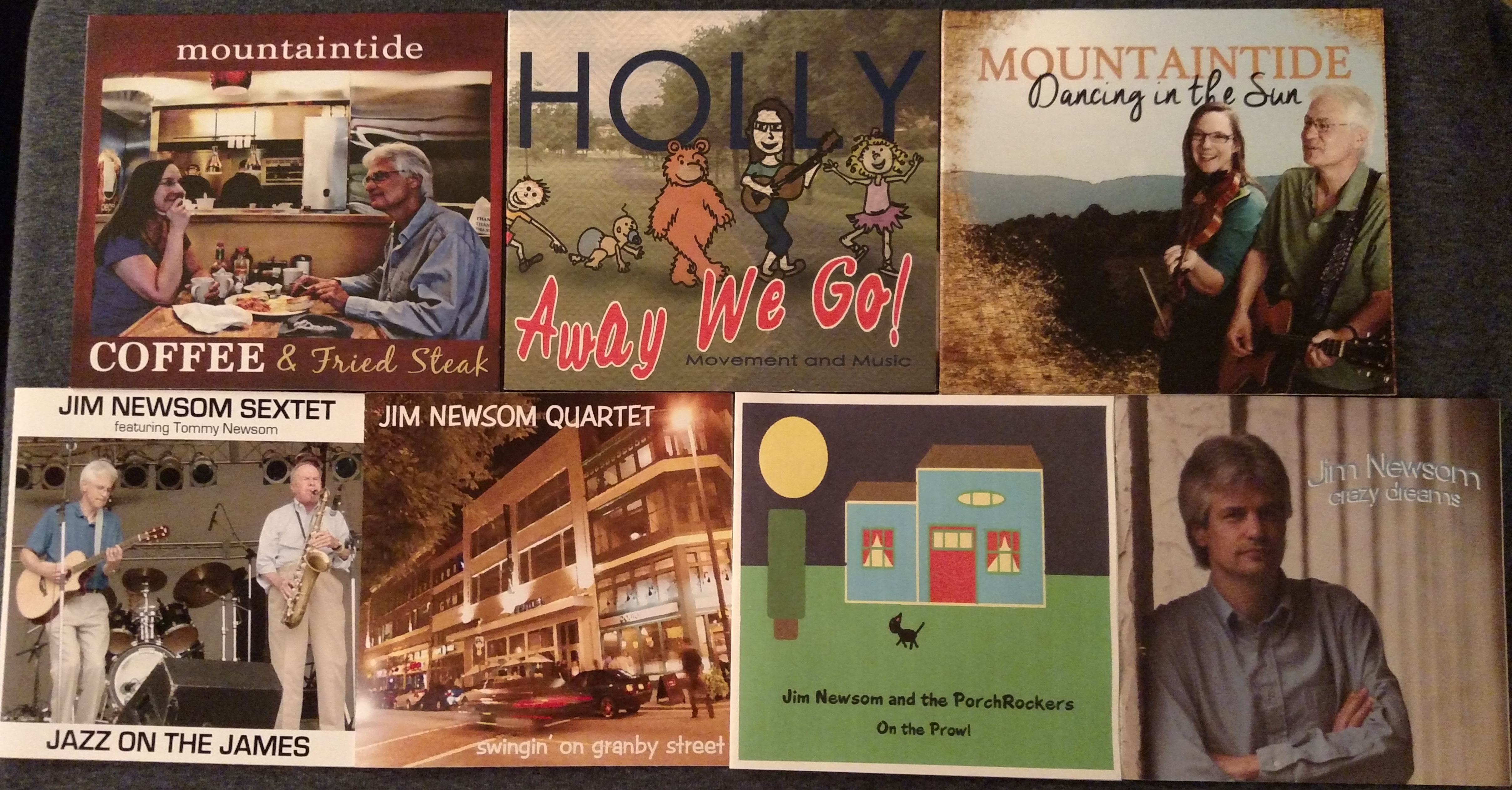 ---