---

PortFolio Weekly
January 11, 2005
Have a Little Faith
by Jim Newsom
Here we go again, another yearend Top 10, reflecting the current state of the music industry and my tastes at this stage in life. I spent more time trying to pare down my list to ten than I did actually writing about the CDs when they came out, but such is the importance of the endeavor. Last January I cheated and named a dozen, but this time I decided to play it straight, making the task that much more arduous.
I reviewed eight of the selections below in the pages of PFW last year, and Tom Robotham reviewed one. The quotes come from those reviews.
If you haven't saved all your old Port Folios, you can find the complete reviews, not to mention interviews and other assorted stuff, by clicking the "writings" link at www.jimnewsom.com.
1. FAIRPORT CONVENTION -
OVER THE NEXT HILL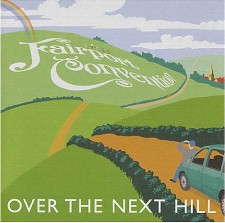 "Fairport Convention was the best of the British folk-rock bands that emerged in the late '60s, a group that started out with a mission to weld traditional folk music of the British Isles with the sound coming from American groups like The Byrds and Buffalo Springfield." Thirty-seven years later, the current lineup is stronger than ever, creating a unique blend of its own, one that unfortunately has few outlets for airplay or promotion. This album may well be the finest in the band's long history, drawing lyrical inspiration from a variety of sources, "writing new folk songs that stand with the best of the band's long canon of traditional interpretations." Fairport's performance at the Birchmere in Alexandria was the best concert I saw in the last twelve months. (reviewed Oct. 26)
2. STEVE TURRE -
THE SPIRITS UP ABOVE
The most consistent disc of Turre's career, a tribute to his one-time mentor: "Employing a frontline of James Carter on tenor sax, Vincent Herring on alto and soprano, and his own trombone to replace the honoree's one-man assault, Turre explores Kirk's complete compositional range…presenting the music of Rahsaan Roland Kirk in vividly mastered sound to a new generation of listeners." (reviewed Nov. 2)
3. ROBERT JOSPE -
HANDS ON
U. Va. music prof/drummer/composer Jospe keeps getting better with each release. Utilizing a lineup of fellow Charlottesvillians, he produces some of the cookingest music you'll hear anywhere. "On most of the tracks, the frontline trumpet/sax blend is exhilarating…a high class, high-caliber outing. If they give those 'Virginia's Finest' stickers to CDs, this disc deserves one." (reviewed April 6)
4. STEVE SWALLOW/OHAD TALMOR SEXTET -
L'HISTOIRE DU CLOCHARD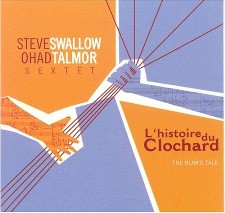 Talk about an unusual lineup. Saxophonist Talmor took seven of electric bassist Swallow's compositions and arranged them for this six-piece group based on the instrumental combination chosen by Igor Stravinsky for his "Soldier's Tale." The result is nonpareil music that continues to unfold with repeated listening. I didn't get around to reviewing it this year because, quite frankly, Palmetto Records sends out its review copies in cardboard covers that have no spine on them, and they disappear on my CD shelf. Still, I have dug deeply into this disc for months and can't recommend it highly enough to those with open ears. There's no piano or guitar, and no drums, but the blend of trumpet, violin, clarinet and trombone with the leaders' instruments makes for a modern classical/third stream jazz fusion that is intoxicating.
5. MAVIS STAPLES -
HAVE A LITTLE FAITH
The lead singer of the Staple Singers ("Respect Yourself" and "I'll Take You There"), "Mavis Staples is alive and well, and her dark-hued, rough-edged voice is as powerful as ever, stirring up memories of the heyday of Memphis-based Stax R&B…a wonderful return to form for one of the greatest voices of the classic soul era." (reviewed Nov. 23)
6. MARY CHAPIN CARPENTER -
BETWEEN HERE AND GONE
"Another intelligent, introspective collection that may prove to be her best, most unified effort yet." Carpenter continues her reign as the preeminent songwriter of her generation by sharing the details of her life and connecting on an intimate level with her audience. As she told me last summer, "I've always subscribed to the idea that something can be personal but it can be ultimately very universal feeling as well." (interviewed/reviewed July 13)
7. CHERYL BENTYNE -
TALK OF THE TOWN
Normally ensconced within the luscious harmonic confines of the Manhattan Transfer, Bentyne steps out for only her second solo recording and hits a home run. Backed by a trio led by pianist extraordinaire Kenny Barron, she delivers the kind of album that the more-hyped young divas can only dream of making. "From beginning to end, her warm, expressive voice is the star of the show." (reviewed Feb. 24)
8. FRED HERSCH TRIO -
PLUS 2
Hersch, whose reputation in the jazz community was built on his solo and trio recordings, adds sax and trumpet for this one, "lifting it above the typical piano trio outing and allowing Hersch to expand his tonal palette…The one non-original, Lennon & McCartney's 'And I Love Her,' receives a Bill Evans-like treatment, beginning in a 'Peace Piece' mode before Hersch works his magic with intriguing chord substitutions and lyrical lines atop Drew Gress' mellow bass, umbrellaed beneath the ambient overlay of the horn section." (reviewed March 23)
9. CONNIE EVINGSON -
LET IT BE JAZZ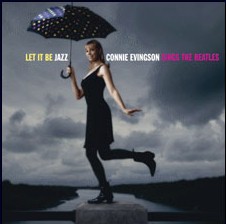 Finally, a jazz singer manages to record a collection of Beatles songs that places them on a par with the standards of the Great American Songbook. (Well, they're British, but you get the drift.) Port Folio editor Tom Robotham reviewed it in these pages, saying "the first time I listened to it in its entirety, I experienced nothing short of an epiphany: Lennon and McCartney wrote songs that can swing. That Evingson recognized this---and was able to bring it out---is a testimony to her artistic sensitivity, musical technique and lovely vocal quality." Amen! (reviewed March 2)
10. WYNTON MARSALIS -
THE MAGIC HOUR
"Instead of the cold facility for which he's been derided, this is downright funky stuff. All of the material is original, but it sounds familiar…he sounds like a man with a new lease on his musical life." My only complaint is the stupid "copy control" technology embedded in this CD. Heed the small-print warning: "Playback problems may be encountered on some equipment." No joke---it won't play on my Discman or my office computer. So, I haven't enjoyed it, or talked it up, nearly as much as I would have otherwise. (reviewed March 23)
copyright © 2005 Jim Newsom. All Rights Reserved.
---