---

PortFolio Weekly
November 2, 2004
Recordings
by Jim Newsom
REMEMBERING RAHSAAN
I first heard Roland Kirk in 1970 when, as a college freshman, I found his 1964 album, I Talk with the Spirits, for a dollar in the University Bookstore at Virginia Tech. I knew who he was because Jethro Tull had recorded his "Serenade to a Cuckoo" on their first album, and Tull frontman Ian Anderson was being compared to Kirk with his humming-along flute style.
Trombonist Steve Turre also discovered Kirk as a freshman in college, four years earlier in 1966, but his introduction was a concert at the Jazz Workshop in San Francisco while he was enrolled at Sacramento State University. It was a life-changing event for Turre, as he met the jazz master after the show and ended up playing with him the next day.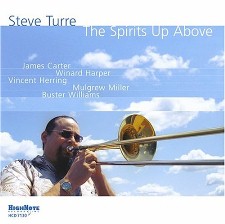 "We clicked," Turre says. "It was like we'd been playing together all our lives."
In 1970, Kirk added "Rahsaan" in front of his name, and Turre played with him on many occasions, working as a regular member of his band during the last few years of his life. (Kirk died in 1977.)
Turre has gone on to carve out a career for himself as a leader and sideman, and on The Spirits Up Above (HighNote), he officially pays tribute to his mentor. It's his best outing yet, recorded in glorious 24-bit digital clarity by legendary recording engineer Rudy Van Gelder, and featuring a buffet of Kirk compositions plus "One For Kirk," his own paean to the blind multi-instrumentalist.
Roland Kirk was looked on with bemusement by much of the jazz establishment during his lifetime. He would cram three horns into his mouth at once and stick a nose-flute up his nose while jingling jangles or squawking a siren whistle, giving him a clownish appearance. But he was totally serious about his music, and Turre honors both the joy and the seriousness on this disc.
Employing a frontline of James Carter on tenor sax, Vincent Herring on alto and soprano, and his own trombone to replace the honoree's one-man assault, Turre explores Kirk's complete compositional range: The uninhibited elation of "Three For the Festival;" the soulful intensity of "Volunteered Slavery;" the lighthearted playfulness of "Cuckoo," on which Dave Valentin shows off his own distinctive flute chops while mimicking Kirk's talking-flute technique.
In a real sense, Steve Turre performs a public service with The Spirits Up Above, presenting the music of Rahsaan Roland Kirk in vividly mastered sound to a new generation of listeners. I hope they hear it. This is one of the best jazz recordings of the year.
__________________________________________
IN THE BEGINNING…
My favorite album of the pre-guru Santana was the third one, with its predecessor Abraxas a close runnerup. The band's first album, released about the same time they launched their international career at Woodstock in August '69, never hit me as powerfully as those two follow-ups.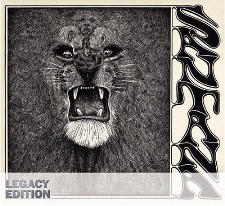 Now, Sony Legacy has released a refurbished and expanded version of that first album 35 years later, giving us the opportunity to reassess the record that was called simply Santana. And, truth be told, it knocks me out more now than it did when I first heard it in the fall of 1969. This reissue is a two-disc set that includes the entire album as it was originally configured, plus a couple of alternate takes and a studio jam, replacing the muddiness of the original mix with a crispness and clarity not previously available. Comprising disc one, it alone is worth the price. But this is one of the rare CD sets on which the bonus disc is just as valuable, both historically and musically.
Disc two includes the sessions the band did in January of 1969 for what was supposed to be their first album. At that time, the band was a great jam band, but hadn't yet gelled into the mighty machine it was destined to become. And while the music recorded in January was pretty darn good, the difference between it and the sessions in May that ultimately became Santana is significant. Personnel changes had taken place, a quintet had evolved into a sextet with an entirely new drums & percussion section, and the band's studio presence had tightened up to the point that their insistent jamming was now ready for radio. Plus, manager Bill Graham had found the perfect hit single for them, the now-classic "Evil Ways."
The second half of disc two is given over to the entire Santana set at the Woodstock Music & Arts Festival on August 16, 1969. The whole world knows "Soul Sacrifice" from the soundtrack and movie, but this is the first chance to hear the whole shebang. It is a feast for the ears. Listening to Carlos' guitar work here, it's hard to believe he was tripping on LSD through the whole performance.
The 7-song, 42-minute Woodstock set is probably what makes this edition essential. But the opportunity to fully experience Carlos Santana and band in the beginning is important in and of itself. Now that the guitarist is a rock icon, you may have forgotten how crucial Greg Rolie's organ and lead vocals were to the band's sound, or how much Michael Shrieve brought to the group when he joined on drums.
This set, like so many of the Legacy remasters, offers a chance to feel the magic of a great band in those heady times once again.
copyright © 2004 Port Folio Weekly. Used by Permission.
---