VEER
December 15, 2016
Robin & Linda Williams: A Life in Music
by Jim Newsom
"All we ever wanted when we started out was to have a career in music."
Robin Williams was on the line from the tiny hamlet of Middlebrook, out in the Shenandoah Valley where he lives with wife and musicmate Linda."We didn't have any goals of being on the radio or being household names. We just wanted to have a life in music. It's such a gift to have, to be able to work on it every day. And then to make a living in it is just icing on the cake. Here we are, forty three years into it and still doing it."
Robin and Linda Williams have "done it" in a way they probably could never have imagined when they first met in 1971. But in 1975, shortly after releasing their first album, they met a guy named Garrison Keillor who had a new little radio variety show in St. Paul, Minnesota, called A Prairie Home Companion. He liked their music the first time he heard them, and Robin & Linda Williams became an integral part of the PHC family, appearing often on the iconic public radio program over the next forty years.
For much of that time, Robin & Linda toured with "Their Fine Group." But when they come to town for a Tidewater Friends of Acoustic Music concert on January 14th, it will just be the two of them doing it the way they started out.
"It's been a period of transition," Robin told me. "We ran a four-piece band for thirty years. The last couple of years of the run of the band, Linda and I began feeling the need to do something different. We're kind of nicheless when it comes to musical genre: We're really not bluegrass; we're really not just singer-songwriters; we're not just old time music. We're all of it. After all this time, we started feeling that we'd like to do something different."
It took us a while to think about that, to make a change. There are huge advantages to having a band. There's the fun factor, wonderful musicians to play with every night. So we had to think about what we'd lose and what we'd gain by just going back to being a duo.
"When we made the decision, it presented some challenges musically. But it's been energizing, it's been great fun taking all the responsibility of writing thoughtful arrangements and stepping it up musically. We are responsible for all of the music, the two of us. It's been fun pulling it off every night. And then there's something that we didn't even think about—the freedom it gives you to pull new tunes together quickly, to shift gears on stage and play a song we haven't played in a long time if someone wants to hear it."
Robin had a bit of a health scare this fall.
"It's the kind of thing that's supposed to happen to other people," he laughed. "And then it happened to me. I was having a little tightness behind my sternum. The cardiologist says 'I don't think it's your heart' and then comes back forty five minutes later and says 'I was totally wrong. It's your heart and we're going in now.' An hour and a half later, I had three stints put in my heart. It happened so quickly that I didn't have time to think about it while it was going on. Linda wasn't even at the hospital! It was a Sunday afternoon, and I'm lying around afterwards looking at a football game thinking to myself, 'Holy cow, what just happened!' I dodged a huge bullet that the cosmic gunman aimed at me.
"The reason I went in was that I was thinking about our friend Tom Keith, who was a sound effects guy on Prairie Home Companion for thirty years. He had the same thing that I did—something was going on but he wasn't sure what it was. He went three or four days without getting it taken care of, and finally his wife said, 'man you gotta go to the doctor.' It was a Sunday and he said he'd go tomorrow. And he didn't make it. I was thinking about that; I didn't want to be Tom Keith."
After four decades in the business, does Robin Williams have any words of wisdom for others trying to make a living with music?
"The only advice there is," he said, "is to focus on the music. Wake up every day and say, 'What am I going to do with the music today?' If it takes five minutes or an hour, do something to focus on the music every day. That could be a phone call you have to make, it could be an email you have to send. But hopefully it will be something musical. And if you can do that, just let that become the focus of your life, then doors will start to open. There's no one way to do this. You talk to everybody who's had a life in music, they've done it their own way; they've done it different than anybody else. That's all there is."
Robin & Linda Williams 
Saturday, January 14, 2017 @ 7:00 pm
Barry Robinson Theater
4552 Princess Anne Road
Virginia Beach
www.tidewateracoustic.org
© 2016 Jim Newsom. All Rights Reserved.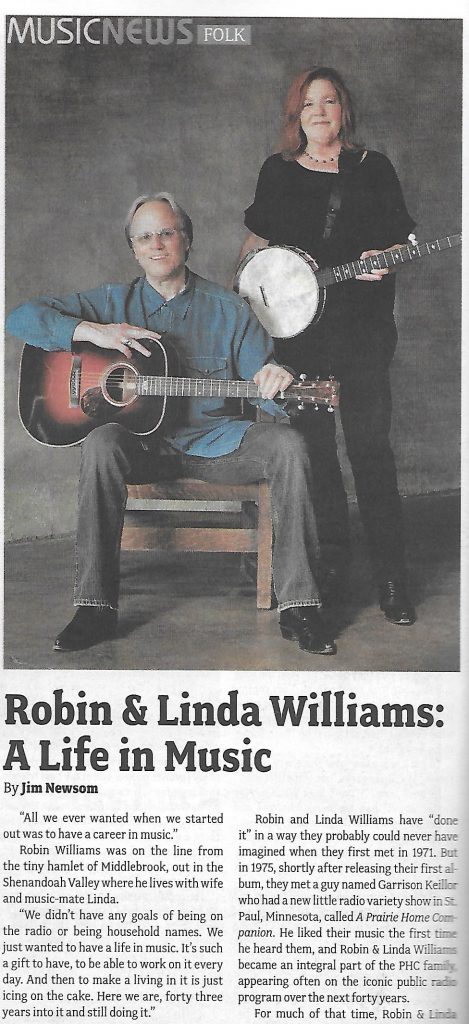 RELATED ARTICLES:
"Loving What They Do"
VEER
September 15, 2012
A conversation with Robin & Linda Williams.