Jim Newsom is an award-winning singer, songwriter and multi-instrumentalist who is well known and highly regarded throughout southeastern Virginia. His current band, Jim Newsom and the Cloudless Sky, includes Gail Keller Smith on piano, keyboards and steel drum, and Rick Jebavy on the drums.
Their concert repertoire draws primarily from Jim's catalog of original songs, particularly material from the four CDs he released over the last six years, with a sprinkling of classy, classic songs from the likes of Stevie Wonder, Paul Simon and Elton John.
The band's latest album, Peace Love Happiness, is Jim's ninth album overall. Released in February, 2021, the recording features fourteen new originals written during the two years since his 2018 release, New Set of Dreams. Unlike that recording, on which Jim played all the instruments himself, Peace Love Happiness is a group effort recorded with social distancing measures in place during the depths of the pandemic.
Jim's original songs cover a wide range of styles and touch on a diverse range of subject matter: His reflection on a lifetime of musicmaking in "I Am Not a Jukebox;" the environmental anthem "Open Spaces;"  the journey up "460 West to Blacksburg;" the singalong folk song "Colors of the Rainbow;" the lyrical potency of "Growing Guns on Trees;" teenage memories from 1969 in "A Mighty Cry;" remembrances of growing up tuned into the classic hits of the '60s mixed with the "sassy, brassy big band" music of the past on "My Daddy's Records."
He has received recognition through the years as a performer and as a songwriter. His "Last Anti-War Song" received local and national notice, including honors at the 2018 Woody Guthrie Folk Festival Songwriting Contest.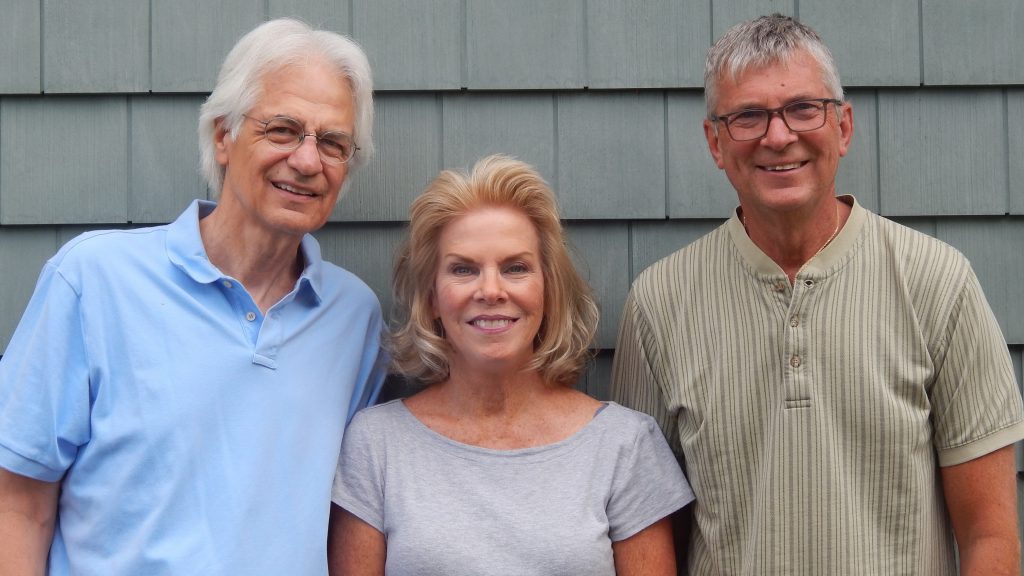 A professional musician for fifty years, Jim Newsom has led rock, jazz and acoustic bands, in addition to playing many solo dates throughout his career. He has recorded and released nine albums, including the band's new February 2021 release, Peace Love Happiness, with fourteen new originals.
On the 2018 release New Set of Dreams, he played all the instruments on a set of fifteen original songs. Prior to that, he performed in the duo Mountaintide, with whom he recorded and released two albums of original material as well as a CD of children's music. Their first CD, Dancing in the Sun, was released in June 2015, followed by the children's album, Away We Go, in November 2015. Coffee & Fried Steak, came out in June, 2017.
He has received several songwriting awards and has been a fixture of regional awards presentations for many years. He was nominated in four categories in the 2018 VEER Music Awards, the regional version of the Grammy Awards, including Album of the Year and Song of the Year, and was also nominated for Album of the Year and as Best Singer-Songwriter in the 2019 ceremony.
Born in Chattanooga, Tennessee, Jim grew up in Suffolk, Virginia, graduating from Suffolk High School and Virginia Tech. He's been a popular musician regionally since the mid-1970s. He is also a highly regarded music writer and critic whose work has been published in the All Music Guide, PortFolio Weekly and VEER Magazine among many print and online publications. He is well known throughout the area as a television and radio personality, having hosted programs on the local PBS and NPR affiliates since 1983. While pursuing his music, journalism and broadcasting, he simultaneously spent thirty six years in Corporate America, rising from a young trainee to become a senior management executive.
He first played music as a youngster after picking up the basics from his sister's piano lesson books. He subsequently drove his parents crazy banging out rock and roll on the family's living room piano. In high school, he bought a flute for $25.00 from a girlfriend in the marching band, and taught himself to play by listening to the recordings of Herbie Mann and Jethro Tull. He learned guitar from a Bob Dylan songbook.
Norfolk, Virginia native Gail Keller Smith began playing piano as a child, progressing through years of lessons and formal training to reach impressive heights of musicality. After taking nearly three decades off to raise a family and work a full-time job, she rekindled and returned to her first love of music. Working with Jim has given her the opportunity to expand her musical knowledge and hone her skills at an even higher level. Her contributions bring exciting new dimensions to his music, making it truly their music.
Drummer Rick Jebavy hails from Two Rivers, Wisconsin, but makes his home in Virginia, where he settled via the US Navy, in whose bands he performed for twenty seven years. He joined the Jim Newsom Quartet in 2004, and has been Jim's drummer and percussionist ever since. The two have an instinctual connection and camaraderie that is obvious in the musical magic that flows when they play together. He is a popular on-call sideman and can often be found laying down the beat for area big bands and brass ensembles.
_______________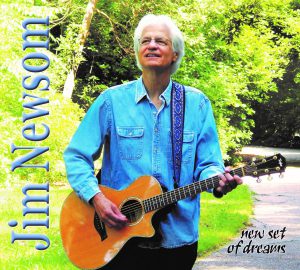 For his eighth CD, Jim Newsom chose to record a true "solo album." On the 2018 release New Set of Dreams, he plays all the instruments on a set of fifteen original songs. There are no artificial instruments–no synthesizers, programmed drums or sampled sounds–just a rich blend of guitars, flutes, piano, bass, drums and all sorts of percussion. The result is a diverse mix of sounds, styles and lyrical topics that stands out above the crowded mass of contemporary musical conformity.
The upbeat title track sets the tone as the singer-songwriter reflects on the life he's led thus far, proclaiming "I'm drawing up plans for a brand new set of dreams." The companion piece, "The Next Transition," similarly looks at the journey through a life well lived and advises "Open your heart, expand your mind; Unclench your fists, don't look behind."
"Fender Rhodes Piano and a Jesus Handle" tells the true story of a college kid's summer job by day and garage band by night. There's the Beethoven adaptation, "Road to Joy," the wistful beauty of "Virginia," the childhood summer memories of "Talking Like Horses," the fun-filled love song "Sunflowers on the Moon." And of course there are a couple of songs reflecting Jim's social and political consciousness, "A Matter of Color" and "Harness the Sun."
"Mint Chocolate Chip" is a three-minute slice of jazz flute. "Turning In, Looking Out" came out of the painful dissolution of a significant musical partnership, while "Street Singer" came from Jim's long-ago days busking on the sidewalks of Greenwich Village. "If I Had Wings" is a personalized update of a timeless traditional folk song, while "Saxophones" recalls happy times listening to records with a special someone. The album closes with a lighthearted holiday original, "Christmas Lights."
_______________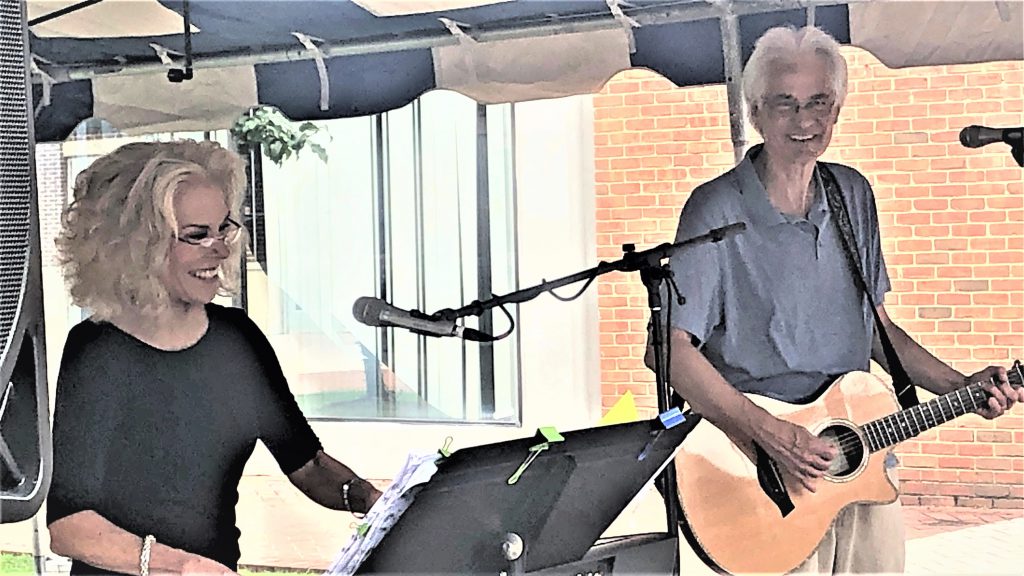 In recent years, Jim and his musicmates have performed at major regional festivals including Norfolk's Harborfest, Chesapeake Jubilee, Stockley Gardens Arts Festival, Seawall Art Show, Chelsea Summer Solstice Festival, the ETC Festival and the Norfolk Folk Festival. He has headlined special events like the Norfolk Harbor Party, Cultural Alliance Brew at the Zoo, D'Art Affair and Taste of Chesapeake; played concerts at the Naro Theatre, the American Theatre, Sandler Center for the Performing Arts, the Suffolk Center for Cultural Arts, the Pretlow and Slover Libraries in Norfolk, the Hampton History Museum and the Virginia Beach Central Library.
Primarily performing in concert settings and regional festivals, Jim and his partners also play at select craft breweries, wineries and art centers, and at private functions throughout southeastern Virginia from Suffolk to the Eastern Shore. They've been featured often on regional television and radio programs such as Out of the Box, Hunter at Sunrise, Acoustic Highway, the Hampton Roads Show, Coast Live, Thinking Out Loud and Norfolk Perspectives.
DISCOGRAPHY:
2021: Jim Newsom and the Cloudless Sky – Peace Love Happiness
2018: Jim Newsom – New Set of Dreams
2017: Mountaintide – Coffee & Fried Steak
2015: Holly – Away We Go (children's music)
2015: Mountaintide – Dancing in the Sun
2004: Jim Newsom Sextet – Jazz on the James (featuring Tommy Newsom)
2003: Jim Newsom Quartet – Swingin' on Granby Street
1999: Jim Newsom and the PorchRockers – On the Prowl
1992: Jim Newsom – Crazy Dreams