Jim Newsom and the Cloudless Sky were named Best Acoustic/Folk Artist in the Hampton Roads region by the voters in the 2022 VEER Music Awards.
Jim is an award-winning singer, songwriter and multi-instrumentalist who is well known and highly regarded throughout southeastern Virginia. His current band, Jim Newsom and the Cloudless Sky, includes Gail Keller Smith on piano, keyboards and steel drum, and Rick Jebavy on the drums.
Jim Newsom's tenth album, GroovyTown, was released on October 14, 2022, his first "all-covers" album featuring songs written and originally recorded by others.
After recording last year's Peace Love Happiness with his bandmates in Jim Newsom and the Cloudless Sky, he decided to go it alone as on the 2018 album, New Set of Dreams, playing all the instruments himself.
Here's the setlist with Jim's comments on each track. Songwriters are named in the parentheses:
IT'S A GOOD DAY (Peggy Lee & Dave Barbour)
 "It's a good day from morning 'til night."
Written by Peggy Lee and her then-husband, the jazz guitarist Dave Barbour, this was a hit for her in 1947. I loved it as a kid in a version by Perry Como on his 1955 album So Smooth, one of "My Daddy's Records" that I wore out in the pre-Beatles days on our old console hi-fi. I had never thought of learning it myself until now.
BOTH SIDES NOW (Joni Mitchell) 
"Something's lost, but something's gained in living every day."
We all first heard this by Judy Collins, who had a radio hit with it in 1968, a year before Joni recorded it herself on the Clouds album. It is a timeless song. Though I've always loved it, I had never played it before.
LOVE HAS BROUGHT ME AROUND (James Taylor) 
"Let those rain clouds roll out on the sea, let the sun shine down on me…"
The opening track on JT's 1971 album, Mud Slide Slim and the Blue Horizon. It's a personal favorite, one I've played out occasionally but am always surprised that no one seems to know.
HONEY, JUST ALLOW ME ONE MORE CHANCE (Bob Dylan) 
"I've been looking all over for a gal like you, I can't find nobody so you'll have to do…"
From The Freewheelin' Bob Dylan album, an important record for me with many of the songs I learned when I was first teaching myself to play guitar from a Bob Dylan Songbook. It's a slice of lighthearted fun snuggled in amidst powerful protest songs like "Blowin' in the Wind," "Masters of War," "Oxford Town" and "A Hard Rain's a-Gonna Fall."
CRYSTAL BLUE PERSUASION (Tommy James, Eddie Gray & Mike Vale) 
"Love, love is the answer, and that's all right"
Tommy James and the Shondels: Transports me back to the summer of 1969 and my first 'real' summer job at age 17, managing the local tennis courts, being a tennis pro of sorts and hanging out there with the radio blasting all summer long.
EVERYTHING THAT TOUCHES YOU (Terry Kirkman) 
"Everything is love, love, love, love…"
The Association had rich vocal harmonies and generally happy, uplifting, positive lyrics. This song from 1968, though not as well known as "Cherish" and "Never My Love," was a Top Ten hit that captures all the best elements of the group's sound. And, the message that "everything is love" pretty much sums up my theme on GroovyTown.
GRAZING IN THE GRASS (Harry Elston & Philemon Hou) 
"Can you dig it, baby!"
A number one hit in the summer of 1968 for South African trumpeter Hugh Masekela. The next year, the Friends of Distinction added lyrics and took it to number three with their joyous vocal version. I had both singles, but had never played the song myself until now, when I decided to honor both original versions with a flute-led instrumental in the first half and my own vocal take in the second.
MINSTREL OF THE DAWN (Gordon Lightfoot) 
"Listen to the strings; they jangle and dangle while the old guitar rings."
The first track on Gordon Lightfoot's If You Could Read My Mind album in 1970. I've always identified with the idea of being a wandering minstrel "more happy than blue."
WORKIN' ON A GROOVY THING (Neil Sedaka & Roger Atkins)
"Happiness is in my soul…"
The Fifth Dimension followed up their humongous 1969 number one hit "Aquarius/Let the Sun Shine In" with this paean to love at first sight and all the hope and promise that comes with it. But with the caveat, 'Let's not rush it, we'll take it slow!'"
DOWNTOWN (Tony Hatch)
"We can forget all our troubles, forget all our cares…"
Petula Clark brought a refreshing breeze into the middle of the the British Invasion, topping the American charts with this song in early 1965. She had a string of hits blending pop, rock and a dose of blue-eyed soul into an irresistible musical blend. While I had several of her records back then, my connection with her was cemented when I co-hosted her national PBS Special in 2001. She was feisty, fun and we had a great time.
SIGNS (Les Emmerson)
"Long haired, freaky people need not apply."
I lived this song the summer it came out, 1971. I was fired from a summer job working in a factory making peanut pickers in my hometown of Suffolk, Virginia, because my hair was too long. Though I got hired by the other factory across town, my father, an Episcopal minister, played the Five Man Electrical Band record in the pulpit later that summer and preached a sermon based on the lyrics. (My song, 'Fender Rhodes Piano and a Jesus Handle' on the New Set of Dreams album tells some of the story of that summer.)
SPARROW (Paul Simon)
"Who will love a little sparrow, who's traveled far and cries for rest?"
A relatively obscure song from Simon & Garfunkel's first album, Wednesday Morning, 3 AM, it is one of Paul Simon's folkiest compositions, with the classic feel and sound of that bygone era.
PUT A LITTLE LOVE IN YOUR HEART (Jackie DeShannon,Randy Myers & Jimmy Holiday)
"Think of your fellow man, lend him a helping hand…"
Jackie DeShannon. Summer of '69. Succinctly says it all and perfectly wraps up the album with its hopeful message.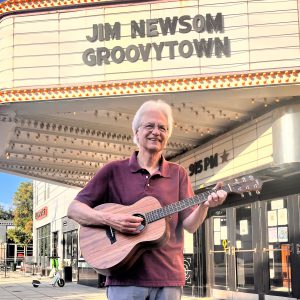 _____
Jim's original songs cover a wide range of styles and touch on a diverse range of subject matter: His reflection on a lifetime of musicmaking in "I Am Not a Jukebox;" the environmental anthem "Open Spaces;"  the journey up "460 West to Blacksburg;" the singalong folk song "Colors of the Rainbow;" the lyrical potency of "Growing Guns on Trees;" teenage memories from 1969 in "A Mighty Cry;" remembrances of growing up tuned into the classic hits of the '60s mixed with the "sassy, brassy big band" music of the past on "My Daddy's Records."
He has received recognition through the years as a performer and as a songwriter. His "Last Anti-War Song" received local and national notice, including honors at the 2018 Woody Guthrie Folk Festival Songwriting Contest.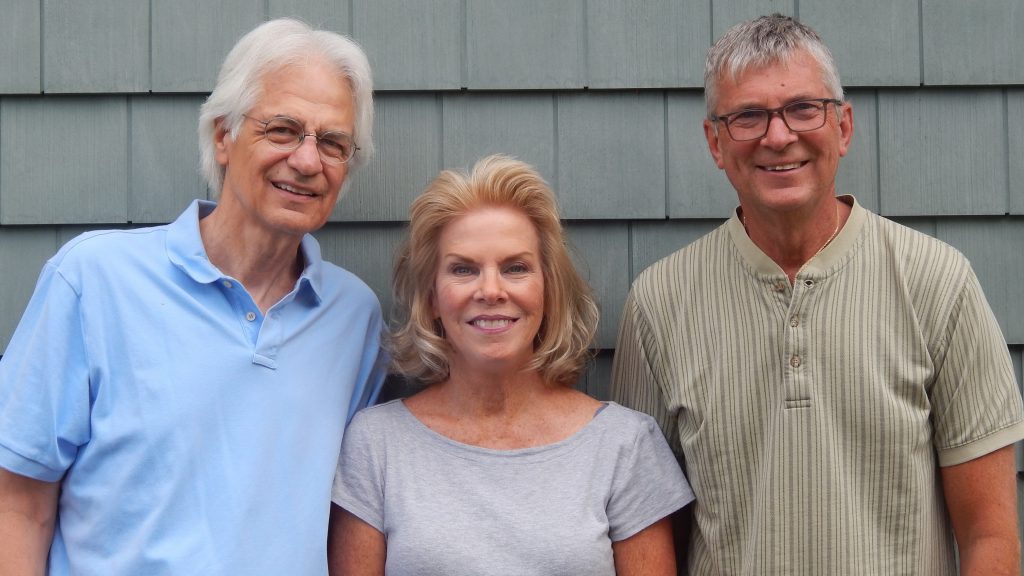 Born in Chattanooga, Tennessee, Jim grew up in Suffolk, Virginia, graduating from Suffolk High School and Virginia Tech. He's been a popular musician regionally since the mid-1970s. He is also a highly regarded music writer and critic whose work has been published in the All Music Guide, PortFolio Weekly and VEER Magazine among many print and online publications. He is well known throughout the area as a television and radio personality, having hosted programs on the local PBS and NPR affiliates since 1983. While pursuing his music, journalism and broadcasting, he simultaneously spent thirty six years in Corporate America, rising from a young trainee to become a senior management executive.
He first played music as a youngster after picking up the basics from his sister's piano lesson books. He subsequently drove his parents crazy banging out rock and roll on the family's living room piano. In high school, he bought a flute for $25.00 from a girlfriend in the marching band, and taught himself to play by listening to the recordings of Herbie Mann and Jethro Tull. He learned guitar from a Bob Dylan songbook.
Norfolk, Virginia native Gail Keller Smith began playing piano as a child, progressing through years of lessons and formal training to reach impressive heights of musicality. After taking nearly three decades off to raise a family and work a full-time job, she rekindled and returned to her first love of music. Working with Jim has given her the opportunity to expand her musical knowledge and hone her skills at an even higher level. Her contributions bring exciting new dimensions to his music, making it truly their music.
Drummer Rick Jebavy hails from Two Rivers, Wisconsin, but makes his home in Virginia, where he settled via the US Navy, in whose bands he performed for twenty seven years. He joined the Jim Newsom Quartet in 2004, and has been Jim's drummer and percussionist ever since. The two have an instinctual connection and camaraderie that is obvious in the musical magic that flows when they play together. He is a popular on-call sideman and can often be found laying down the beat for area big bands and brass ensembles.
In recent years, Jim and his musicmates have performed at major regional festivals including Norfolk's Harborfest, Chesapeake Jubilee, Stockley Gardens Arts Festival, Seawall Art Show, Chelsea Summer Solstice Festival, the ETC Festival and the Norfolk Folk Festival. He has headlined special events like the Norfolk Harbor Party, Cultural Alliance Brew at the Zoo, D'Art Affair and Taste of Chesapeake; played concerts at the Naro Theatre, the American Theatre, Sandler Center for the Performing Arts, the Suffolk Center for Cultural Arts, the Pretlow and Slover Libraries in Norfolk, the Hampton History Museum and the Virginia Beach Central Library.
Primarily performing in concert settings and regional festivals, Jim and his partners also play at select craft breweries, wineries and art centers, and at private functions throughout southeastern Virginia from Suffolk to the Eastern Shore. They've been featured often on regional television and radio programs such as Out of the Box, Hunter at Sunrise, Acoustic Highway, the Hampton Roads Show, Coast Live, Thinking Out Loud and Norfolk Perspectives.
DISCOGRAPHY:
2022: Jim Newsom – GroovyTown
2021: Jim Newsom and the Cloudless Sky – Peace Love Happiness
2018: Jim Newsom – New Set of Dreams
2017: Mountaintide – Coffee & Fried Steak
2015: Holly – Away We Go (children's music)
2015: Mountaintide – Dancing in the Sun
2007: Jim Newsom Quartet – April in Suffolk
2004: Jim Newsom Sextet – Jazz on the James (featuring Tommy Newsom)
2003: Jim Newsom Quartet – Swingin' on Granby Street
1999: Jim Newsom and the PorchRockers – On the Prowl
1992: Jim Newsom – Crazy Dreams