JIM NEWSOM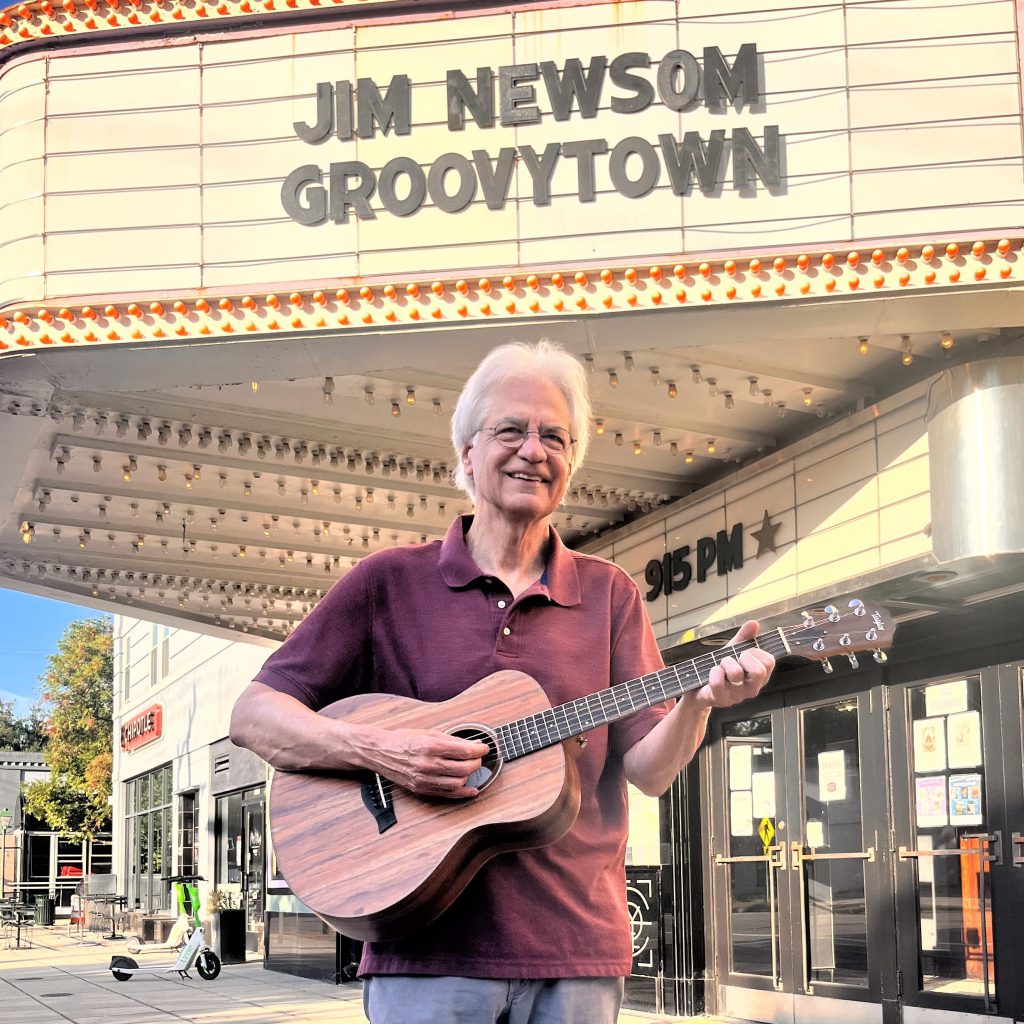 Jim Newsom is an award-winning singer, songwriter and multi-instrumentalist who is well known and highly regarded throughout southeastern Virginia.
His latest album, GroovyTown, was released on October 14, 2022.
It is his first "all covers" album of songs written and originally recorded by others. It is a true solo outing as he plays all the instruments and sings all the vocal parts.
The recording is available as a physical CD, download or by streaming.
Here are the major streaming links:
___________

Jim Newsom and the Cloudless Sky includes Gail Keller Smith on keyboards and Rick Jebavy on drums, along with Jim himself on guitar, flute and lead vocals.
The band's concert repertoire draws  from Jim's catalog of original songs as well as a diverse mix of classy, classic songs from the likes of Stevie Wonder, Paul Simon, Elton John, James Taylor, Van Morrison and The Beatles.
Jim Newsom and the Cloudless Sky were named Best Acoustic/Folk Artist
in the Hampton Roads region by the voters in the
2022 VEER Music Awards:
__________
Jim's solo performance of Woody Guthrie's "This Land is Your Land" to celebrate Independence Day 2022:
____________________
Here's a 12-song sampler of the band's performance at Norfolk Harborfest – June 10, 2022: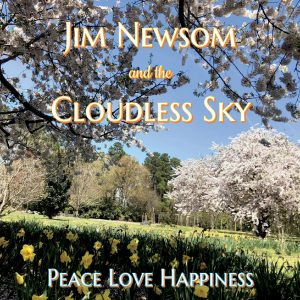 The band's album, Peace Love Happiness, was released on February 9, 2021.
With fourteen new Jim Newsom originals, the album is available for streaming,
download and on CD from Spotify, iTunes, Amazon,
YouTube Music and many other providers.
You can listen here on Spotify:
_______________________________________________
Jim's 2021 entry in the annual NPR Tiny Desk Contest was a new arrangement of
"I Am Not a Jukebox," recorded for the contest:
______________________________________

Jim was Barry Graham's guest on The Acoustic Highway radio program on WHRV-FM in Norfolk, VA, on April 25, 2021, for an hour of music and conversation.
You can listen to the program here:
_____________________________________________
Jim joined host Hunter Hughes on his Hunter at Sunrise radio program
on March 28, 2021, for an "acoustic session" of songs and conversation.
He played "Peace Love Happiness," "I Am Not a Jukebox" and
"The Days of Being Bob Dylan Are Gone" from the band's new album.
You can watch and listen here:
 _________________________________
I AM NOT A JUKEBOX
words & music by Jim Newsom
I don't sit on this stool to regurgitate the hits
But there are certain rules I've learned it's best not to forget
And so I take requests, and cough up songs that I can't stand
And give them all my best in hopes that I'll be booked again
I am not a jukebox though I guess I look the part
Strumming on a cheap guitar and singing from the heart
Stuck here in the corner on a postage stamp sized stage
The nights are getting longer and I really feel my age
A long career of hard knocks playing music bar to bar
Though I am not a jukebox, throw a dollar in my jar.
I started out with dreams of writing songs the world would sing
With no idea what sort of things this lonely life would bring
It always looked so easy observing from afar
Tuning in to watch TV, where everybody is a star
I am not a jukebox though I guess I look the part
Strumming on an old guitar and singing from the heart
Looking out at faces in a crowd that doesn't care
I could be most anyone from almost anywhere
Counting down the tick tocks on the clock behind the bar
Though I am not a jukebox, throw a fiver in my jar.
I've spent my whole adult life breathing whiffs of your applause
I cannot count the sacrifices these choices have caused
And now that there is more to look behind at than ahead
I wonder what is left to find, or has it all been said
I am not a jukebox though I guess I look the part
Strumming on this fine guitar and singing from the heart
I'll slip a song or two of mine between the ones you know
And act as though this cocktail gig's a soldout headline show
I'll admit you flocked here just to hang out at the bar
Though I am not a jukebox, throw a ten-spot in my jar.
© 2020 Jim Newsom. All Rights Reserved.
 _____________________________________________________
Remembering John Lennon
40 years ago, on the night of December 8, 1980, I got a call from a friend telling me to turn on the TV because John Lennon had been shot and murdered. I was numb for days thereafter. Coupled with the election of Ronald Reagan a month earlier, it felt like an ominous portent of dark days to come.
The ensuing four decades have indeed brought much darkness into this world. As the forces of hate have proliferated, it has been increasingly difficult to keep the faith that love is all we need. But I try to retain my hope and belief in the ultimate power of love.
In that spirit, I offer this little medley of John Lennon songs to bring a touch of sunshine and uplift into your day.
____________________________________________________
VEER Magazine – February 15, 2020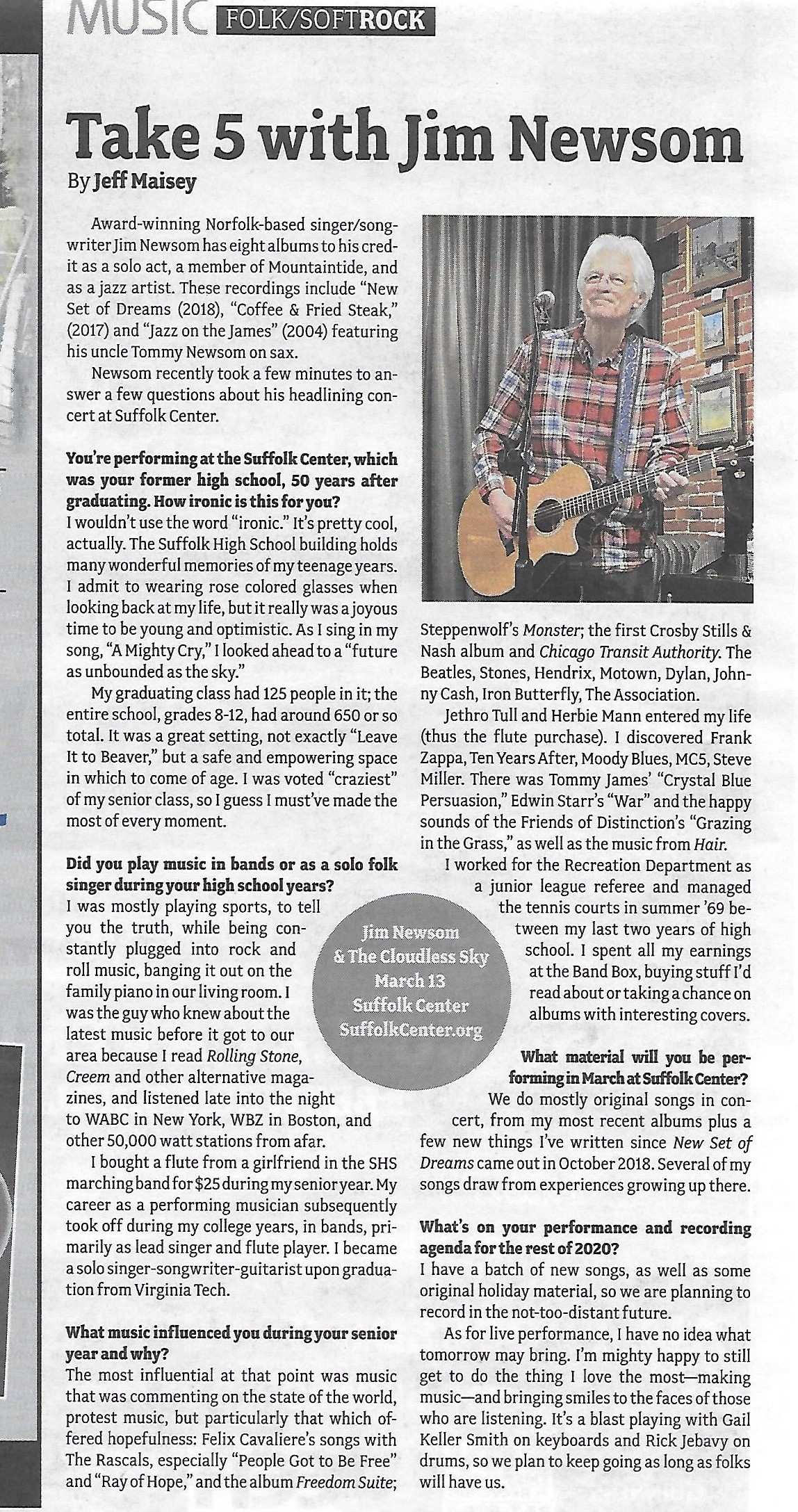 __________________________________________
 New Set of Dreams was released on October 12, 2018: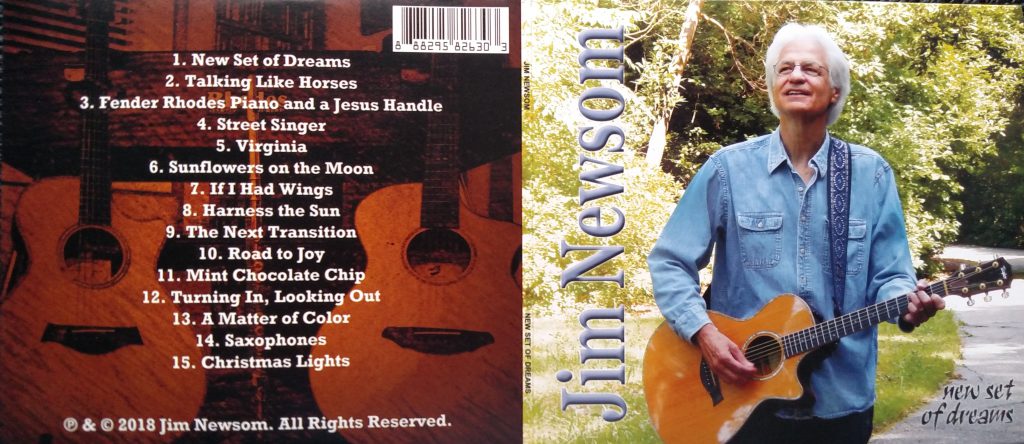 __________________________________
"The gold standard for songwriting."
— Michael Crockett, Nashville Songwriters Association International
"The greatest live performance I have ever seen by a local musician."
— Sandy Adcock, musician and artist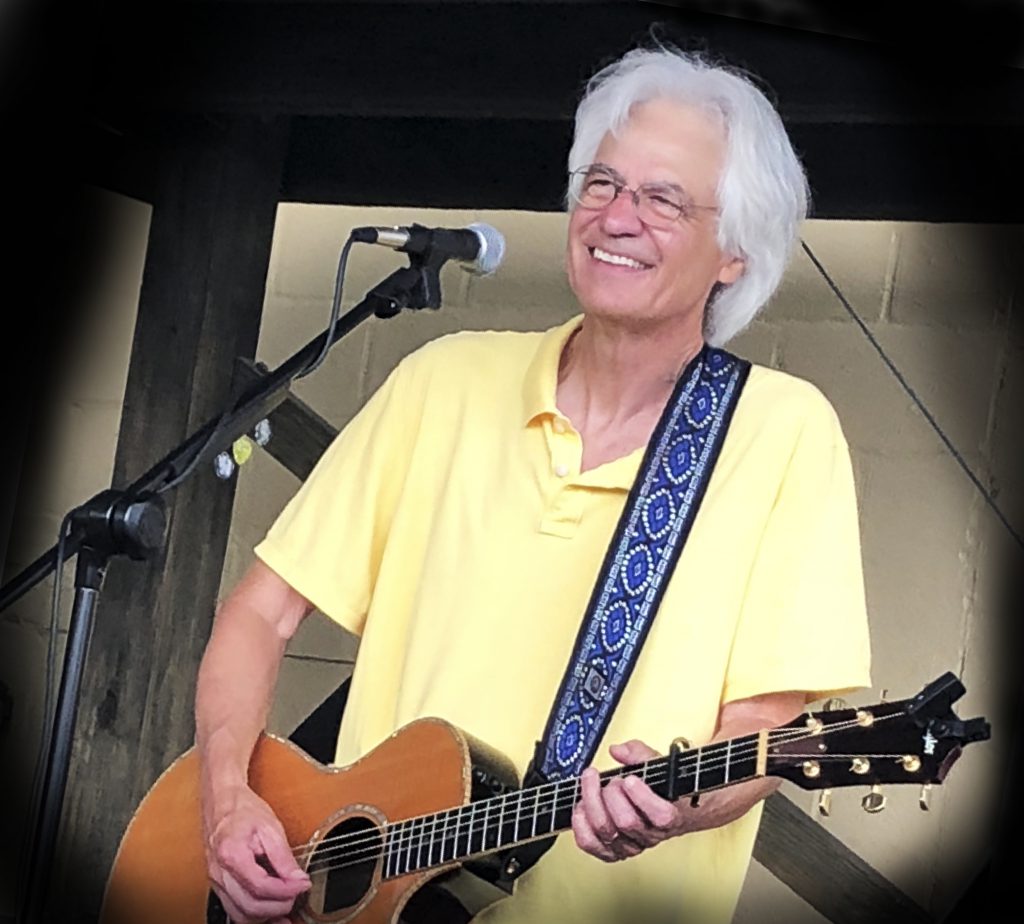 "Relentlessly positive…a carefree feeling like a day spent
hiking in the hills or strolling on the beach."
— Paul Shugrue, WHRV-FM
"The original songs, about love, life's choices and feeling good,
have a go-down-easy, James Taylor-Joni Mitchell, flower-power vibe."
— Craig Shapiro, The Virginian-Pilot
"A local legend."
— Coast Live, WTKR-TV
_____
      
© 1997-2022 Jim Newsom. All Rights Reserved.