---

PortFolio Weekly
August 7, 2007
This Ain't No Businessman's Bounce
by Jim Newsom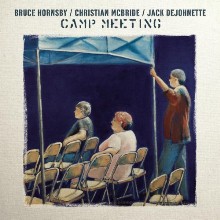 Bruce Hornsby
Camp Meeting
Legacy

When Bruce Hornsby called early last summer, he was jazzed about a recent set of recording sessions at his home studio in Williamsburg.

"I just made a record with Jack DeJohnette and Christian McBride," he said. "It's really good; it's really rippin' man!"

He played me some rough mixes a month later and it was clear right away that this was not our parents' jazz. Now, as the album comes out this week, it is also clear that Bruce Hornsby is one distinctive pianist no matter the surroundings. While this jazz piano trio setting may push him in ways his other outings haven't, he's still got that lyrical, richly chorded sound that is so readily identifiable. He calls it "Bill Evans-meets-the-hymnbook."

Camp Meeting opens bravely with what is probably its least accessible cut, a previously unreleased Ornette Coleman tune called "Questions and Answers" that asks more than it answers, conjuring up memories of those 1970s Impulse! forays into outer harmonics.

"We're playing some real tempos here," Bruce told me. "It's not just businessman's bounce."

On "Charlie, Woody and You," he takes a Charles Ives etude, stretches it out rhythmically, and places it atop a funky bassline that brings to mind Charlie Haden's on Keith Jarrett's Fort Yawuh album. Jarrett gets a more obvious nod on Hornsby and bassist McBride's quiet duo reading of his '70s ballad, "Death and the Flower." It is simply beautiful.

Miles Davis' "Solar" receives the full Hornsby treatment, with Copland-esque chords and roaming right hand explorations of all its improvisational possibilities. John Coltrane's "Giant Steps" is built on a scratchy drum-and-high-hat loop (that recurs unexpectedly elsewhere on the disc), letting out all the stops as legendary giant DeJohnnette drives the beat against the sampled percussion. Monk's "Staight No Chaser" is a second line march down Bourbon Street with Professor Longhair juiced on Thelonious punch.

Bud Powell's "Un Poco Loco" has a phat bottom and a pounding pulse, while the standard "We'll Be Together Again" is as close to a straightforward tribute to Bill Evans as we are likely to get from the ever adventurous Williamsburger. "Celia" bounces along in a mid-tempo groove pocked with occasional Cecil Taylor-like detours to the edge and back.

Bruce's original material draws from the same wellsprings as his pop and rock songs. You'll recognize lines and themes in the gospel-tinged title cut and spot a nod to his in-concert showcase "Spider Fingers" in the interestingly titled "Stacked Mary Possum."

Listening to this magnificent CD, one can only wonder what took Bruce Hornsby so long to try his hand at "real jazz."

"I've always considered myself to be a friend of jazz," he told his old friend Pat Metheny a few years back. (Metheny is executive producer of this record). "I know the language, but it's not what I do for a living, I'm not fluent in it."

Camp Meeting reveals a pianist at home with, and quite fluent in, this music. I predict he'll receive at least two Grammy nominations next February: one in the Best Contemporary Bluegrass category for his collaboration with Ricky Skaggs that came out earlier this year; and one or more in Jazz for this CD. It is right up there with his best work.

"I made this for the art of it," he told me last summer, "and I wanted to find my own way of doing it."

He succeeded.

copyright © 2007 Jim Newsom. All Rights Reserved.
---
RELATED ARTICLES:
"Eradicating the Glee Club Consciousness"
VEER
January 15, 2011
Bruce and Jim talk about SCKBSTD prior to the play's world premiere at the Virginia Stage Company.
"Livin' It Up in the Low Country"
VEER
September 15, 2009
An interview with Bruce about his just released CD, Levitate.
"This Ain't No Businessman's Bounce"
Port Folio Weekly
August 7, 2007
A review of Camp Meeting, Bruce's jazz album with Christian McBride and Jack DeJohnette.
"Bruce and Ricky Get Super Freaky"
Port Folio Weekly
March 20, 2007
A review of Ricky Skaggs & Bruce Hornsby.
"The British are Coming! The British are Coming!"
Port Folio Weekly
March 13, 2007
Bruce Hornsby, Bobby Hornsby and others talk about the British Invasion of the '60s.
"Intersections and Surprises, but No Regrets"
Port Folio Weekly
December 12, 2006
Bruce Hornsby's box set is Jim's pick for best album of 2006.
"The Show Goes On"
Port Folio Weekly
July 25, 2006
A lengthy interview with Bruce Hornsby as his box set, Intersections 1985-2005, was released.
"The Southside's Favorite Son"
Port Folio Weekly
October 1, 2002
An interview with Bruce Hornsby as he was inducted into Norfolk's
Legends of Music Walk of Fame.
"A Night on the Town"
All Music Guide
A review of Bruce Hornsby's third album, A Night on the Town,
written for the All Music Guide in 1998.
---