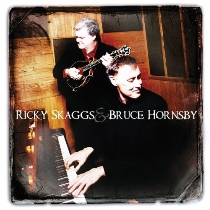 Ricky Skaggs & Bruce Hornsby
Ricky Skaggs & Bruce Hornsby
Legacy
The first thought that came to mind as I listened to Ricky Skaggs & Bruce Hornsby was that Bruce was born to sing bluegrass.
"I won a bluegrass Grammy all those years ago with the 'Valley Road,'" he told me recently, "playing bluegrass with the Nitty Gritty Dirt Band. NPR stations around the country played 'Darling Corey,' which is the song I did with Ricky on his Bill Monroe tribute record about four years ago. That's what led us to making this record."
"This record" is a gem, a treasure trove of acoustic hot licks, inventive down home melodies, sweet harmonies and lyrical mischief. It turns out that Papa Hornsby was one of those parents who never ordered dessert for himself (my mom was one and sadly, so am I): "Says he doesn't want a thing/He's not hungry, he says with a tiny wink/We come back with a big old cone, he makes his move and we all moan." Bruce says "The Dreaded Spoon," the album's irresistible opening track, is a true story:
"My dad's the guy who kept the spoon in the glove compartment!"
It's an auspicious beginning heralding a thoroughly enjoyable outing, with Hornsby essentially sittin' in for an afternoon with Skaggs and his award-winning band, Kentucky Thunder.
"His group is so great," Bruce said, "and he and I have a very strong connection. It was a great time making the record—they really know how to make that bluegrass record. He's been doing it for years—he's got his own studio, the old Oak Ridge Boys studio in Hendersonville, Tennessee, and that's where we made it.
"His band is pretty freaky, they're such virtuosos and so easy to play with. Ricky is the Miles Davis of the bluegrass world in the sense that he finds these incredible young players, they play in his band, and then they become known and branch out on their own. And I'm the lucky beneficiary of his beating the bluegrass bushes to find all these great players."
He might have pointed out that it's a reciprocally beneficial arrangement. Half the songs are from the Hornsby songbook, with reinventions of "Night on the Town" and "Mandolin Rain" especially effective. The former really flourishes in this bluegrass context; the latter is completely revamped from a major to a minor key.
"That's something we've been doing in our band," he said of the reimagined "Mandolin Rain," a Top Five pop hit in its original incarnation. "One night it just came to me; I played it fully formed in the middle of another song in the Britt Pavilion in Ashland, Oregon, in about 2002, and we've been playing it that way ever since. So I played it for Ricky, and he said, 'This is so deep and so soulful, we've got to do this.'"
"Gulf of Mexico Fishing Boat Blues" is a Hornsby original that sounds right at home next to traditional folk songs like "Sheep Shell Corn" and "Hills of Mexico," and the old folk hand-me-down, "Across the Rocky Mountain," puts the blues into bluegrass. "Crown of Jewels" ranks with Hornsby's finest work, a tune he wrote originally for Randy Scruggs with a lilting Irish melody that fits perfectly into this format.
Skagg's instrumental, "Stubb," borrows its melodic theme from The Hollies' "Stop Stop Stop," a song that may itself have been derived from some ancient Celtic air. The album closer, a delightfully recast "Super Freak," will get the most attention. Wait 'til you hear that classic Rick James bass line played in unison on fiddle, banjo and string bass, and when '80s country star John Anderson appears out of nowhere with his distinctive "Swingin'" intonation, all bets are off.
"It's Rick James meets Junior Samples," Hornsby laughed. "Bringing John Anderson in was Ricky's idea. I cut a demo that had every part that we're playing on it, and when he heard it, he called me up and said, 'Man, there's one part that I think is perfect for John Anderson.'"
This album is perfect for all concerned. Bruce told me there are lots of offers coming in to take this show on the road. The CMT Crossroads special has been a big hit. Looks like those days playing at the Pungo Bluegrass Festival back in the mid-'70s are bearing deliciously ripe fruit for our friend from Williamsburg.
copyright © 2007 Jim Newsom. All Rights Reserved. Used by Permission.