"Painting yourself into the picture that you were looking at as a kid is pretty much what has happened to me," Bruce Hornsby told me recently in an interview for Port Folio Weekly.
Sixteen years after winning the Best New Artist Grammy for The Way It Is, Hornsby is living proof that you can make your dreams come true. When he was a teenager growing up in Williamsburg, he was inspired to take up the piano by the music of Leon Russell and Elton John.
"I saw Elton the other night in the Richmond Coliseum," he said, "and I realized that almost exactly thirty years ago I saw Elton play at the Hampton Coliseum in the fall of '72. Thirty years later I'm going to see him, and he's dedicating songs to me."
The former James Blair High School basketball standout (Class of '73) has received many awards and honors since bursting onto the national music scene in 1986. Last week, he was the youngest member of the initial class inducted into Norfolk's Legends of Music Walk of Fame.
I asked him what he had wanted to be when he grew up.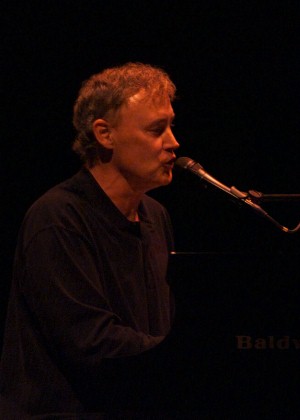 "It depends on what age you're talking about," he laughed. "As a kid I was totally immersed in whatever sport was in season. I narrowed that down to basketball in the ninth-through-twelfth grade years. In fact, I was recruited by Paul Webb when he was at Randolph-Macon, division II. So, that would qualify as the 'road not taken' for me.
"But by my senior year, I'd gotten so involved in the piano that I really left the basketball interests behind and moved headlong down this other road."
Bruce Hornsby took a year of piano lessons "in a funeral home" at the age of seven, but didn't actually start playing seriously until ten years later when he was a junior in high school. Nonetheless, he developed quickly and was majoring in music at the University of Miami shortly thereafter.
"I went to one year of 'real college' at the University of Richmond. That one year was enough for me to realize that 'real college' and me were a bad match. I went up to Berklee College of Music [in Boston] for a year, and then went to Miami."
Music and playing the piano took over his life in those days.
"I had no fun in college," he recalled, "it was all about playing. I was totally consumed and practicing every day---Christmas Day, New Year's Day, all the time."
After graduation in 1977, many of Hornsby's college classmates went to New York to try their luck in the jazz scene there. He came home and formed the Bruce Hornsby Band, playing primarily at the Jolly Ox. For three years, he worked locally, continuing his development and impressing some of the big name performers who passed through town.
In 1980, he was offered a contract to be a staff songwriter with 20th Century Fox and a production deal with producer David Foster, so he pulled up stakes and moved to Los Angeles.
"I was off and running," he laughed. "It took me another five years to get signed, but still, I had a foot in the door."
Unlike many performers who strike out for the big city only to return home discouraged and broke, Hornsby stuck it out.
"I was always sort of bubbling under. Every year I'd have some major person or record company that was interested. In 1980, I moved out there 'cause I had the deal with Fox and the deal with Foster. Then in '81, Lenny Waronker at Warner Brothers gave me money to make a demo, then he passed on it. '82…hmmm…not much was happening in '82. I got a gig playing with Sheena Easton for '83 and '84. Then we put together The Range, and had demo money from Epic Records, and offers from four other companies to make the demo. But then everyone passed on that. In '85, I got signed.
"I sort of think of those days as the 'gray years,'" he continues. "It was tough. You get your hopes up…I went to David Geffen's house in 1980 and played him a song, and he jumps up and says, 'Brucie, I want you to make records for me.' And then five years later I got signed…not by him."
The demo tape that did lead to a record contract was the "least commercial tape" he'd made.
"It had nothing to do with any radio trend," he recalls, "but it was the most unique stylistically. I made this tape by myself, sort of secretly, with no band, just me and a drum machine. I played it for a small label, Windham Hill, who offered me a deal. Then it went to RCA and Epic. It was all about a tape that they couldn't take out of their car. It wasn't commercial, no one thought it was going to be a big hit.
"I feel that what helped me get over in the end," he concludes, "was, whether you liked it or not, you always knew it was my song. It sounded like me. That was so important."
That demo included "Mandolin Rain," "The Way It Is" and "Red Plains," all of which subsequently appeared on Hornsby's Grammy winning debut album, and "Till the Dreaming's Done" which showed up on his second release, Scenes From the Southside.
Hornsby moved back to his hometown in 1990.
"I always wrote about this area, based on my experiences growing up around here," he said. "I came back here and became more prolific because I heard more stories."
His sons go to the same elementary school that he attended.
And Bruce Hornsby has continued to make his own way in the music world. In addition to his own recordings, he's performed with a literal who's-who of popular music, from the Grateful Dead and Bob Dylan to Bonnie Raitt and Crosby, Stills & Nash, from the Celtic folk group Clannad to bluegrass star Ricky Skaggs, jazz saxophonist Bill Evans to country singer Clint Black. He made his mark by doing the unexpected, and he continues to surprise his audience.
"I've always felt it was my job in this area of music to find a place for really good playing in popular song."
He has succeeded in that mission, and made his dreams come true at the same time.
"There are lots of things I'm proud of," he told me. "We're probably one of the few groups that've played the Newport Jazz Festival and the Telluride Bluegrass Festival and the Concert for the Rock and Roll Hall of Fame."
Although he's left speechless when asked what it feels like to be considered a "legend of music," he does acknowledge his pride in recording for the same major record label for seventeen years.
"I'm still in the game," he says. "It's possible that I have the second longest tenure at RCA next to Elvis. I've gone through seven [record company] presidents!"
Bruce Hornsby's hometown and home region are very proud of him as well. And now, you can visit a star inscribed with his name, enshrined in the Legends of Music Walk of Fame on Granby Street in downtown Norfolk.
copyright © 2002 Jim Newsom. All Rights Reserved. Used by Permission.