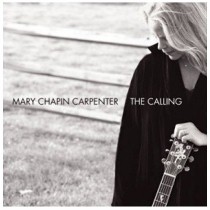 Mary Chapin Carpenter
The Calling
Zoe
Like Paul Simon, Mary Chapin Carpenter is not a particularly prolific songwriter. She crafts her songs with care, honing and perfecting them before she shares them with the listening public. But like Simon in his prime, when she does decide the songs are ready and releases an album of new material, the result is usually outstanding.
With The Calling, MCC leaves the major label world where she stood out for her literacy and honesty, and enters the land of the independents, recording for Zoe Records, an imprint of the folk-oriented Rounder family of labels. That being the case, one might expect an all-acoustic outing along the lines of her first record, 1987's Hometown Girl.
Surprise! While the opening title track begins with a Springsteen "Thunder Road" piano opening, it develops into an electric guitar driven modern country ballad. Except that the lyrics are much more intelligent than anything you're likely to hear on Eagle 97. When big-bam-boom drums kick off "We're All Right," you know Mary Chapin's been plugging in her Rickenbacker out in the rolling hills of central Virginia when the songwriting urge appears. This one is an ought-to-be hit single waiting for some open-eared radio programmer to risk expanding his playlist.
I'm guessing it won't be a country music one, though. "On with the Song," rockin' as hard as anything coming out of Nashville these days (atop a jangly Byrds/Tom Petty electric 12-string), stands her defiantly with the Dixie Chicks—"This isn't for the ones with their radio signal/Calling for bonfires and boycotts they rave"—and is her most blatantly political song to date: "This isn't for the man who can't count the bodies/Can't comfort the families, can't say when he's wrong/Claiming I'm the decider, like some sort of messiah/While another day passes and a hundred souls gone."
"It Must Have Happened" is an anthemic rocker built on a Stones-like lick that punches up personal, ultimately triumphal lyrics. She wrote "Why Shouldn't We" as an expression of hope on the eve of the 2004 elections. The album's centerpiece, "Houston," tells the tale of Hurricane Katrina refugees saying goodbye to New Orleans as they roll toward an uncertain future in Texas.
Carpenter's most touching songs are usually her intimate acoustic guitar pieces, either telling an imagined story of some semi-fictitious character or autobiographically revealing a snippet of her own life. There are several here: "Here I Am" is beautiful and touching; "Twilight" is the disc's prettiest song; "On and On It Goes" is sheer poetry. "Closer and Closer Apart," essentially a voice and piano duet, is heartbreaking in its evocation of a sad farewell.
It's interesting to note that Mary Chapin Carpenter never recorded in Nashville when she was topping the country charts in the early '90s. But now that she is in a musical class by herself, unfettered by anyone's hitmaking machinery and unbound by any constraints other than those imposed by her own muse, she has cut her second album in a row there. And she just gets better. She remains the class act of her generation. The Calling continues her remarkable string of masterful works.
copyright © 2007 Jim Newsom. All Rights Reserved. Used by Permission.