MARY CHAPIN CARPENTER
The Essential Mary Chapin Carpenter (Columbia/Legacy)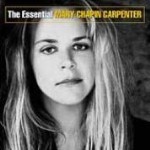 How did Mary Chapin Carpenter sneak past the guards at the gates of Nashville and into the upper reaches of the country music charts? Somehow this Ivy League-educated (Brown University), folk-singing literate songwriter found herself spending her early thirties at the top of country music, winning CMA, ACM and Grammy awards through the first half of the '90s. It was enough to give temporary hope that there could be more to C&W than generic guitar and fiddle licks, whiny boy singers with big hats, buxom girl singers with big hair and clever song titles with little meat on their bones.

In another time (the early '70s, for instance), Mary Chapin would have been a singer/songwriter popstar a la Carly Simon or Carole King. But by the time she was discovered, there was little room for thoughtful, acoustic guitar-based music in the pop-rock world. Fortunately, Columbia Records still found a place for her and our musical lives are much richer for it.

Essential merely samples the surface of MCC's eight albums, but there's some good stuff here plus hits you'll probably recognize even if you don't normally listen to country radio---"Passionate Kisses" and "Shut Up and Kiss Me." The beautifully intelligent "Stones in the Road" reflects back on the shared history of a generation, from youthful ideals to assassinations and riots to the go-go '90s when "we kiss your ass, we make you hold, we doctor the receipt." There's a lot of fun ("I Feel Lucky," "Down at the Twist and Shout"), glimpses of real life ("He Thinks He'll Keep Her," "I Take My Chances"), and sheer poetry ("I Am a Town," "Only a Dream"). It's a potent introduction to one of the best contemporary songsmiths working in any genre.

________________________

IAN ANDERSON
Rupi's Dance (Fuel 2000)

JETHRO TULL
The Jethro Tull Christmas Album (Fuel 2000)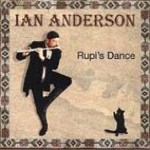 "Calliandra Shade (The Capuccino Song)," the opening track on Ian Anderson's new solo album, is a hit single in waiting, an orphan in the tight playlist wars of contemporary radio narrowcasting. There's just no place for it to be played! The classic rock format permits only the old stuff by the old guys and the various X and Z suffixes pretend the old guys don't even exist. So the lilting, sliding bamboo flute licks, shuffling acoustic guitar and accordion accompaniment, and the impressionistically clever wordplay will go unheard by all but the most dedicated fans.
To this longtime listener, Rupi's Dance is probably the best recording to come from the Anderson/Tull nexus in 25 years. It's a mostly acoustic affair, in the vein of Aqualung's "Mother Goose," Songs From the Wood's "Velvet Green" and "The Mouse Police Never Sleeps" from Heavy Horses. The influence of English minstrelsy and Fairport Convention folkiness pervades the proceedings, but every once in a while an electric guitar erupts Tull-like in a number like "Lost in Crowds," a tune that would have fit nicely on any classic Tull album.
The songs on Rupi's Dance are more personal than Anderson generally permits himself on band albums. He also employs a broader arsenal of flute-like instruments than in the old days (wooden & bamboo flutes, piccolo) and his playing has evolved considerably over the years. You'll recognize some of the old tricks, particularly in the rhythmic pulse and song structures, but you'll also find a fresh musicality still unique in popular music.
As for the band itself, who would ever have expected a Christmas album from Jethro Tull? True there have been songs with Christmas themes sprinkled throughout the band's 35-year discography---"A Christmas Song" back in the early days, "Another Christmas Song" on 1989's Rock Island. Still, Ian Anderson isn't exactly Johnny Mathis or Nat King Cole.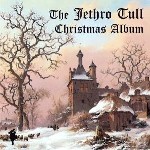 The Jethro Tull Christmas Album will never be confused with the perennial holiday reissues of Sinatra, Andy Williams or The Carpenters. Nonetheless, "Holly Herald," an instrumental medley of "Deck the Halls" and "The Holly and the Ivy" may show up in the rotation of your favorite all-Christmas station during the holidays. And you might just hear the flute-led "God Rest Ye Merry Gentlemen" done up in classic Tull-jazz style floating through the air at your favorite mall.

For Christmas Album, Anderson and his current band of merry mates mix in their distinctive versions of a few traditional seasonal favorites with rerecorded takes on songs from the thick (as a brick) Tull catalog that relate to Christmas or winter. "Fire at Midnight" and "Ring Out Solstice Bells," originally issued on Songs From the Wood, appear here in new versions that stick pretty close to the original arrangements. "Jack Frost and the Hooded Crow" is reprised along with an updated "Bouree." There are a couple of new compositions thrown in as well.

Believe it or not, it works quite nicely, thank you. You won't find lyrics like these many other places at this time of year: "When you're stuffing yourself at the Christmas parties, you'll laugh when I tell you to take a running jump/You're missing the point I'm sure does not need making: that Christmas spirit is not what you drink." But you know…he's right.

________________________

VAN MORRISON
What's Wrong With This Picture? (Blue Note)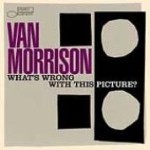 "I'm not that person anymore; I'm living in the present tense. Don't you understand I left all that jive behind?"
So sings Van Morrison in the title track of this, his first recording for the legendary jazz label Blue Note, and as a result one of his most anticipated albums in years. This is no Moondance, but for those who have kept up with Van the Man since his hit making era ended there are few surprises. It's a disc full of mostly blues-influenced tunes, moving from the jump blues of "Whinin' Boy Moan" to the rockabilly bounce of Lightnin' Hopkins' "Stop Drinking" to the slow moan of the old warhorse, "Saint James Infirmary." "Evening in June" is one of those gently swaying jazz tunes pushed along by a repetitive hornline that have dotted his discography over the last twenty years or so.
What sets this CD apart from the countless other blues discs these days is the lyrical looks into the singer's current state of mind that old-time Van Fans can excavate from the original material. I actually heard the line quoted above as "I'm not depressing anymore," perhaps out of wishful thinking on my part. But "Meaning of Loneliness" bursts that bubble: "No one escapes having to live life under duress---and no one escapes the meaning of loneliness." Later, in "Goldfish Bowl," he sings "I don't have no hit record, I don't have no TV show. Tell me why should I live in this goldfish bowl?"
Fortunately, all is not sadness, loneliness or complaining: "Once in a blue moon, something good comes along; once in a blue moon, everything's not going wrong." Whew! Fortunately, Van's trademark slurred delivery makes it possible to let the lyrics slide by without analysis while the music washes over you. And if you're a Van Fan, that may be enough.