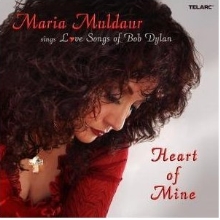 Maria Muldaur
Heart of Mine
Telarc
Linda Ronstadt and Ann Savoy
Adieu False Heart
Vanguard
Thirty two years ago, Maria Muldaur put her camel to bed and lit up the charts with one of the great pop singles of the pre-disco '70s, "Midnight at the Oasis." But a dozen years earlier, she'd been a teenager growing up in Greenwich Village, digging the sounds of the folk revival that was hoppin' and poppin' all around her.
Among the people she befriended during her youthful days as a self-described "beatnik babe" was a young guy just in from Minnesota who called himself Bob Dylan. "He was a likable enough fellow," she writes in the liner notes to her new album, and she quickly realized that his songs were a notch above the "tuneless haranguing polarizing diatribes that characterized the protest music of the day."
When her record company president called last fall after she was featured in a PBS Dylan documentary to suggest that she record a disc devoted to his compositions, she jumped at the opportunity to fulfill a longtime desire to do an album of his love songs. The result, Heart of Mine, may well be her best recording since her days at the Oasis. Remarkably, she has found a way to put a different stamp on a Dylan dozen, and it works very well. Her voice is huskier than it was back in the day, but she still has that light, sexy playfulness that was always so endearing. Most of the song choices are lesser known, many from the latter half of the catalog, making this a journey of discovery for the casual Bobliophile.
She kicks off the set with a lazy reading of "Buckets of Rain," the first of two greats from Blood on the Tracks, the other being a bluesy stroll through "You're Gonna Make Me Lonesome When You Go." "Lay Lady Lay" is transformed into "Lay Baby Lay" in an arrangement that would have fit nicely on Waitress in a Donut Shop; it's one of many songs that Maria and her sidemen recast into something distinctively her own.
"To Be Alone with You" is infused with slinky blues guitar, while "Heart of Mine" and "On a Night Like This" sound vaguely South of the Borderish. "Moonlight" is outfitted in a slinky cocktail jazz dress and "I'll Be Your Baby Tonight" steps out of the grooves of a J. J. Cale record. The CD closes strong with the atmospheric ambience of "Wedding Song" and a rollicking ride through "You Ain't Goin' Nowhere," complete with Cajun fiddles and the singer's appropriately weary hoarseness.
Although she has had her fair share of popularity through the years, from a Top 40 standpoint, Maria Muldaur was essentially a one-hit wonder. Linda Ronstadt, on the other hand, was a hitmaking machine, a dominant force on the music scene throughout the second half of the '70s. She later recorded a trio of Nelson Riddle-arranged collections from the Great American Songbook, showed the purity of her upper range singing in Pirates of Penzance on Broadway, and explored traditional Mexican music on several albums. Her last big hit came in 1989 on a duet with Aaron Neville, "Don't Know Much."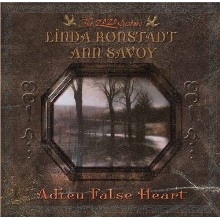 Adieu False Heart is another surprise from a singer who has long been full of surprises. This time she teams up with traditional Cajun folk artist Ann Savoy for an album full of traditional sounding arrangements that defy easy categorization. The material ranges from a pair of Richard Thompson tunes to a touch of Cajun and French patois to Bill Monroe's mournful "The One I Love is Gone." The most immediately appealing cut is a gorgeous remake of "Walk Away Renee," a chart topping slice of baroque-n-roll for the long forgotten Left Banke in 1967.
The first few notes of "I Can't Get Over You" tell you all you need to know about Linda Ronstadt's unmistakable voice at 60 years old: She's still got it, and she sure knows how to use it. Just as appealing is Richmond native Savoy, whether taking the lead or supplying delightful harmonies. These two blend as though they've been singing together since childhood.
There's an overriding tone of melancholy, and a sense of loss and longing links the songs into a thematic whole. But make no mistake—this is beautiful stuff, acoustic music as good as it gets.
copyright © 2006 Jim Newsom. All Rights Reserved.