---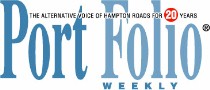 PortFolio Weekly
September 30, 2003
The Many Sides of Maria
by Jim Newsom
The average music listener may only think of Maria Muldaur as the singer who seductively rode her camel into the Top Ten with her 1974 hit, "Midnight at the Oasis," a song that's become a staple of "oldies" radio. But there are many more musical sides to Maria Muldaur, sides that will be on display Saturday night at the Roper Performing Arts Center when she performs with the Joshua Wolf Trio as part of the Jazz on Granby series.
Promoter Blake Cullen booked Maria after hearing her CD tribute to Peggy Lee, A Woman Alone with the Blues, released earlier this year on Telarc. Like many, he hadn't previously thought of her as a jazz singer. But jazz and swing have been a part of her musical mix from the beginning.
"I do have quite a few jazz credentials," she told me recently from her home base in San Francisco's Mill Valley. "I was recording with Benny Carter and an all-star big band back in the early '70s. People like Ray Brown, Milt Hinton, Snooky Young, Harry 'Sweets' Edison---I got to record and perform live with a 'who's who' of jazz greats at that time. So, the older style jazz and swing has been in my repertoire for many years."
Over the last decade and a half, though, she's focused more on the blues, with a dozen recordings primarily in that genre, each of which has garnered critical acclaim and award nominations. But when Peggy Lee passed away last year, the idea of a tribute percolated to the surface and she began to dig more deeply into Ms. Lee's catalog.
"It's one thing to hear something and enjoy it, which I've done over the years with her stuff," she notes, "but another thing to seriously delve into it. The thing I discovered about her that I honestly didn't know was that she was such a wonderful songwriter. In fact, one of the articles that I read said that she could be considered one of the first singer-songwriters way before there was that genre, per se. There were singers and there were songwriters and very rarely did the twain meet. But in her case, right in the early '40s she had 'I Don't Know Enough About You' and 'Waiting For the Train to Come In.'
"As much as possible, I wanted to represent some fine examples of her songwriting. We did those two, which she wrote with her husband Dave Barbour. And she did 'I'm Gonna Go Fishin' with none other than Duke Ellington, if you please. Not a bad songwriting partner."
In the liner notes to A Woman Alone With the Blues, Maria Muldaur says that the first Peggy Lee song she heard was "Fever," probably Ms. Lee's best known hit and the opening track on Muldaur's tribute disc:
"One night in '62 I decided to play side 'B' on the juke box. It was a song entitled 'I'm a Woman, W-O-M-A-N,' done in the same style as 'Fever.' I instantly fell in love with it and played it repeatedly."
Thirteen years later, "I'm a Woman" would become Maria Muldaur's second biggest hit, the followup to "Midnight at the Oasis."
"Her stuff was very smooth," she says. "People use the word 'sultry' to describe my singing a lot, and they also use it to describe hers. We have that in common. But I normally have a more earthy, rootsy kind of approach to my singing because I've been steeped in the blues all these years.
"Deciding to do a tribute to Peggy Lee, the more I listened, I started to appreciate how flawlessly she sang and delivered the songs, and so effortlessly too. She conveyed so much feeling and emotion and mood. She was barely breathing the lyrics. She didn't scat sing, she didn't riff all over the map. She was the ultimate in cool.
"It was a very good exercise for me, without trying to copy her, to sort of trim my sails a little bit and just try to focus more on the very middle of the lyric and of the note. I have this imaginary patron saint of music that I call 'Les Ismore,' and just try to sing in a very simple style that puts the lyrics and the feeling of the song front and center."
Maria Muldaur has been putting feeling into music for over 40 years, since she began singing in Washington Square Park and local coffeehouses in the Greenwich Village neighborhood in which she grew up. Since her "Oasis" days as the sexy but innocent ingenue, she has matured into a lyrical interpreter of the highest rank, and her voice has become an instrument of depth and world-wizened knowingness. A Woman Alone with the Blues is one of the most enjoyable CDs of the year, and Saturday night's show at the Roper should be one of the finest concerts of the year.
"Of course we're featuring the music of Peggy Lee," she says, "but I'm also featuring the music of Maria Muldaur…40 years of other jazz stuff that I've been doing in my repertoire. I do 'It Ain't the Meat, It's the Motion' that I did with the Benny Carter Big Band (on 1974's Waitress in a Donut Shop]. We do some Mose Allison tunes and an Abbey Lincoln tune. And we do a nice, hip jazz version of 'Midnight at the Oasis.'"
Tickets for Saturday's show are available from the Virginia Arts Festival box office and all Ticketmaster locations for $15.00 in advance and $20.00 on the day of the show.
copyright © 2003 Port Folio Weekly. Used by Permission.
---