James Taylor
Ted Constant Center
Norfolk, VA
August 18, 2006
On the way out of the Ted Constant Center, I was asked by a couple of fellow concertgoers if I would be giving James Taylor a positive review. My reply, "How could I not?" was both obvious and heartfelt. Ask any of the regulars who populate his local audiences every year or two, and they'll tell you James Taylor sounds better than ever, his stage persona bashful but confident, humorous and happy.
Phil and Suzanne Franklin hadn't seen him live in concert for about 35 years, though, and they were pleasantly impressed with the way his performance style has matured. Back then, they recalled, he vociferously refused to play "Fire and Rain" and appeared angry and uncomfortable. Nowadays he's anything but. And he is more than willing to crank out the hits, singing them like they still have as much meaning for him as they do for his fans.
This time around, Taylor came onstage with a modified Mud Slide Slim look—blue oxford shirt and black jeans. He opened the show as he opened his recording career in late 1968, singing "Something in the Way She Moves," a tune whose title was borrowed by George Harrison the following year as the opening line of The Beatles' "Something."
Saying he was glad to be in "Nor-fork," JT and band launched into the title track of his last album, "October Road," then went Celtic for the "Scotch or Irish, depending on where you are" folk tune, "The Water is Wide." Singer/violinist Andrea Zonn kept the vibe going with a medley of fiddle tunes.
Telling of coming home from England after that first album was recorded for Apple Records, the Walking Man prefaced "Sweet Baby James" by explaining how his older brother Alex had had a child while he'd been overseas. James wrote this song as a "cowboy lullabye" for his new nephew while driving down to Chapel Hill for a reunion with his family. At the Ted Friday night, it was the first of many singalongs.
"Copperline" was helpfully illustrated with a slideshow projected on the screen behind the stage, then "Family Man" was introed with another funny story about its origin in a New York bar the day son Ben was born. It was singalong city as the first set wrapped up with "Handy Man," "Fire and Rain" and "Mexico." Amazingly, Taylor delivered his best known song with a sincerity and freshness belying the thousands of times he's performed it over the years.
Announcing that it was time for a twenty minute break during which "we'll probably just sit around and watch the clock," Taylor headed off stage-right with his four-piece band and four singers. They made it to the dressing room; he didn't. Instead, he spent fifteen minutes at the front and side of the stage signing autographs, then dashed backstage long enough to change shirts.
With the retired jerseys of ODU basketball legends hanging overhead—Twardzik, Copeland, Gattison, Lieberman, Donovan—the arena had taken on the ambience of a small club packed with old friends. The second set was a non-stop musical juggernaut, kicked off with a surprising deep cut from the 1997 Hourglass album, "Jump Up Behind Me."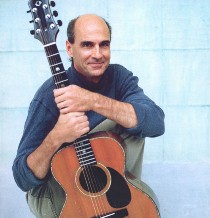 More surprises followed—George Jones' 1955 country chart topper, "Why Baby Why," done up JT-style; "Oh What a Beautiful Morning" from the Rodgers & Hammerstein musical, Oklahoma; "Chili Dog," a fairly obscure ditty from 1972's One Man Dog, complete with visuals of Pink's, the LA hot dog stand that inspired it.
When Taylor mumbled "the greatest band in the world," it was a near throwaway line, but he could easily have made the case more forcefully—with legendary drummer Steve Gadd, journeyman guitarist Michael Landau, bass innovator Jimmy Johnson and jazz keyboardist extraordinaire Larry Goldings, plus the vocal quartet of Zonn, Kate Markowitz, David Lasley and Arnold McCuller, he's got one of the best touring troupes in the business. As they entered the homestretch, the musical level went up another notch and the audience sang every word the rest of the night:
"Up on the Roof," "Whenever I See Your Smiling Face," local favorite "Carolina in My Mind," "Shower the People" and a rollicking "How Sweet It Is" filled the Ted with the joyful sound of 7,500 people belting out their favorites. "You've Got a Friend" was the first encore, quiet, heartfelt, another singalong. Then the band bluesed it up on an extended "Steamroller" before the man himself closed the evening out with an appropriate farewell, "Secret O' Life." ("The secret of life is enjoying the passage of time…")
Though some among the assemblage missed the outdoor setting of the Virginia Beach Amphitheatre, most agreed that the Ted had a more intimate feeling, and that the sound was great.
I heard a guy talking on his cellphone as we walked down the sidewalk afterwards, saying, "I just saw James Taylor—it was in some kind of a club."
copyright © 2006 Jim Newsom. All Rights Reserved.