---


December 10, 2002
Recordings: Folk
by Jim Newsom
James Taylor

October Road (Columbia)
The release of a new James Taylor album doesn't carry the same weight these days as it did back in the early '70s aftermath of Sweet Baby James. But, thirty-two years down the road, our old friend JT is still making music that speaks to a lot of folks. October Road is Taylor's first new album in five years, and it's a beaut. Reuniting the singer with producer Russ Titelman, who sat at the board for Gorilla and In the Pocket in the mid-'70s, the new disc finds him passing through musical landscapes familiar to longtime listeners. Anchored by those unmistakable guitar stylings and conveyed by that voice we've loved for so long, these songs stand as worthy additions to Taylor's catalog.
There are so many lines that linger long after the song has ended: "The tiny tin voice of the radio band singing 'Love must stand,' love forever and ever must stand" in "On the Fourth of July;" the Steely Dan-like horns of "Whenever You're Ready;" the vocal quintet on the repetitive "lie down, lie down" coda of "September Grass;" the martial drumbeat and pennywhistle/bagpipe outro of "Belfast to Boston."
"Mean Old Man" swings gently as Taylor confesses to being just that kind of guy "till you turned him into a Golden Retriever puppy dog." "Raised Up Family" is one of those "Steamroller" blues songs which he cranks out from time to time, with the horns kicking in as he remembers "back in Raleigh, North Carolina," while a slide guitar slithers snakily around in the bushes. The single note piano intro of "Caroline I See You" brings tears to your eyes, and the disc closes with a lovely take on "Have Yourself a Merry Little Christmas."
No, a new James Taylor album may not generate the same pop culture notice it once did, but for those of us who have loved his music, been to his concerts, and sung his songs for all these years, October Road is plenty cause to celebrate.
____________
Fairport Convention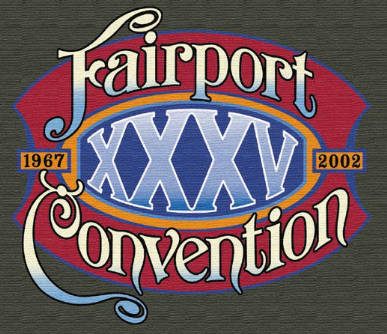 XXXV (Compass)
It's hard to believe it's been 35 years since Fairport Convention arrived on the music scene, perhaps the best of the English entrees onto the folk-rock scene of the time. These days, the band may be best known as the original home for alumni Richard Thompson, Ian Matthews, and the late Sandy Denny. However, the band has been performing and making records with an ever-changing lineup virtually uninterrupted for all this time.
The only original member still around is guitarist/vocalist Simon Nicol, though bassist Dave Pegg has been in the band so long that he almost qualifies as a founder. XXXV celebrates the band's history, bringing together new versions of classic repertory pieces like "Now Be Thankful," "Banks of the Sweet Primroses" and "The Deserter" alongside more recent compositions.
The CD kicks off in high gear with the Eddie Cochran goes zydeco in Brit-folk armor opener, "Madeleine," then pulls back with multi-instrumentalist Chris Leslie's gorgeous ballad of Irish emigration, "My Love Lies in America." The instrumental, "Portmeiron" is a beautiful visit to the countryside driven by Ric Sanders' ethereal violin and the penny whistle-timbred flute of guest Ian Anderson.
The disc's centerpiece is "The Crowd, a joyous celebration inspired by Fairport's annual Cropredy Music Festival. The song's composer, Anna Ryder, slides her voice into loose harmony with lead singer Nicol to evoke memories of early Fairport's boy/girl vocal blend. Leslie's "The Light of Day" shares structural similarity with the music of Jethro Tull, and "Everything But the Skirl" places twin violins in a Scot-rock fiddle medley.
It's great to hear an institution like Fairport Convention sounding so fresh and vibrant after all these years. XXXV is the perfect antidote to the ugliness of today's radio fodder. I've played it over and over, and continue to find it a richly rewarding listen.
____________
Leo Kottke/Mike Gordon


Clone (Private Music)
Not a combination one would expect, Clone brings together idiosyncratic finger-picking guitar virtuoso Leo Kottke and Phish bassist Mike Gordon. It turns out Gordon has been a longtime Kottke fan, who overdubbed a bass line to the guitarist's classic "Driving of the Year Nail," and presented him with a tape of the revised song.
The two subsequently got together to jam, discovered a musical and intellectual connection, and decided to write and record together. The result is one of the most unusual and enticing recordings of the year. Kottke's unique and unmistakable guitar style is in full flower here, supported by Gordon's sympathetically angular bass, along with an assortment of incidental sounds and oddball instruments.
Gordon's off-kilter wit matches up perfectly with Kottke's well-established persona, giving the vocal tracks a bent lyricism very much in tune with Kottke's back catalog. The narrator of "Car Carrier Blues" would "take a train if I could choose," living in fear as he imagines an automobile sliding off the back of a car-carrying truck. In "From Pizza Towers to Defeat," Kottke poses this memorable question: "Did you speak to Richard Nixon by that plane in San Berdoo, tell him he relied on blush too much/Did he smile and say he loves you, was he wearing high heeled shoes/Was his pardon for your felonies a crutch?" Huh?
The odd-metered instrumentals are full of tantalizing twists and turns traveling across territory familiar to the Kottke koterie. Clone should introduce the singularly quirky stylings of Leo Kottke to a new generation of Phish-phed listeners while taking its place comfortably amidst the dusty albums lining the shelves of old Kottke-ites.
copyright © 2002 Port Folio Weekly. Used by Permission.
---