---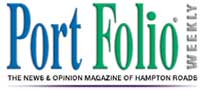 PortFolio Weekly
June 24, 2003
You've Got an Old Friend
by Jim Newsom
James Taylor
Verizon Wireless Amphitheater
June 18, 2003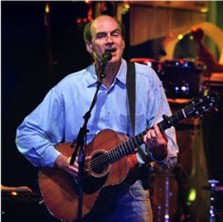 Like an old college buddy dropping by for a visit, James Taylor stopped in Virginia Beach Wednesday night to spend a couple of hours with 18,000 of his closest friends. We shared a few memories, heard some new stories and generally caught up on what's been going on in our old friend's life since we last saw him a couple of years ago.
The concert opened surprisingly on a loud note, with a powerful percussion duet between drummer Steve Gadd and multi-percussionist Luis Conte. Then JT and the rest of the band emerged from the wings, and began a two hour-plus musical walk through our collective past and present. Old favorites like "Something in the Way She Moves," "Your Smiling Face," "Shower the People" and "Up on the Roof" were mixed with a healthy sampling from last year's October Road.
The concert's centerpiece came when Taylor sat on a stool to sing Carole King's "You've Got a Friend." In that intimate moment, an amphitheater full of families, middle aged baby boomers and young people who probably learned of Sweet Baby James from their parents came together to create that warm communal feeling that seemed so real and possible when the song first appeared on Mud Slide Slim in 1971.
Getting a gig with James Taylor must be a plum job for a musician. Besides the legendary Conte and Gadd, the band included young jazz/funk keyboard wiz Larry Goldings, well traveled journeyman guitarist Michael Landau, former Zappa and Billy Cobham sideman Walt Fowler on trumpet, and Blues Brothers alumnus Lou Marini on sax and flute. Jazzman Jimmy Johnson's bass was hard to hear in the mix. The very talented backing vocal quartet blended with the precision of the New York Voices or Manhattan Transfer. Backing vocalist Carmella Ramsey showed her instrumental virtuosity with some impressive fiddle work on several tunes.
James Taylor himself has become a superb entertainer, sprinkling self-deprecating humor in between songs and having a great time on stage. The singer's voice has aged well, with a depth that didn't exist earlier in his career. "Carolina in My Mind" drew a huge response from the assembled Virginians, "Fire and Rain" sounded as fresh and poignant as it did 33 years ago, and "How Sweet it Is" got the crowd dancing.
The only sour note of the evening was the horrible smell that drifted in from the venue's muddy lawn section at times throughout the night. But even the septic stench couldn't put a damper on a wonderful evening with an old pal. Closing his second encore with a quiet "Sweet Baby James," James Taylor sent a crowd full of moonlight ladies and once-young cowboys home with a smile.
copyright © 2003 Port Folio Weekly. Used by Permission.
---