Arlo Guthrie
In Times Like These
Rising Son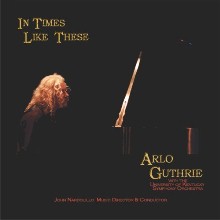 Arlo Guthrie turned 60 on July 10. To celebrate that milestone, the former poster child for happy-go-lucky hippiedom released In Times Like These, a live disc recorded with the University of Kentucky Symphony Orchestra. It's also the 40th anniversary of his first album, the iconic Alice's Restaurant. In fact, Arlo was in the studio making Alice as the "Summer of Love" commenced 40 years ago with the release of The Beatles' Sgt. Pepper.
So it's somewhat ironic that the archetypal folk troubadour is adding orchestrations to his tunes at this particular time. With some exceptions—his 1979 masterpiece Outlasting the Blues comes to mind—Arlo's music has generally been at its best when least adorned. Interestingly enough, his music here comes across the same way—with a full size orchestra, yes, but wrapped in arrangements that enhance and serve the music rather than overwhelm or undermine it.
Give credit to James Burton for that. His scores for this batch of mostly well-worn classics from Arlo's back catalog conjure up Copland-esque images of the great American expanse and Ives-ian panoramas of 19th-century New England. Longtime Arlophiles will revel in the resplendent re-creations.
"My Darkest Hour" sounds like a Grant Wood painting looks. "Last Train" pulls into a mythical town square where the community band fills the warm summer air with a Sunday afternoon concert of patriotic favorites. "Patriot's Dream," on the other hand, gets a melancholy, almost mournful treatment, aurally capturing the sadness of the times in which we live for those whose hopes and dreams were once filled with high ideals.
The sole new song, the album's title track, sung softly with only acoustic guitar accompaniment, is one of the singer's most affecting compositions, recalling his daddy's lines ("I walk with friends from every nation/on freedom's highway") while offering hope in the midst of increasing "storm clouds:" "In times like these, it's good to remember/These times will go in times to come."
"City of New Orleans" is bathed in rich Americana, rolling through countryside filled with family farms and rural small towns, while Leadbelly's "Goodnight Irene" takes a turn on a county fair carousel. The beautiful ballad, "Epilogue," becomes even prettier and more powerful in this sympathetic symphonic setting, and Arlo and the orchestra offer up a surprising encore, a tasteful take on Elvis Presley's late '50s hit, "I Can't Help Falling in Love."
Arlo Guthrie's voice has dropped about an octave since his debut 40 years ago, and it's now filled with the weathered cracks and crags of that many years on the road. His is now the weary voice of experience, still filtered through that flower-powered optimism he's somehow managed to hold on to. This CD is his birthday present back to us, a gently flowing reminder of who we were, where we've been and who we still can be…even in times like these.
copyright © 2007 Jim Newsom. All Rights Reserved.