---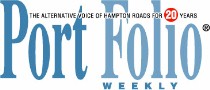 PortFolio Weekly
July 6, 2004
Keeping the Faith with Arlo Guthrie
by Jim Newsom
Arlo Guthrie celebrates his 57th birthday this Saturday, his hair is gray and he's become an elder statesman of folk music. But thirty-five years ago, he was the quintessential Hippie Poster Child. The eighteen and a half minute title song of his first album, Alice's Restaurant, etched that image in the minds of a generation of record buyers, and the summertime events of 1969 served to cement it.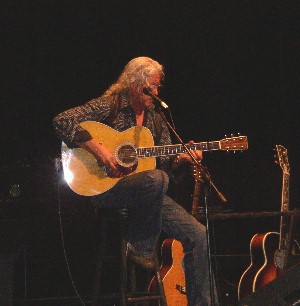 On Friday, August 15, 1969, he performed at the Woodstock festival. His performance that day of "Coming Into Los Angeles," a joyful song full of drug references, would be forever enshrined by its inclusion in the movie of the festival the following spring. The week after Woodstock, Alice's Restaurant was released as a movie in which Arlo starred as himself, based on the song he'd written four years earlier. In it, he was the laidback, happy-go-lucky embodiment of youthful idealism.
"I think everybody was trying to do that to some extent thirty-five years ago," he told me recently. "Some were better able to maintain an interest, let's put it that way. Fortunately for me, I haven't really had to change all that much. All I've done really is to expand on the idea."
When we talked, he had just completed a tour of Australia and was in Hawaii "decompressing from Australian time and getting ready to get back home on the east coast." Thursday and Friday he'll be at the American Theatre in Hampton's historic Phoebus. He still believes in the power of individuals to make a difference.
"I remember the days when there were free clinics everywhere. That was a big thing. You could go to any town and if you needed to go and see a doctor, you went and saw one. If there's something we need these days, it's that kind of spirit and those kinds of facilities, because it doesn't look like anybody can do anything in Washington, DC.
"So some of that is not only relevant, but missing, from the current dialogue. I don't know if people just forgot what we were doing, or don't know that it's possible to do things like that. My suspicion is it's the latter. There's a whole generation of people who don't know what they can do if they put their mind to it.
"My interest has always been to help people realize how much they can do on their own. You can't wait for the administration to do the right thing, whoever they are. Just do your own thing. When enough people do their own thing, I think it helps the politicians decide what is worth doing. And they need all the help they can get."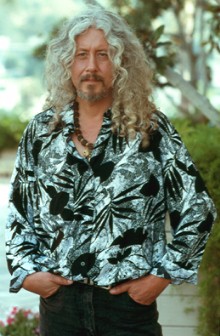 He purchased Trinity Church in Housatonic, Massachusetts, where the Alice's Restaurant saga originally unfolded and where the movie was filmed, in 1991. Housing the Guthrie Center and the Guthrie Foundation, it's a home for cultural, educational and spiritual activities. It's the spiritual journey that's been an important, but perhaps less known, part of Arlo's life for many years. His 1979 album, Outlasting the Blues, was a sort of personal testimony with lyrics like "me, myself, I'm satisfied to sing for God's own son."
"I'm not a big fan of overly happy spirituality," he said in our conversation. "Life ain't happy all the time. For me, spirituality is not about being happy. It's about what to do when times are tough, not just for you personally but for everybody. There are times when disasters strike. It's no coincidence that history is made up of wars, floods, famines, earthquakes, diseases and disasters. So, for me, spirituality is what to do about that and then what to do in your own personal life when you're confronting things that hurt, things that ain't fun.
"Outlasting the Blues was about that. It was not about preachin', it was not about telling people what's right, although there's a little bit about what I found was right. I've tried to continue that in the work we do at the church. I'm teaching a few times a year, doing those kinds of things that have nothing to do with music or entertainment.
"I'm teaching a kind of yoga thing that you don't have to be on any particular path for. It's total interfaith stuff, which is what I really am a fan of. I love the diversity, I love the traditions and I want to keep that alive. What I try to teach is how people can get deeper into the tradition that they come from, deeper into the thing that they already do without having to change. That's where my interest lies---helping people discover the stuff that's true for them."
Although "City of New Orleans" was Arlo Guthrie's biggest hit, it's still Alice's Restaurant that is his most famous work. In 1995, he recorded a 30th anniversary version of the entire album in the church. And he's working on a 40th anniversary celebration for next year.
"I don't know what we're going to do next year for the 40th. I know that we're going to rerecord it at the church----again---and I don't think we'll do the whole record. 'Alice's Restaurant' was, in the early days, a trilogy of stories all worked around the same little song. There were two other ones. That's why this one was called the 'Alice's Restaurant Massacree' and the others had different names. So, it's a little confusing. That's because there were two other 'Alice's Restaurant' stories that were of equal length that had to do with totally different things.
"We're trying to find old versions of them. We found a great one that was recorded live in a radio station in Philadelphia, so we've got that, and we're looking for recordings of the other one. We'll put all three of them out next year with the new updated 'Alice.' It'll be fun to hear a continuous something that's 40 years later and see how similar it is."
Arlo Guthrie has kept the family business alive. His father, Woody Guthrie, was the greatest American folk song writer of the 20th century, influencing generations of folksingers and composing more than 3,000 songs, including "This Land is Your Land" and "So Long, It's Been Good to Know You."
Arlo's children are carrying on in the same tradition. Son Abe accompanies his dad on keyboards and youngest daughter Sarah Lee has her own career with husband Jeremy Irion. She often appears with her dad as well, and knocked everyone out when she last performed with him at the American Theatre. Cathy Guthrie lives in Nashville and sings in a group with one of Willie Nelson's daughters, and Annie, also a musician, runs the logistical side of things from her home in Florida.
Don't expect to hear "Alice" this week in Phoebus. ("It got to be so long, it was almost like that Groundhog Day movie, just a never ending, repeating half hour of your life. I'm trying to learn it again for next year.") But do expect a couple of hours of great songs, funny stories, and an ounce or two of accumulated wisdom. And political commentary?
He laughs: "My only comment now is a friend of mine recently said to me, 'Who would've ever thought Nixon would look so good?'"
copyright © 2004 Port Folio Weekly. Used by Permission.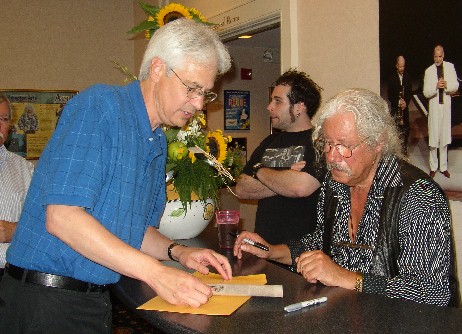 Jim Newsom and Arlo Guthrie discuss the article you just read.
---