Arlo Guthrie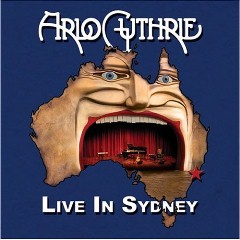 Live in Sydney
(Rising Son Records)
When Arlo Guthrie played a two-night stand at the American Theatre in July, 2004, he had just returned to the States from a tour of Australia. He and I talked while he was in Hawaii "decompressing from Australian time and getting ready to get back home," covering a lot of ground for an interview in this magazine.
But he didn't tell me that a film crew directed by Academy Award winning cinematographer Haskell Wexler had been on hand to record his show in Sydney for use as part of the soundtrack to a documentary about the legendary longshoreman's union leader Harry Bridges. Though Wexler only needed one song for his film, the entire concert was taped, and the result is a new, wonderfully entertaining double-disc live album out on Arlo's own Rising Son Records, Live in Sydney.
The setlist is similar to the one we heard in Phoebus a month later, with many of the same stories and most of the same songs. Arlo covers familiar territory, ranging from a bunch of his own compositions like "Chilling of the Evening" and "Darkest Hour" to classic folksongs from the pen of his dad, Woody Guthrie ("This Land is Your Land" and "Oklahoma Hills"), Woody's disciples Bob Dylan and Derroll Adams, and that most prolific of folksongwriters, Traditional.
But what has always made an evening with Arlo Guthrie special is his lengthy introductions and elongated, self-deprecating monologues in the middle of songs. He established this template in the very beginning with the 18½ minute "Alice's Restaurant Massacree" on his first album, and he has perfected this trademark style over the years.
There's no reprise of the "Massacree" here, but there is a hilarious nine-minute "Alice's Revisited" in which he tells of trying to remember the words, wandering off, Arlo-style, into a discourse that rambles from his daughter Sara Lee to a Rock and Roll Hall of Fame concert with Bruce Springsteen. There's also a ride through his biggest hit, "City of New Orleans," the Woodstock fave "Comin' into Los Angeles" prefaced with a tale of "illegal substance" sniffers, and a remembrance of Janis Joplin that leads into "Me and Bobby McGee."
I wrote a few years ago in the All Music Guide that "in the midst of the singer/songwriter era, Arlo Guthrie chose to become his generation's true folk singer, closer in spirit to Pete Seeger than to James Taylor, more an interpreter than a prolific songwriter." This remains his greatest legacy, carrying the torch that was lit by his father. Nonetheless, half of the songs here are originals, some known, some not, but all deserving of a place in the folk canon.
With unadorned but sympathetic accompaniment from son Abe on keys and longtime pal Gordon Titcomb on pedal steel and mandolin, Arlo turned Australia's Seymour Centre into a living room get-together filled with old friends. He did the same thing here at the American Theatre. For those who see him every time he comes around, and even for those who haven't kept up with him since his iconic days in the late '60s and '70s, Live in Sydney is a precious memento from a purebred folkie who's become one of our most engaging performers.
copyright © 2005 Jim Newsom. All Rights Reserved.