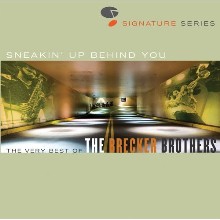 The Brecker Brothers
Sneakin' Up Behind You:
The Very Best of The Brecker Brothers
Arista/Legacy
Randy Brecker w/Michael Brecker
Some Skunk Funk
Telarc
Randy and Michael Brecker are jazz royalty, two of the most respected and most honored instrumentalists of the last three decades. Philly born and bred, their father was an attorney who also played piano. As Randy reminisced to me three years ago, "He had a piano he played as soon as he got home from work, and he had jam sessions. A lot of great musicians came over on weekends and played."
Randy himself became a teenaged local legend, playing in all kinds of settings, backing up American Bandstand teen idols and playing in jazz combos and R&B bands. He was an original member of Blood, Sweat & Tears in the late '60s and later joined his younger brother Michael in the jazz-rock horn band, Dreams.
When record mogul Clive Davis formed Arista Records in the mid '70s, the Brecker Brothers were among his first signings. Their first album quickly established them in the top tier of the funk/disco/jazz fusion market. Their single, "Sneakin' Up Behind You" placed them on the radio and on the pop charts in 1975, and Randy's frenetic rave up, "Some Skunk Funk," became a favorite among young jazz rockers.
The new compilation, Sneaking Up Behind You: The Very Best of The Brecker Brothers, kicks off with those two tunes, then winds through a brief history of the band, in the process stirring up fond memories of the latter days of the attempted jazz/rock marriage. It's an exhilarating trip, at times dated (cheesy clavinets and disco high-hat patterns) but always fiery and musically impressive. On that first album, Randy's trumpet and Michael's tenor sax were augmented in the front line by future superstar David Sanborn's distinctive alto saxophonics. Other musicians passing through the band included bassists Will Lee and Marcus Miller, drummers Harvey Mason, Lenny White and Terry Bozzio, and keysmen George Duke and Don Grolnick.
The writing was strong, the soloing incredible (Michael in particular showing the facility for which he would be come renown), the funk relentless. These guys followed in the steps of Herbie Hancock, Chick Corea and Weather Report to lead fusion's second wave.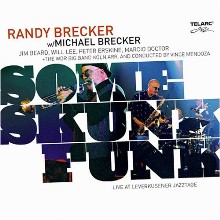 Through the years, the two brothers have been among the busiest musicians in the business. Still, they've reunited from time to time to explore new directions and occasionally to revisit those exciting early days. In November, 2003, they traveled to Koln, Germany for a concert with the WDR Big Band and a rhythm section including old pals Will Lee and drummer Peter Erskine. The performance was released a few weeks ago as Some Skunk Funk.
Drawing from a setlist heavy on Brecker Brothers classics with a few of Randy's recent compositions thrown in for good measure, this disc shows that jazz and funk can still be fused together for a fresh, inspired 21st century sound. Wrapped in the phat arrangements of conductor Vince Mendoza, the songs cook with the added intensity of the WDR's fourteen-piece horn section. The solos are masterful, the Brecker boys giving lessons in improvisational musicality and virtuosity.
Besides the strength of the music itself, this recording has extra poignancy—Michael Brecker was diagnosed early last year with myelodysplastic syndrome (MDS), a rare blood cancer also known as "pre-leukemia" for which the treatment is a bone marrow transplant from someone with a similar genetic background. When no matching donors could be found, he underwent an experimental blood stem cell transplant that, according to his website, "did not work as hoped." He is, however, currently leukemia-free and recuperating from his treatments.
copyright © 2006 Jim Newsom. All Rights Reserved.