When Walt Parazaider, James Pankow and Lee Loughnane first played together, there was no antecedent for what they were trying to do: form a horn section within the structure of a rock and roll band. There had been big bands playing jazz, and soul bands with horns blasting out staccato embellishments, but these guys had different ideas.
"We took what we listened to before," Lee Loughnane told me in a recent telephone conversation, "and Jimmy started writing more lead lines for the horns rather than background, percussive-type lines. That is what differentiated us from other groups and put us on the map as a horn band. We play brass lines that come out as brass lines but are as important as vocal lines."
Forty five years later, the blend of Loughnane's trumpet, Pankow's trombone and Parazaider's saxophone is one of the most distinctive sounds in rock music: it's the sound of Chicago.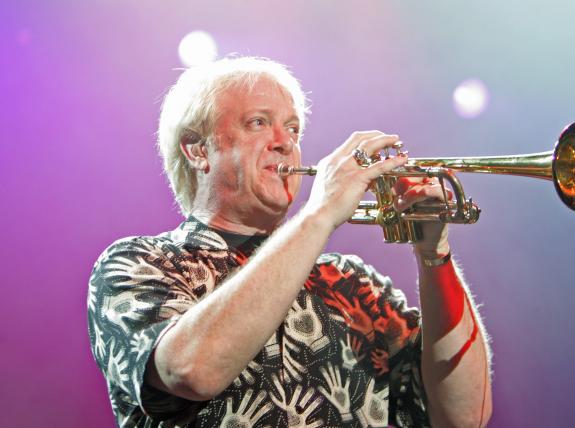 "We have a style that is unique to us," Loughnane (pronounced "Lock-nane") said. "It's the voicing; it's the interpretation of the lines. Jimmy calls it the 'grease' where we slide into notes. Other players play more straightahead and they cook, but our style is different than most other players. It's just the way we play. We slide into notes, we do falloffs, we hold it back—sometimes it sounds to me like we're playing a saxophone, but it's the three horns.
"We have always envisioned the big bands where the saxophone section plays the first chorus, and they play it in a certain style. Then when the brass come in, there's a brass style. We have developed a way of emulating the different sections in a big band on various songs. It wasn't something that we talked about doing in a particular way; as we played, we'd just sort of feel things in the same way.
"As it's turned out, the three of us have been together as a section longer than any other players in the history of music. Ten years would've been a long run and still is, but 45 years later this is really uncanny."
Chicago's lengthy history is extraordinary. Four of the original seven are still playing together in the band: the three hornmen and singer-pianist Robert Lamm.
"February '67 was the first time we got together," Loughnane recalled. "We were the Music Foundation at first—I'm not sure how long that name lasted. Then we changed it to The Big Thing; then we changed it to Chicago Transit Authority, then to Chicago.
"We've had hits in five different decades, which is something that most people can't say. We had no idea—we thought we'd do an album, maybe two, and that'd be it. Five years, that is exactly what we were expecting. But we just kept working; we kept our nose to the grindstone and put another album together after we finished a tour."
The music scene has changed considerably since those early days, yet Chicago's popularity has never waned. Their fan club comes out in droves, and they still pack large venues like Farm Bureau Live in Virginia Beach, where they perform with The Doobie Brothers on Thursday, August 23rd.
"We have never taken a summer off," Loughnane said. "We play different places and try to spread ourselves out, but even so, we've played the same venues so many times over 45 years. We come in with new types of shows, like with the Doobie Brothers or Earth, Wind & Fire. We try to change it up to keep ourselves and our audience interested.
"We have so many hits that it's difficult not to play the same songs each year, but in the midst of 'Does Anybody Know What Time It Is' and 'Beginnings' and 'Color My World,' we try to put other things in that are a bit of a twist."
In Chicago, even the "new guys" have been around a long time. Though keyboardist Lou Pardini just replaced 29-year veteran Bill Champlin in 2009, Richmond-native Keith Howland has been in the lead guitar slot for seventeen years. Drummer Tris Imboden joined in 1990 and bassist-vocalist Jason Scheff replaced Peter Cetera in 1985.
"They heard the songs when they were coming up," Loughnane said. "When we asked them to join, they brought those visions of what they heard and now incorporate their style into the songs. So the songs sound the same but with their personality. We haven't told anybody to sound a certain way or play a certain line. They have done that out of respect for the song and then add their own little flourishes."
Though the trumpet has been Lee Loughnane's calling card all these years, he's also a very fine singer. His vocal turn on "Let It Snow! Let It Snow! Let It Snow!" on the band's Christmas album was particularly impressive, and his occasional leads in concert make you wonder why he hasn't been used more often in that role.
"I was the trumpet player," he explained. "I wasn't even considered as a lead singer. This is just something that I enjoyed doing. I'd sing backup parts mainly. Then, as people started leaving the band and there turned out to be openings for what I thought was where I could come in and sing, I just brought it up.
"We did some re-records in Nashville and, as I was listening to 'Make Me Smile' and 'Color My World,' it hit me: let me go into the studio and see if I can sound like [original member] Terry [Kath] 'cause I'm pretty certain I can, and if it doesn't work, just yank me right out of there. But I did sound close enough to Terry that I've been doing it onstage ever since. I can't sing 'Make Me Smile' onstage because I've got to play the trumpet!"
Playing the trumpet can take a toll on the mouth over time, but Loughnane says he has not had any serious problems:
"I did, in the nineties, start getting gingivitis and I had to have surgery on all four quadrants of my mouth. I had to have some reconstruction done, but after that I've been caring for my teeth a little better and I've had no problem. With the practice routine and breathing exercises—and actually beginning to do everything right as far as playing the trumpet physically—as you go higher, you blow stronger and it equalizes the pressure, with the mouthpiece away from the lips. The mouthpiece sits on the lip and the cushion of air, the pressure of it, blows the horn away. So that's how I've survived."
Lee Loughnane and his bandmates have done a lot more than merely survive. They still enjoy mining their rich catalog in concert and obviously relish their time onstage. A Chicago concert is always filled with big smiles, happy memories and precise musicianship. And they have no plans to slow down any time soon.
"We are working on new material now," he said. "We have a traveling recording studio and we'll be able to release it through our website. It's the wave of the future, how musicians will sell their wares. More and more, the record companies are in the same struggle we are: How do you sell music; how do you keep this thing going? With the advent of the internet, and the economic hard times for record companies and record studios, it behooves bands to get their own gear together and record cheaper with as much quality as ever before, and figure out how to get it out there. Direct to fan."
Chicago and The Doobie Brothers
Thursday, August 23 – 8:00 pm
Farm Bureau Live, Virginia Beach
Tickets: $16.00 – 126.00 plus fees
copyright © 2012 Jim Newsom. All Rights Reserved.