I remember very well the day in 1969 when I bought the first Chicago album, Chicago Transit Authority. It was the first Saturday in June after school let out for the summer, a momentous musical milestone for me, because I also bought Crosby, Stills & Nash at the same time. Two very different recordings, but each one superb and totally unlike anything I had heard before.
When I bought CTA, I assumed pianist Robert Lamm was the leader of the band. He wrote most of the songs on the two-record set, and on the inside of the album cover, the other six guys had small pictures on the left side of the fold while he stood alone on the right.
"I think a lot of people made that assumption," he told me recently, "although that was not the case. It always was and always has been a group endeavor."
That group endeavor is still going strong 34 years later, and rolls into the Verizon Wireless Amphitheater Sunday night, July 20th, for Chicago's umpty-eleventh appearance in Hampton Roads. Whereas most bands that were around back in '69 have only one or two original members left, four of the original seven who made that first album are still with Chicago.
"It's amazing in the context of what is supposed to be your normal lifespan as a rock band," Lamm says. "But it's not amazing when you think of people in the arts, whether they're composers or sculptors or painters. Once they decide what their calling is, they tend to spend their life doing that. That's what we've done, only as a group."
The band first came together in the city whose name they would later take in 1967. They called themselves the Big Thing, because their sound was bigger and brassier than most rock bands of the time. There was no template for what they were attempting to accomplish, wedding a cookin' rock quartet with a three piece horn section.
"Our model was the soul bands that we had heard and seen passing through Chicago," Lamm remembers, "Mostly Memphis bands."
But they had elements that were not a part of those soul bands. Saxophonist Walt Parazaider had been a child prodigy on the clarinet. Trumpeter Lee Loughnane and tromboneman James Pankow had training and experience in the classics, jazz and marching bands. Terry Kath was a blazing rock guitarist. Robert Lamm had been heavily influenced by Ray Charles and Marvin Gaye, but had a grounding in other musical forms.
"My early training was really as a member of a church choir when I was a kid. It was a very good choir in Brooklyn, New York. It exposed me to some of the great sacred music from the middle ages right up through Bach and into some of the 20th century composers."
And he had studied piano and composition at Chicago's Roosevelt University.
The band's three horn, three lead vocalist blend offered something original and unique at a time when the record industry and radio were open to such things. Chicago Transit Authority hit the scene on the heels of Blood, Sweat & Tears' horn-drenched success, initially catching the ear of the emerging underground FM radio scene. With the release of their second double album early in 1970, called simply Chicago, with Lamm's hit "25 or 6 to 4" and Pankow's "Make Me Smile," the band was off on a run that was remarkable for its musical and commercial success.
But, in the mid-'70s, the band began to venture away from its hard driving, horn-propelled rock sound, and started turning out a series of ballads that was at first refreshing, but that later began to blend into a hard-to-tell-apart series of popular but not particularly exciting hits.
Lamm was disappointed with this change of direction.
"That occurred, I guess, with 'If You Leave Me Now' around '76," he recalls. "By the time the '80s hit, the ballads were the only way we could get on the radio.
"I felt terrible about it, as a guy who doesn't care for ballads and has written very few of them. That's always been the more boring side of Chicago, but ironically the most successful side. I think it was a confluence of what was going on in radio and where did Chicago fit in. We've been really good at finding a place to fit in."
And fit in they did, with chart hits continuing throughout the decade. Their albums also continued to sell well, offering more variety than what was being played on the radio would indicate. They accumulated 41 gold and platinum awards.
In the early days, there was a political edge to much of Chicago's music, an edge especially apparent in some of Lamm's originals. Remember the "we can make it happen" coda to his "Dialogue (Part I & II)" and "the whole world is watching" refrain from the first album's "Someday"? He says he was very much a product of the times, and still hasn't lost his belief in music's ability to effect positive change.
"I still am an optimist and an idealist," he says, "and I do think that somewhere in a song you can plant the seed of change. I still believe that."
Nonetheless he acknowledges, "I think at this point, a lot of what we do is give people a break from the talking heads on TV, the blazing headlines, and the over-reporting that's going on now."
After writing a large part of the soundtrack of our lives, songs like "Does Anybody Really Know What Time It Is," "Beginnings," "Saturday in the Park" and "Free," Robert Lamm is about to release a new CD himself.
"I've just finished recording my fourth solo album, which is essentially a Chicago album. This album will remind you of the early Chicago albums. Every tune's got brass all over it. I'm excited for people who loved the original Chicago, because they're finally gonna hear some new stuff."
Titled Subtlety and Passion, his new disc will be available beginning August 1st from www.robertlamm.org. He says he's "joined mostly by virtually everybody who is in Chicago or ever was in Chicago. I was able to play with all the guys in my band and in various combinations with other musicians whom I respect and admire." And it's a recording of new material, something the band itself hasn't done in over a decade.
All the old material is being reissued these days by Rhino Records, and those remastered albums sound better than ever. A five-disc boxed set will be released this week. And Sunday night, the eight guys that now make up Chicago, including singer/keyboardist Robert Lamm and the original horn section, will take us down memory lane, colouring our world with hope, helping us to feel stronger every day, making us come alive again, and showing us why, after 34 years, listening to the music of Chicago is a hard habit to break.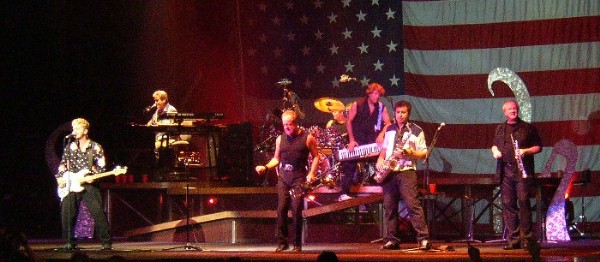 copyright © 2003 Jim Newsom. All Rights Reserved. Used by Permission.
---