Legendary jazzman Herbie Hancock comes to the Ferguson Center on Sunday, October 9th, for a solo concert. It's the first time he's ever gone on tour all by himself, without accompaniment. But, not surprisingly, when Herbie gives a solo performance, it won't be your typical introspective-guy-alone-at-the-piano kind of show.
"It will be a variety," he said when we talked recently. "I'm going to have acoustic piano. I'm going to have a Kronos synthesizer. And I'm going to use my Macintosh computer with certain sounds from that. I have software programs where I'll be able to trigger different sounds and different loops so I can have rhythm when I want it or bass lines and play things on top of that and be able to get different stuff going like a modern DJ, but as a keyboard player."
Depending on your age, you may have first encountered Herbie Hancock as a sideman with Miles Davis or as composer of the early '60s hit "Watermelon Man;" or as the jazz funkmeister on "Chameleon" in the early '70s, or as the spaceship commander guiding "Rockit" up the charts a decade after that.
One of his most fascinating eras was when he first began experimenting with electronic instruments at the turn of the 1970s on a trio of albums that included Mwandishi, Crossings and Sextant. When I brought it up, he was eager to discuss those days and those recordings.
"That was a very intuitive band," he said "The concept was to depend a lot on intuition and synchronicity. The songs that we put together were based off of the idea of making them provocative for improvisatory exploration. There were different ideas that were the foundation for each of the songs. For example, 'Ostinato (Suite for Angela)' on Mwandishi was just the bass line. There was no melody written for that, just the bass line."
I remember buying Crossings in 1972, drawn in by its cover painting and subsequently blown away by the amazing music inside.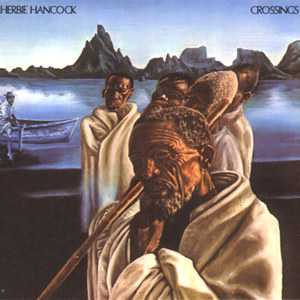 "Here's what we were thinking about on that record," he explained, "and the title suggests it too. The cover looks like, perhaps, Africans on board different ships. The title was really about the diaspora of the slaves coming across the Atlantic Ocean to the new land. So even though it was a very avant-garde, futuristic kind of band, we used the vehicle of roots which are ancient or historical as a balance. There's a sense of origin for some of the rhythms on that record, but the things that would happen on top would be like traveling to Mars or something!
"I didn't know much about African rhythms per se, but it was our take on the African influence rhythmically and sonically. That was the engine driving many of the pieces. We also added an instrument on that record that I had never used before. I didn't play it; I hired Patrick Gleeson to play a synthesizer at the beginning of one of the pieces.
"At that time I felt that I needed to explore this avant-garde territory, reaching out beyond the earth, untethered. But how can you attract the attention of more people rather than just confining it to a die-hard cult following? How do you expand the listenership? We were always trying to think what we could put into the music that was going to make it interesting for someone who knows nothing about that stuff, so they could actually hear something besides just noise.
"One of the suggestions came from the record producer who was also my manager—David Rubinson. He said, 'In rock and roll, sythesizers are just starting to be used, so it's considered a cool instrument. Why don't you have a synthesizer on this record? I know a guy near here who plays synthesizer.' So I said OK, if that's going to be some kind of hook that wouldn't interfere with the purity of the direction of the music.
"We had him play an introduction on 'Quasar,' the first tune on side two. I said, let's hear what he can do with this and I'll either use it or I won't. So we got him the tape and he did what he did. When I listened to it, it killed me, I loved it! I actually hired him to play live with the band."
A couple of years later, Hancock further funkified the groove under his electronic explorations, pared the band down a bit, and rode Head Hunters and its successors up the pop charts, a rare feat for a jazz artist.
"The record before that was Sextant," he said, "my first record for Columbia Records. Being on Columbia was like the big deal. And I'm moving up to the big time with an avant-garde jazz band! So I had to figure out some compositions and arrangements that had really obvious sense of change—light to dark, fast to slow, high up to low down. And that's what you have on Sextant. You have extremes that I felt could at least be interesting to people.
"'Rain Dance' starts out with a thing called a random resonator. All it did was play different notes. So we recorded that on tape and then I decided to take a section of that and loop it—on half inch tape. We actually had to string the tape around the room, and find staplers and other things to go back into the playback head. And we spliced the two things together. That's the physical way of making a loop!"
All of those records featured lengthy pieces of music. "Chameleon," the catchy, hook-happy hit from Head Hunters, was nearly sixteen minutes long.
"That was one take," he said. "It's one take that was a lot longer than what you hear on the record. But we edited it afterwards. I had to overdub some of the synthesizer stuff, but the foundation and the solos were all done at the same time."
Herbie Hancock
Ferguson Center for the Arts
Sunday, October 9 – 7:00 pm
Tickets: $32.00–59.00
fergusoncenter.cnu.edu; (757) 594-7448
copyright © 2011 Jim Newsom. All Rights Reserved.