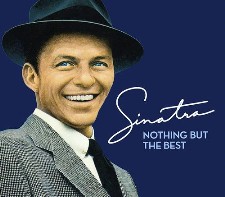 Frank Sinatra
Nothing but the Best
Reprise/Frank Sinatra Enterprises

On May 13th the U. S. Postal Service issued a commemorative stamp honoring Frank Sinatra on the 10th anniversary of his death. A week later, Sinatra was at number two on the Billboard 200 thanks to a new 22-song compilation called Nothing but the Best.

One can easily quibble as to whether or not this CD really contains the best of Ol' Blue Eyes—it only covers his work for Reprise, the label he founded himself, from the '60s onward. Nonetheless, it's a marvelous sampling that highlights many of the musical peaks from the third half of his career.

There are the obvious monster hits: the poignant "It Was a Very Good Year," issued as the singer turned 50 in 1965; "Strangers in the Night," with its silly "dooby dooby doo" coda from 1966; the Dean Martin-ish "That's Life" from the same year; the ultimate statement from the Chairman of the Board, Paul Anka's "My Way" from '68; the last biggie, his cover of the theme from "New York, New York," released in 1979.

Those are all well remembered milestones in pop music's final showdown with rock and roll. Timeless, swingin' performances of "Luck Be a Lady," "Nothing but the Best," "The Way You Look Tonight" and "My Kind of Town" are among the finest of his career. And few musical moments can match his teaming-ups with the Basie band, represented here by the smoldering "The Best is Yet to Come" and the groovin' "Fly Me to the Moon."

Compared to the smooth perfection of his '50s Capitol recordings, Frankie's voice has a smokier depth on these tracks, with just a hint of gravelly roughness. But the entertainer's ability to inhabit the lyrics and literally define the melodies presents the artist as master of his craft.

There is one previously unreleased cut-and-paste take, "Body and Soul," with a vocal from 1984 grafted onto an orchestral arrangement laid down in 2007. There's also the aptly titled "Somethin' Stupid" duet with daughter Nancy, a kitsch classic.

I can only imagine how difficult it was to sift the finished product down to a single-disc package—for instance, the inclusion of just one song ("The Girl from Ipanema") from the magnificent album Sinatra did in '67 with Antonio Carlos Jobim must've been a particularly tough call. Even so, Nothing but the Best succeeds in presenting Hoboken's most famous native son in top form.

While one can partially attribute this disc's sales success to the public's hunger for memorable songs in an era where melody seems to have vanished from popular music, it is also a statement confirming the lasting power of America's greatest "saloon singer."

copyright © 2008 Jim Newsom. All Rights Reserved. Used by Permission.