It's been a banner year for box sets, and several of this year's best have already been reviewed in these pages. But the pre-holiday season always brings a slew of new boxes, ready to be wrapped and tossed into Santa's sleigh. Here are some five-star sets for your gift-giving consideration:
Vegas
Frank Sinatra
Reprise
It's hard to believe there were unreleased Sinatra recordings sitting in record company vaults as strong as these, but here they are, collected in the box set event of the year. Even more than Wayne Newton, Ol' Blue Eyes defined Las Vegas and Vegas, in turn, defined him in many ways, publicly at least. One of the things that turned me and much of my generation off about the man in those days was the sleazy image of Frank and the Rat Pack surrounded by gangsters, hustlers and whores in the glittery palaces of Sin City.
The interesting thing about Sinatra is how well his music has endured and now appeals to many of us in that same generation who used to mock his swaggering style and too-cool "dooby-dooby-doos." When you strip away the often-oafish public behavior and just dig the music, he was a singular performer who, if he didn't invent swingin' and singin' he sure perfected it.
This 4-CD/1-DVD box draws from five different engagements over a 26-year period. The first, taken from a weeklong stand at the Sands in November, 1961, was recorded for a planned live album on Sinatra's then-new Reprise label. The setlist draws primarily from his classic '50s Capitol releases and, at the age of 46, he was still very much in his prime. The arrangements are pretty much the same as those studio outings, but the immediacy of live performance gives the singer an energy that adds new dimensions to the songs.
It is disc two, however, that is getting the most notice—1966 with the Count Basie Orchestra under the direction of Quincy Jones. This is as good as it gets—the swingingest big band in the land, the most distinctive singer, and songs like "Fly Me to the Moon," "You Make Me Feel So Young," "I've Got You Under My Skin" and Frankie's recent Grammy-winning hit, "It Was a Very Good Year." It's music for the ages.
Discs three and four jump ahead to the '80s, as Sinatra's voice aged, deepened and began to crack, and Vegas became a cliché. Nonetheless, the outings captured here show that even into his 60s and 70s, he could deliver the Great American Songbook like no one else.
"Pal o' mine" Dean Martin stumbles by briefly. Daughter Nancy pops in for a duet on their silly 1967 hit, "Somethin' Stupid," and Daddy can't help goofing around on it. In fact, that's the major flaw of these live recordings—Frank's inability to play it straight, especially as he got older. What probably came across as fun in person is irritating when heard over and over on record. Who wants to hear Donald Duck in the middle of a Sinatra standard?
The DVD was taped in May, 1978, at Caesar's Palace. It's a fascinating document, capturing the World War II generation's idol among his people, still working his magic on the old repertoire, but showing his limitations when he tries to tackle more contemporary material. He has no feel whatsoever for George Harrison's "Something," but he gets at the heart of Sondheim's "Send in the Clowns.
From both historical and musical standpoints, Vegas is an important addition to the Sinatra discography, putting his strengths and weaknesses on vivid display and harkening back to a much different time and mindset.
__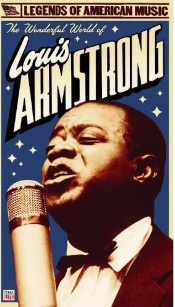 The Wonderful World of
Louis Armstrong
Time-Life
There have been many compilations of Louis Armstrong's music, but what makes this one particularly intriguing is the timespan covered in the two reverse-chronologically ordered CDs, and the DVD packed with footage from throughout his career.
One can always quarrel with the choices in an abridged retrospective such as this, and the emphasis on vocals may bother some purists, but there's plenty of trumpet magic too, as most of those vocal tracks had Pops taking a chorus or three on his horn. The set kicks off with "What a Wonderful World," a song that was released in 1967 but actually didn't become a hit or take on its iconic status until its inclusion in the film, Good Morning Vietnam, twenty years later. Working backwards by record label, we come upon "Cabaret," "Hello Dolly" (#1 in '64), "Georgia on My Mind, "You Rascal You," "Mack the Knife," "Beale Street Blues," "Stardust," "Up a Lazy River" and on and on. He gives "Your Cheatin' Heart" a soulfully different spin from that found in Hank Williams' original, and "When the Saints Go Marching In" is here in its 1938 call-and-response version.
The DVD is a gas, including a 1958 TV appearance with Bing Crosby reprising their "Now You Has Jazz" from High Society, pianist George Shearing anchoring a "St. Louis Blues" duet with forgotten '50s pop singer Jaye P. Morgan, the silly ditty "High Society Calypso" from an Australian television program and, of course, "Mack the Knife." Older clips include Satch and his band cookin' on a couple of World War II "soundies," that era's primitive version of music videos, and remarkable footage filmed in Copenhagen in 1933 that captures him in his prime, before movies and television turned him into a commodity. This three-song clip is a treasure, showing that jazz started out not as serious, stare-at-your-feet art but as joyous entertainment built on a foundation of serious musicianship. "Tiger Rag" will knock your socks off.
__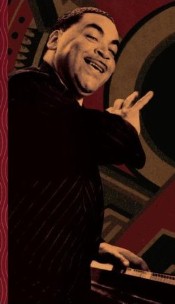 If You Got to Ask, You Ain't Got It!
Fats Waller
Bluebird/Legacy
Fun was certainly an essential component of Thomas "Fats" Waller's music. Like his contemporary Armstrong, he combined superb musical chops with good-humored showmanship to reach the highest heights of the entertainment biz. Unlike Armstrong, who lived to be 70, Waller died in 1943 at the age of 39, missing out on the big-time films and television exposure that arrived after the war.
This 3-CD set is the perfect introduction to this master pianist and composer's music. Each disc emphasizes a different side of Waller. The first accents the vocal side as he sings and plays some of the songs for which he's best remembered—"Honeysuckle Rose," "The Joint is Jumpin," "Squeeze Me" and "Ain't Misbehavin." Disc two is subtitled "Strictly Instrumental," for it features him alone at the pipe organ for "St. Louis Blues," on solo piano versions of ten of his classics, and fronting his bands on a bushel of other self-penned masterpieces. The final disc has some of the novelty tunes that record companies had him record—""Lulu's Back in Town," "You Rascal You," "The Sheik of Araby" "Your Feet's Too Big" and "Tain't What You Do (It's the Way That You Do It)."
It's a glittering 66-track assortment of musical merriment filled with songs that seem like they've been with us forever, presented in their original incarnations.
__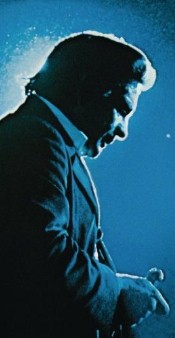 Johnny Cash at San Quentin
Johnny Cash
Columbia/Legacy
The first country album I ever bought was Johnny Cash at San Quentin in the summer of 1969. I got it after hearing his duet with Bob Dylan on Nashville Skyline's "Girl from the North Country" and digging his novelty hit, "A Boy Named Sue." Though I was familiar with songs like "I Walk the Line" and "Ring of Fire," this was my full-fledged introduction to that unmistakable boom-chicka-boom-chicka-boom sound.
The original album was just one record, pretty short, with only eight songs, one of which (the composed-for-the-occasion "San Quentin") was played twice. Recorded in February at the California State Penitentiary in San Quentin, it hit the top of the Billboard album chart for four weeks that summer on the strength of "Sue" and his new weekly TV show.
This just released 2-CD/1-DVD package presents the complete concert as it occurred at the prison that day. An expanded edition of Cash's part of the show was released a few years ago, but this one includes Carl Perkins' "Blue Suede Shoes," the Statler Brothers' "Flowers on the Wall" and several songs by the Carter Family. It's a reminder of what a Johnny Cash concert always was, even years later when he came to Chrysler Hall in the mid '90s—a multi-performer review, a variety show complete with June Carter Cash's cornball humor.
Johnny plays to, and off, the audience of inmates, connecting with them in a way that few outsiders could even attempt. And while the two audio discs represent what may well be the best Johnny Cash album ever, the DVD is simply revelatory. Granada TV filmed the concert for a British television special, capturing not only the music and banter on stage, but the reactions of the thousand or so convicts packed into the mess hall. Looking into the eyes of the imprisoned is harrowing at times, and one guy's intense stare while June is performing is quite disconcerting.
While Cash sings "I Walk the Line," the documentary shows a string of prisoners literally walking between painted lines on the way to the performance. A guard details the process that unfolds on the day of an execution, and an inmate says "the greatest crime a goodly number of us are guilty of is one thing—that we were poor."
That same guy sums up the Man in Black's appeal: "Johnny Cash represents a part of America that a lot of people want to look back to. It wasn't a chaotic thing, it was Mom's apple pie; it might've been beans, but everybody had a full belly."
This new Legacy edition of San Quentin provides a belly full of Johnny Cash, two days before his 37th birthday (boy does he look young), newly freed from his pill-popping ways, doing what he did best in front of his people, the dispossessed and downtrodden. And yes, we finally get to hear the bleeped out lyric phrase in "Boy Named Sue."
copyright © 2006 Jim Newsom. All Rights Reserved.