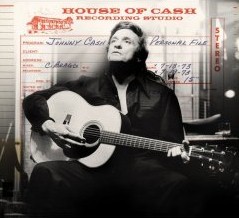 Johnny Cash
Personal File
Columbia/Legacy
"The best ideas for songwriting are the true stories that happen to…especially to people. When you get into the human spirit, you get some good ideas sometimes." –Johnny Cash
As both a songwriter and an interpretive singer, Johnny Cash succeeded in getting into the human spirit as deeply as any artist. A true original, the purity of his artistry shone through most clearly when it was least adorned.
After the deaths of Johnny and June Carter Cash in 2003, their son John Carter Cash began going through things at the House of Cash in Hendersonville, Tennessee. Among the treasures in a room full of tapes were boxes marked "personal file." Those boxes contained recordings Johnny had made for himself of songs that he'd written and never recorded, songs that he remembered from his childhood, songs he admired that had been written by others, songs that he would later record in more fully formed arrangements. A big chunk came from sessions laid down in July, 1973, when he was 41 years old.
This new double disc set brings together 49 of those tracks. More than half are from that ten-day burst in the summer of '73. All but two are just Johnny alone with his guitar; the other two, from 1982, feature an uncredited second guitarist. The characteristic chink-chinka-chink that distinguished Cash's hits from the '50s through the '70s is nowhere to be found.
Disc one is devoted to story songs, love songs, old favorites—the secular side of John R. Cash. There's the Louvin Brothers' "When I Stop Dreaming," Johnny Horton's "When It's Springtime in Alaska (It's Forty Below)," John Prine's "Paradise," The Carter Family's "The Winding Stream," Lefty Frizzell's 1964 hit, "Saginaw, Michigan." Many of the songs are prefaced with Cash's remembrances, explaining their origins or their importance to him. It's like having Johnny Cash sitting in your living room after dinner, playing guitar, sharing songs and telling stories. Since these are recordings he apparently didn't intend for public consumption, I can't help but wonder who he was talking to. Perhaps he envisioned these tapes as some sort of aural time capsule, to be opened after his death.
"Through times of loneliness and heartbreak and despair and sadness," he says in an introduction on the second disc, "I've always found that a good song of inspiration will lift me up, make me feel just a little bit better."
Disc two contains 24 of those inspirational and spiritual songs, half of which are originals. One of my personal favorites is "What on Earth (Will You Do for Heaven's Sake)," a Cash composition that first appeared on 1974's Ragged Old Flag. Considering the premise of The Da Vinci Code, "If Jesus Ever Loved a Woman" takes on a connotation probably not envisioned by its author, who is unknown, or the man in black who sings it here: "If Jesus ever loved a woman, I think Mary Magdalene was the woman that he loved."
This disc contains a few oft-performed gospel chestnuts—"Life's Railway to Heaven," "In the Sweet Bye and Bye," "Farther Along," "The Lily of the Valley." But for the most part, these are new or little known folk spirituals, delivered in that distinctive bigger-than-life voice that fills each tune with both gravitas and joy.
Johnny Cash was one of those performers whose persona was as big as his music. Here in his Personal File, we catch a glimpse of the man beneath the persona all alone with the music he cherished the most.
copyright © 2006 Port Folio Weekly. Used by Permission.