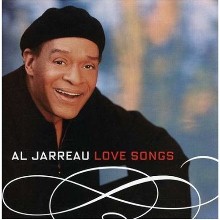 Al Jarreau
Love Songs
Rhino
Few singers convey the joy of romantic love the way Al Jarreau does. His distinctive voice is imbued with happiness and hopefulness. When he wraps his vocal cords around a love song, he fills it with all the optimism of a new infatuation and the contentment of long lasting love.
For this collection, released just in time for Valentine's Day, Jarreau personally picked his favorite Love Songs from his 30-year discography. There's not a clunker in the lot. "We're in This Love Together," one of his signature tunes, is an obvious opening choice that sets the stage for an hour's worth of sweet romance, elastic vocal note bending and oh-so-cool scatting.
The only performer to win Grammy awards in pop, jazz and R&B, Jarreau's versatility is on display here. Chestnuts from his hitmaking heyday in the '80s like "After All," "So Good" and "Teach Me Tonight" may sound dated with their electronic keyboards and Sanborn sax, but they contrast nicely with the Brazilian acoustics of "My Foolish Heart" from 2004's Accentuate the Positive and the Fender Rhodes with string section on Elton John's "Your Song" from back in '76.
A virtual "Greatest Hits of Love," this CD is the perfect Valentine's soundtrack, a sensual accompaniment d'amour for those special moments when the irresistible scent of romance is in the air.
copyright © 2008 Jim Newsom. All Rights Reserved. Used by Permission.