---

PortFolio Weekly
October 12, 2004
Recordings
by Jim Newsom
THE GIRL'S ALL RIGHT
Oh boy, I hear you saying to yourself, another young female jazz vocalist with a sweet, feathery voice and an eclectic setlist. There are a bunch of them around right now and it's hard to pick out the best from the rest. Here's a vote for St. Louis-based Erin Bode in the "talent deserving wider recognition" category.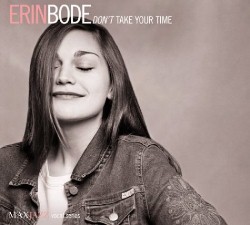 On the title track of Don't Take Your Time (MaxJazz), which she co-wrote, Bode takes the listener on a journey through territory not too far removed from that of Norah Jones, but with more punch. Her take on Paul McCartney's beautiful "Here, There and Everywhere" is superb and followed by a mournful drive through Bill Monroe's "In the Pines," takes this disc far beyond the usual jazz literature.
She and her band put Bob Dylan's "Tonight I'll Be Staying Here With You" into a soul-jazz pocket, pushed by Bruce Barth's gospelly piano, while Steve Nelson's vibes combine with Barth's Fender Rhodes for a mid-'70s Paul Simon feel on the Stevie Wonder-penned "If It's Magic."
There's a sampling of standards on here as well. The Gershwins' "But Not For Me" receives a stripped down vibes and walking bass arrangement, while "I've Never Been in Love Before" swings gently. By "Gee Baby, Ain't I Good to You," you should be hooked by the lyricism of the arrangements and Bode's quiet, lazy-day vocals. The disc closes with a beautifully sparse and dreamy "Count Your Blessings."
_______________________________________
STYLE AND SUBSTANCE
What could be more appropriate than an Al Jarreau CD entitled Accentuate the Positive (Verve)? Since his arrival on the national music scene in the mid 1970s, there have been few singers as consistently positive as Jarreau. He's continually crossed boundaries, bringing a jazz sensibility to pop and R&B environments while garnering a trophy room full of awards and a passel of record sales. With this new disc, he aims for a pure jazz aesthetic, one that fits his style to a T.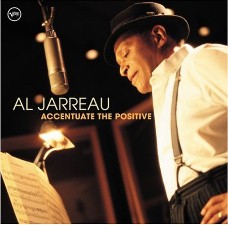 Accentuate reunites the singer with producer Tommy LiPuma and engineer Al Schmidt, with whom he created early classics Glow (1976) and Look to the Rainbow (1977). Instead of the multi-overdubbed productions that have characterized much of Jarreau's output, the team decided to go with a basic live-in-the-studio approach for most cuts with a piano/guitar/bass/drums lineup. This choice gives a fresh, improvisatory spirit to the whole affair, while still generating a familiar aural landscape for longtime Al pals.
"Cold Duck Time," one of those Eddie Harris soul-jazz numbers in the "Compared to What" mold, opens the disc in a spirited funky mood. But the very next cut finds the vocalist stretching into his patented whispery upper range for the Hoagy Carmichael ballad, "The Nearness of You." From there, the album roams across a standard-heavy playlist crisp with delightfully understated musical brush strokes.
Ellington's "I'm Beginning to See the Light" gets a Philly organ combo workout led by Larry Goldings on the Hammond B-3. "My Foolish Heart" has rarely sounded so beautiful, and Jarreau skates beneath the "Midnight Sun" to the Toots-like harmonica accompaniment of Tollak Oilestad. The title track features some fine tenor saxophonics from Keith Anderson, and that inimitable Al throatwork.
Jarreau's turn on "Waltz For Debby" may actually supplant Tony Bennett's as the definitive vocal version of Bill Evans' best known composition, while the singer's own lyrics to "Groovin' High" capture the spirit of Diz and Bird as filtered through that unmistakable Al Jarreau scat style. The set closing "Scootcha Booty" matches the singer with Yellowjackets pianist Russell Ferrante for a funkified wrapup.
It's a real treat to hear Al Jarreau wrap his chops around a program of jazz classics with acoustic accompaniment. It's the best thing he's done in years.
copyright © 2004 Port Folio Weekly. Used by Permission.
---